Chicago Mikey was back again tonight for an hour of Gay Wrestling searches on Youtube. I also got a pair of sunglasses in the mail... I didn't know who bought them, but found out today it was Mikey:)
---------------------
----------------------------

Piggy M was back again for more money games.... he's such a good Piggy and does whatever he's told:)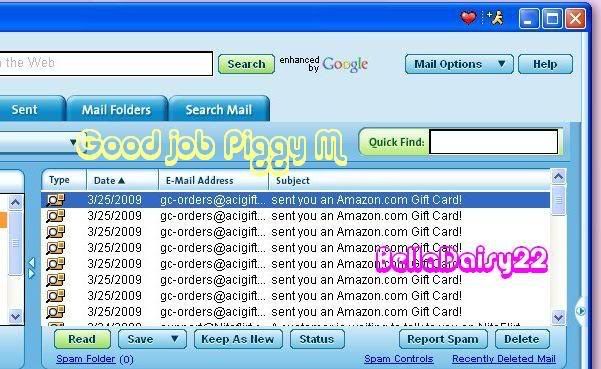 ----------------
--------------------------

I woke up this morning to emails from a new caller "Marc the retard" ~ He bought all my pics and completed loser assignments 1 & 2.

M: I have finally well & truly succumb I am going to try & sneak a call to you when I get the opportunity as well, I cant wait, but for the time being your amazing pictures & sweet little voice is all I have to keep me in a constant state of arousal.
So incredibly turned on if I had to be perfectly honest, I especially adore your journal I am so envious, I want to give more & more, cant wait to call & you never know maybe I will make your wall of shame, do you offer web cam services Goddess, humiliating & abusing myself for you would be such an incredible honour.

-Hi Retard .... nice pic loser;) and good job completing both assignments... as a reward I'll give you the option of buying either the digital picture frame or the tanning lotion from my wishlist.


M: Dear Goddess BellaDaisy
Thank you so much for replying & letting me purchase some gifts for you Goddess, I have immediately purchased both items as you really do deserve both Goddess.
May I have a ppv picture of you sticking your finger up at me with a humiliating comment Goddess?
Yours Humiliatingly
Marc the retard

-------------------
--------------------------------

Loser Mike from Chicago called me today.. I knew he would have been calling from work, but it wasn't the loud echo I'd normally hear when he's sneaking a call in the restroom... Loser Mike was so afraid he'd miss the chance to call (( I was on during the day today) that he called me with tons of people around in his office. I told him to hang up and call back from the bathroom so I could tease him some more. We talked about his tranny girlfriend and his wife Miss Piggy. He was moaning pretty loud as I laughed at his loser ass.... I'm surprised his co-workers haven't heard him yet.

---------------------------------------------------

My Foot $lave "Bob the Builder" was back again for more pics this morning also...
I sent him Pay-to-view pics/mail ranging from $10 - $30 each and suggested he start stroking....

He replied:
not sure thats a good idea!
Luv Bob
- um ok then there will be stroking!
Luv Bob

$280. later..........