**(it's not letting me reply to BrattyBossLady's comment below, so I'll post it here:)
Re: Give Ron Mexico A Chance!
I totally get that he did his prison time and lost millions, I just wish he was playing in another city so I don't have to see him every week. The Vick thing is upsetting to me because I do a lot of fund-raising for the Humane Society and the SPCA, and used to be a volunteer at a local SPCA and saw first hand all the dogs who were brought in from dog fighting rings, some ripped apart and most had to be euthanized because they were too dangerous to people and other dogs.
Now I think I'll check out Babin's sexiness again! LOL
~*~*~*~*~*~*~*~*~*~*~*~
It made me sick every time I saw Michael Vick laughing and smiling on the sidelines tonight...
but.. I'm going to focus on the positive...
the positive being this gorgeous hunk of a man.... OMG ...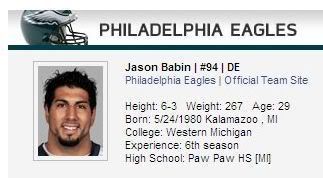 Check out that ass...
I'm sure Chicago Mikey and some of my other (I'm not gay even though I suck cock) gays can appreciate it ;)