I won't be around much Thursday... during the day I'll have workers here... still in the process of remodeling.. seems like it's never ending. I'm having a new deck built on my house.. there's a small one there now, but I want this one to be huge and wrap around the side of the house:) I'm also have new brick work (or whatever it's called) done.. I think I've decided on these stones... to match what I had done to the front of the house a few years ago.

(no that's not my house(would be nice though:)
- it's a pic from the EP Henry website)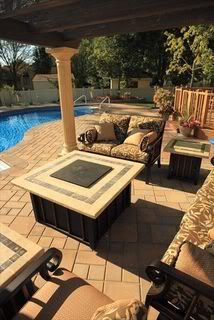 Then Thursday night I'm going out for drinks with friends.... then Friday morning I have to leave at 4:30am for the Wing Bowl in Philly... (((ughh why does it have to start so early in the morning!??)) most of you won't know what it is.. but it's huge here.. there will be around 20 - 25,000 people. It would be a lot more fun if the Eagles were in the Super Bowl though. Basically it's a wing eating competition...but there's some other stuff going on too.... it's pretty much packed with drunk people who started partying the night before, strippers parading around trying to win contests and promote their clubs, and..... I have no idea why but... Snookie from The Jersey Shore will be there... I don't think this poor girl knows what she got herself into... I could be wrong, maybe they'll be nice to her... but I have a feeling there will be a few thousand drunk assholes calling her a whore.