The beach chairs from cuckie and the sunglasses from pain slut came today...
~*~*~*~*~*~*~*~*~*~*~*~

So this bitch is back...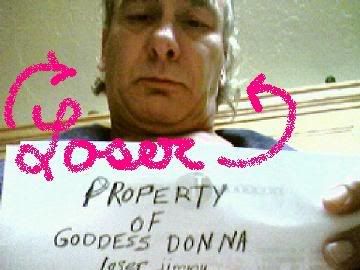 after serving me for the past few days he had the balls to email me this morning saying:




"It's amazing. I have lost over $400 to you in the last three days. Really gonna struggle now.
May I please have a couple hundred back? I promise I will never ask again.
You can discipline me for this however you see fit. I will make sure I know how much I am gonna lose to you so I don't over do it like I did now.
I have $1.37 left in my account. If you send me a pics for that amount I will zero out my account.
But please help me!!
Your now devoted loser, Jim"

$1.37 Pay-to-view email:
You're asking for money back??? NEVER! Why would I send you money back??? Is my time not important to you Jim? While you were tying up my NF lines someone else could have been calling. You knew your money situation, yet you kept calling and buying picture emails.
There are no refunds, EVER..
Go smash your dick in a drawer loser!



*After a few more annoying emails begging for a refund... I told him if he needs money that bad he should go suck a few cocks...

He finally got the hint...

"can you please send me a flip off pic with a message verbally berating me for my last 1.37 I just paid. I'm sorry I insulted you. I know now how intense the emasculation will be dealing with you. You are a cruel bitch. I stroked and edge a few minutes ago. Getting better control. 9 more times today and I will start looking to suck my first cock for you.
Loser Jim"

Now that's more like it Jim... know your place loser;)

"yes Goddess. thank you for putting me down into my place in your life. I know now you will have no mercy on me. You have me by the balls now and I am happy about it. I'm going to search for gay porn to get ready for my first encounter. I will also start preparing myself for the first time I get fucked doggy style by a man.
Loser Jim"

There you go Jim.. way to be a team player!! now get out there and suck some cock!!


edit****
I just signed online for the night and what do I have in my inbox....
another email from Loser Jim with a pic attached...

"pic of me doing what you told me to do." --

he had his loser dick closed in a drawer! lolllllll fag!


"So I'm a team player. and the game is you always win and I always lose and you leave me humiliated and destitute. You are so right. You really can take everything from a loser."