I'm leaving Saturday morning...I'll be at the beach house (Cuckie JJ paid for) all week...
I'll be online a little bit, most likely late at night, but maybe you'll get lucky and I'll turn my ignore line on during the day.

IGNORE Line ! Call To Be IGNORED while I'm out having fun Loser!
1-800-TO-FLIRT
0825-550


-----

I've been having fun with Sissy Michell while she was away on business this week. I had her so addicted she ended up spending $1,110 in Tributes:)

Here are a couple quick vids (turn up the volume)
I made her go out in the hallway quite a few times in different outfits, here's one...



Showing off her pretty dress...



----
I added another Dr to my collection. Dr.JW said he wants to replace Dr. Piggyboy Tony...only boys who are useless/worthless get replaced. Piggyboy is still being a good bitch and sending Tributes whenever I say. I did enjoy messing with JW though...after trying to get my attention for the past 5 days, I finally made time for him (in between calls)
He mentioned he likes financial domination, humiliation, and blackmail fantasies ( my 3 favs)
I had him send an Amazon gc, then another, and got him to turn on his cam...after promising not to record the video. But I didn't promise not to take a screen shot;) I assured him his pics wouldn't be posted any where...as long as he keeps me happy;) So what's a bitch to do, other than keep tributing:) $215 later...I let him run off to bed, but of course - no cumming;)

Another bitch I have by the balls... DZ Bitch was late again, so I made him pay $95 instead of $50. Then there's Lion, who is currently "mad at me" after I force milked him out of $110 on Amazon, because as he put it.. "he always falls for my trap and I know what buttons to push"...damn right I do.. and I'm gonna keep pushing them and you're gonna love every minute of it!
-

Sissy Sue had to leave for a few days, but is back at my feet where he belongs...




Some boys are just too easy.. like CG for example...he's always trying to resist, but it doesn't take more than a lil wink ;) and he's back to opening my PTV mail. I don't chase him, it's never more than a week before he comes back for more. Tonight he couldn't help it, and ended up paying $100 for just a few pics like this...



RC was the same way...coming back for a lil BellaDaisy fix and opening $70 in PTV's.

The biggest loser of the week has to go to Stroking/Smoking Loser Jeff. He Can't Stop Calling! 2,3,4 times a night! I hung up, raised the rate, and he still came back for more humiliation. ( He even beats out Loser Mark the pastry fucker, who has been humping toilets and hot dog buns lately) BTW-Stroking-Smoking-Holding-Marc..you're over due for a session;)

Two new boys...Loser Chris and NS..both into humiliation and cbt. NS did a cbt session with a mouse trap. Loser Chris did a good job of following my instructions after purchasing my loser assignment and anything else I told him to do, no matter how painful. He has potential, we'll see how it goes.

Red Dog is still doing his best to show me he can be a good bitch by checking in daily and sending tributes. After losing cam privileges for the past 6 months, I decided to turn it on for a just couple minutes when he called.

SamD is also doing exactly what I expect of him..will he be able to last 100 days without release?? (if he doesn't, then we do a new blackmail contract) November is So Far Away Sam;) good luck with that ;)

Norway Sissy is done with blackmail, but still sending tributes just because I tell him to.

My loyal pet 1HB has been really outdoing himself with the tributes..I am loving his new promotion;)
----

Wish List Presents below... (btw - I'm just a couple hundred away from the $1,300 flat screen on my wishlist. I except to buy it when I get back next week...so email me Amazon gift cards to BellaDaisy22xo@yahoo.com )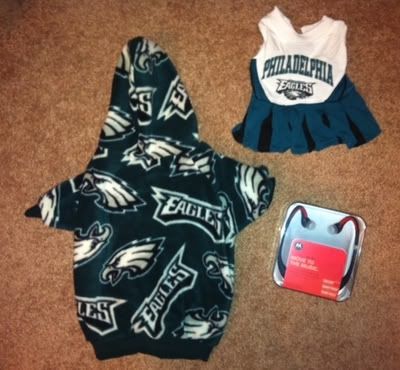 Follow me on Twitter: http://twitter.com/#!/BellaDaisy22

3 pics...pink & white striped cleavage $10