Good boy Gary continues to open every pay mail I send him.
Med School Matt is getting addicted to my cleavage, sending me $400 that was supposed to be spent on traveling for residency interviews.
New boy Franky needed to give more money to my cleavage, so I jacked the rate up to $15./min and kept having him add to his account.
New boy Snow opened $145 in pay mail...clicking for my cleavage.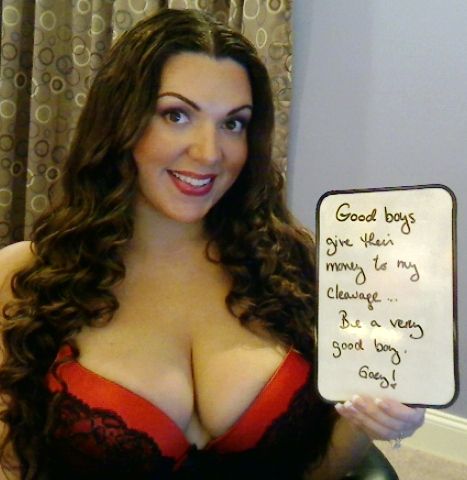 --------------
-----------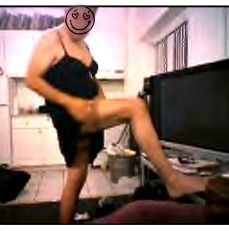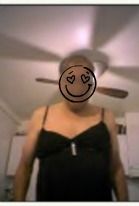 Slave Del -my panty slut has been doing very well with her training. She sent me $2,050 and spent an extra $165 on my wish list. I picked out lots of dresses, lingerie, heels, and wigs for her to buy. Everything should be delivered at the end of the week and she can't wait to model it all for me.
------------------------------------
------------
-------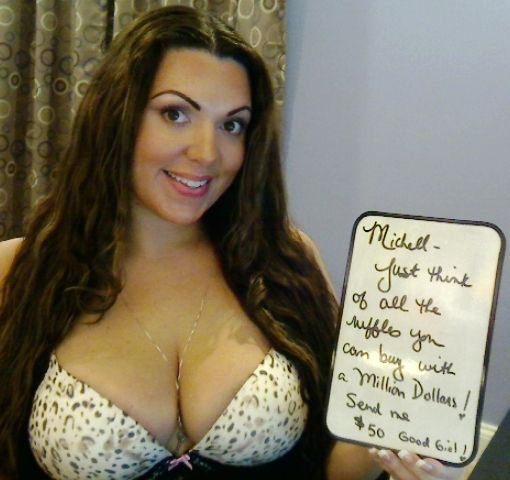 Sissy Michell couldn't wait for her company to leave this week so she could get back into her sissy clothes. She didn't hit the lottery, but still ended up sending me $325. Here she is below in her own red hooker boots and wife's dress.
----------------------------
--------------
Tara Sissy aka BimboBetty has been practicing her cum swallowing. I took $300 from her and Vol sent me $20 for letting my cumdoll service him. If you want to be serviced by my sissy - you can message her on Yahoo at BimboBetty42dd.
----------------------------------
-----
Marko is off to a good first week serving me...weak for my feet and cleavage, he sent me $805 in Tributes. The time difference is a little bit of a problem...but a good pet will go without sleep to serve me!
--------
Blackmail Bitch Ben paid the $310 he owed me this month, then begged to play more Yahoo games which ended up extending his contract till March. He owes me $300 in Jan, $450 in Feb, and $600 in March, but I'm sure it'll be higher by the end of the month.
--------
---
Piggy Robbie is also off to a good start...in the past week he completed my Loser Assignment #1, bought some pics in my Flirt Store and my Blackmail App, but tonight I knew I had him when he was opening up pay mails as fast as I could send them. Weak for my cleavage, I took a quick $300 from him and told him to call me, where he spent another $60.
---------
It's been a few weeks, looks like "new boy" Jimmy is sticking around. He sent me $170 in Tributes, calls whenever I tell him to, and will be dressing up on cam, like a pretty sissy in clothes I picked out for him.
---
What do you do with your pumpkins when Halloween and Thanksgving are over? Well if you're Loser Mark you cut a hole in it and fuck it of course!
The pastry-burger-toilet-couch-fucker paid me $115 to show me what a pathetic loser he really is. Keeping with the holiday theme...he'll be doing a fruit cake later this week.
------------------------------------
------
Some other boys who called and/or tributed this week...
Sissy Bobby, Loser Joe, BMR-D, Loser David
Ignored Loser Jason sent me $110 in Tributes, then called to hand over a little more.
Stroking-Smoking-Holding-Marc was back for an hour long session.
Med School Piggyboy Tony called to check in...with a balance as big as his, he needs to stay in constant contact while working off his debt.
Scottish Andrew grabbed the poppers, hid from his wife and called for a session.
Little Dick Ron called to be ignored...at $8.99/min I told him to go have a smoke and do some chores around the house while I went back to watching tv as the minutes passed by, draining his wallet.
UK Rob can't get enough of the BBC...or my cleavage.
Footslave Rob called for some CBT fun.
JimG continues to give me My money. There's no use fighting it Jim.
A few wish list presents...
----