As many of you know... my birthday is on Monday...you're Goddess will be turning 29. Has it been 7 years for BellaDaisy already? I joined Keen (now NF) the day before my 22nd bday-not knowing what I was getting myself into, haha. Feel free to spend a lil extra (or a lot) on my wishlist and tribute buttons;) I won't be around tomorrow... I'm going down the shore for the day (sold the Eagles tickets)...and having dinner at Bobby Flay Steak in the Borgata (Atlantic City)...after dinner I'll be hitting the casino with your money. Pantyhose bitch sent some nice tributes, one of them being for my bf, lol..he's such a good cuckie bitch.



Speaking of Pantyhose Bitch...
check out this adorable e-card he got from Chicago Mikey...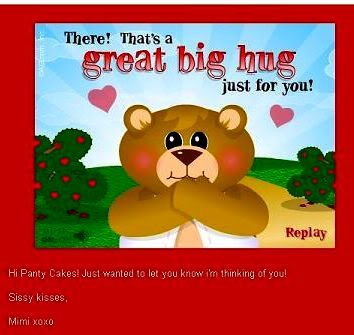 PB and Mikey are so cute together;)
So the other night I was talking to the two of them and Mikey was in a bitchy mood, maybe his thong and pantyhose were too tight? I dunno...so I cut him off... he tried to call about 10 times last night , but I kept letting other people call instead of him. Tonight he's been groveling at my feet, begging to serve me...

| | | | |
| --- | --- | --- | --- |
| | chicago mikey | | Bella Daisy is a Goddess. i am a lowly, submissive worm. i call Goddess Bella Daisy on a regular basis because she owns me. If you call Bella Daisy (which I suggest that you do), you will understand what i mean. |
btw... I don't own Mikey - there's never been a bigger attention whore;)

| | | |
| --- | --- | --- |
| chicago mikey | | Bella is superior and i need to learn my sissy bitch place. :( |

Swiss Subbie just stopped by after finishing a forced intox session.... I had him send $200 in tributes (ended up being a bit more because on the last tribute he sent €50.00 EUR instead of American dollars) Love when you guys do that, haha. I was happy to take his money and send him to bed....and tomorrow he'll buy a bday present from my WL.


Riley bought these gold sandals and earrings to go with my Halloween costume...
I wanted something to switch into after I get tired of wearing stilettos all night.
He also came back around and cleared off $300 in pressies from my wishlist last night :)