DON'T be like this guy.... After trying for a week to get a session with me, and me always being too busy to make time for him..tonight I decided to give him a chance...
Andrew likes to screw around and say he wants to "build up a big total to pay at the end"... bullshit.. Oh what a coincidence that when it comes time to pay there's suddenly "something wrong" with the credit card. Sure I'm all for 2nd chances (sometimes)... just pay a little first so I know you actually have money to spend.
If $30 is too much to pay as a "deposit" at the beginning of the session, don't bother IMing me.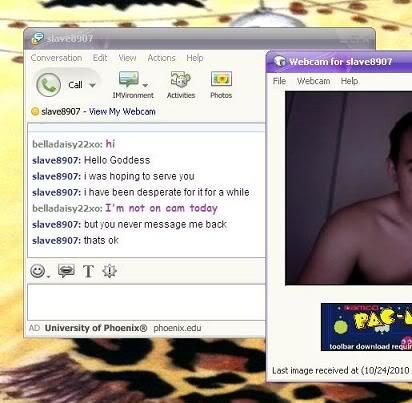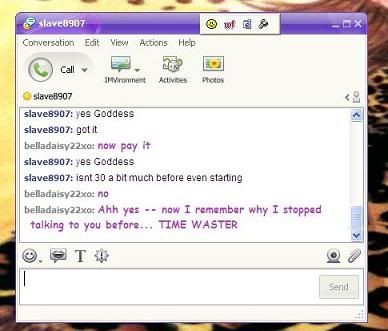 ~*~*~*~*~*~*~*~*~*~*~*~*~*~

Now on to people who have Never wasted my time....

Sissy Damian was back tonight for a cbt/C Sucking session... look at him all dressed up in his gf's lingerie ;)


~~~~~
Wish list presents..
~Over Draft Bitch...some are from you... why don't you head over to my wishlist and shop some more ;)
~UK D... the coffee table arrived on Friday, way ahead of schedule... I haven't opened it yet, hopefully it's ok since I know I won't be able to get a hold of you for a couple weeks;)
~I want new furniture in the guest room, so 1HB just bought the night stand off my wish list, and I bought the dresser with gift certificates I helped myself to with M$ and Lion's cc's :)
Oh Lion... you had to hurry offline before I could tell you - you just bought me a new comforter set too ;) lol... thanks bitch ;)