Someone who actually gets it!!!
TRIBUTE first!! Show me you're not a time waster!!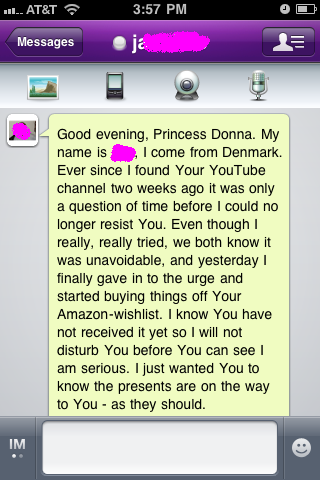 ~*~*~*~*~*~*~*~*~*~*~*~*~*~

DZ bitch is safe till Thursday when his next payment is due. I have a huge collection of humiliating pics of him. I almost wish he's late on a payment... the pics are too good not to share;)


~*~*~*~*~*~*~*~*~


Wishlist presents....

~*~*~*~*~*~*~*~

Panythose Bitch has been hard at work.. practicing his new dance routine for tonight's video.

Loser Mark scheduled a call for Monday afternoon... he's been looking forward to it all week.

A new Sissy, "Tara" contacted me... she sent a $50 Amazon gc and agreed to pay me for every call the slut makes while whoring herself out online.

I had 2 raise the rate bitches trying to call at the same time...Foot Bitch Brian and "Pepsi Dan"...I'd hang up on one to raise the rate and my phone would ring instanlty with the other person trying to get through. Of course I could have made more and kept the game going longer if they called at seperate times, but it was funny to see the two of them so eager to be used.

I'll be posting 2 Loser Assignments for the Holidays on Thursday. One was from last year, the other is new. So even if you did it last year... you know I love humiliating my bitches... feel free to buy it and complete the task again ;)