Well, as you see.. my journal's back... but I did enjoy reading your...frantic, desperate, pleading emails asking me why I removed it and to please bring it back. Meanwhile I hadn't been online all day/night and had no idea it was even down;)
Not sure what the problem was... a warning/explanation from LJ would have been nice, but I set it to "Adult Concepts" and it seems to be viewable now.


Here's bitch Leroy practicing his sucking and modeling his lacey boyshorts.
I couldn't help but laugh at how his itty bitty pee pee fits in his panties.
I'm easily taking more control over Leroy every day... I have him wearing panties every day - even at work. He also handed over access to his bank accounts and is in the process of putting my name on his credit cards so I can shop whenever I want. He'll be in his CB6000 soon enough;)

-My loyal pet 1HB recently came into some money.. of course he handed it right over to me!

-$lave P stopped by so I could take a quick $220.
-ScottD called and I assisted him in handing over $175.
-I took $225 from L8000...helping him on his way to that 8,000 goal;)
-Sucker ScottB - $16,179.83 <--how does that make you feel? love me/hate me? but you're gonna keep giving!!
-Riley called for more Raise The Rate fun..$10/min works for me;)
-Loser Mike from Chicago gave me access to his cell phone so I can leave different outgoing messages. One of these days his wife will
hear.. wonder what he'll tell her? ;) BTW loser... you owe me another gift card!...double it!
-JH was feeling good after a night out celebrating Cinco de Mayo... I continued the celebration with a quick wallet draining;)


I received this email from Tim..

love your glasses Princess Donna. i can tell they're gonna be some money makers 4 u. that's a triple threat cleavage,glasses,smile
So I decided to take a few pics... Just as I thought...Tim couldn't resist opening these pay-to-view pics as I charged him more and more..
even better... he was back the next day opening more $$$ pics..
that's right Tim...keep spending those unemployment checks on ME!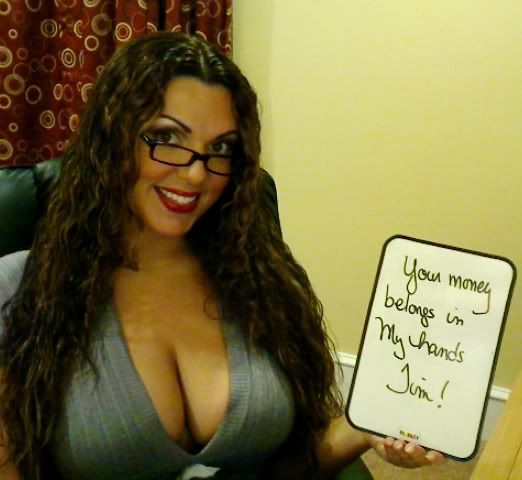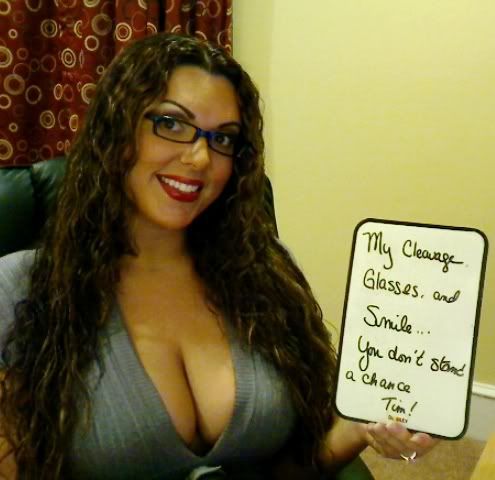 Here's a $60 pay-to-view F U :)

Presents from my bitches...


My lil man Gizmo hurt his eye (the other eye) and will be in a cone and getting medicine 5 x's a day.. along with Vet check ups every 2 days for the next 2 weeks... I already spent $200 today.. and those check ups will be about $50 each...one of you lucky bitches will be assigned to paying for it all. you're welcome.