Just like so many of you, $lave Del tried to leave, but in the end - you always come back!
Things seemed to be going good -Del completed his assignments Thursday - he even called back late that night for another (raise the rate) chat. When he had to hang up, he told me he'd tribute whatever was left in his account Friday morning. He did just that - I woke up to a

$400

tribute... but... Del was gone.. account deleted (again)..
I decided not to try and contact him through email or Yahoo.. I knew he'd be back when he was ready. Well that didn't take long.. he was back tonight with a new NF account, ready to serve me once again - only asking that this time I leave out the Sissy stuff. (until he's ready to explore it again.) He ended up sending another

$400

in tributes.
So with

$800

in Tributes,

$362

in phone calls, and $75 on Amazon =

$1,237

..once again - welcome back bitch Del.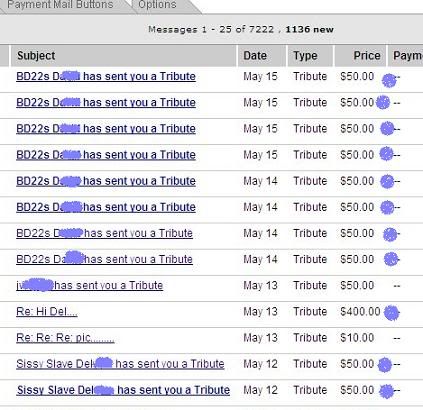 ~*~*~*~

-A blast from the past GNR returned and sent a quick

$350

in tributes before heading to work.
-I helped myself to another

$100

on Amazon from bitch Lion.
-Jbitch messaged me on Yahoo...he's another one who constantly deletes and returns... so I made him send a

$50

Tribute - just because.
-Loser Sun completed my Blackmail App - so I made him send a

$50

Tribute too.
-Riley called tonight for some Raise the Rate - that was a fast

$120

.
-ScottD noticed my rate going higher and wanted in on it too. I enjoyed taking

$210

from him.
-With the rate still raised, I made CummyScott call next - taking

$110

from him.
-Loser Tim opened

$40

worth of PTV mail.
-CMG has been trying to fight his addiction to my cleavage - needless to say - it's a losing battle - he ended up Tributing

$105

.
-SamD was back again with a

$50

Tribute (no cumming for you Sam;)
-and finally...$lave P, who paid

$100

for a humiliating assignment that included him driving naked.

~*~

Presents from my bitches - Lion ,UD, and Leroy...