It's no secret, I do enjoy my sissy boys! NOT saying I OWN them, just that I've gathered up a nice collection of them who seem to be very loyal lately. It's not all about money either (although some of you know financial domination does excite me and is a big turn on for me)
I love pushing my boys to be good girls. Like I told my Panty Slut Dena (who did a drive by tribute and ran away this weekend) once a cross dresser..
always a cross dresser.... once you get the feeling of wearing panties for me.. you crave it.. you want to do it more and more... you belong in panties.. you're purpose is to serve me! You need ME, your Princess Donna.

I think I mentioned last week that Cummy Scott is turning into more of a sissy in order to get closer to me. I had fun chatting with him while giving him make up lessons. He sat there on cam putting on a full face of make up and wearing cute pink panties.

Then I had $lut Rex put on panties and bright red lipstick that I picked out for him online. He was trying to get away with a pale pink, but I wanted "Jenny's" bright red lips to really stand out.

Norway Sissy laced up his platform hooker boots and begged me to tell his girlfriend what he's been up to.

Tara Sissy is now taking calls a few nights a week...of course she sends all the money to me... on top of that, I helped myself to $250 from the credit card she got me. He's from Delaware, but travels a few times a month. Last week he was looking to hook up and be of service to guys in Cleveland and Nashville.

Sissy Michell/Mike was such a good girl this week... he's getting closer to giving me a credit card, I can feel it ;) He was complaining that his (soon to be ex) wife was bringing over her ugly flat chested friends..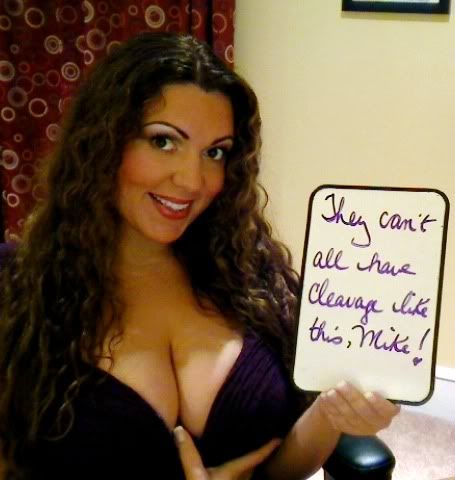 Here's Sissy Michell all dressed up and showing the credit cards that will be soon be mine. In the meantime, he's been doing a good job spending... sending me over $800 this week, including $250 from Victoria's Secret:)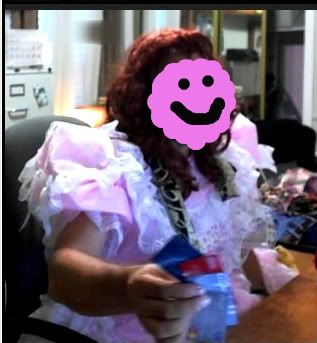 and here he is peaking out the window, looking at the workers doing construction on his house. He was a bit scared they would see him, but I kept making him gets things from different rooms of the house. One thing was a wooden spoon from the kitchen, not because he was bad, but just because I enjoy making an ass nice and red... of course Michell couldn't say no;)

~*~
My wanna-be-slave-E is still trying to prove himself by checking in nightly, sending tributes, and shopping from my wish list even when I'm not online.



~*~
I have a new Raise-the-Rate caller "S"..who ended up spending $490 during 2 calls this week. He says he gets so weak while staring at pics with my pretty eyes, toned legs, and watching me count money in my YouTube videos... so that's exactly what I had him do as I raised the rate higher and higher;)
Denial Piggy was back..ended up spending more and more because he can't resist my cleavage...he's a total Boob Addict!

Whipped Puppy said he couldn't, but knows he has to do as I say, and sent a $50 tribute anyway;) So did Sune, but that was just towards his buy out.
Med School Piggyboy Tony called so he could get caught up on the money he owed me from the Eagles game we bet on a couple weeks ago. With all the interest, his $80 balance ended up costing him over $200:)

Good boy Gary came around looking for some PTV's... he's a sucker for cleavage and opened $80 in pay mails.

----
My Gingerbread House Decorating/Christmas party was Saturday. It was so much fun, but so much work preparing because I wanted everything to be perfect. Inviting 20 people seemed like no big deal, until it was time to set up and I had to make room for everyone to do their houses. I ended up having tables set up in my dining room, living room, and then a few in the basement too (good thing you boys paid for that remodel over the summer) So I wasn't online until really late Thursday night, then Friday and Saturday I wasn't on at all... and didn't come on again till late Sunday night. You boys are so spoiled sometimes having me online at least 6 nights a week normally;)
Here's my Log Cabin Gingerbread House... I had plans to add more to it, but there wasn't enough time while playing hostess...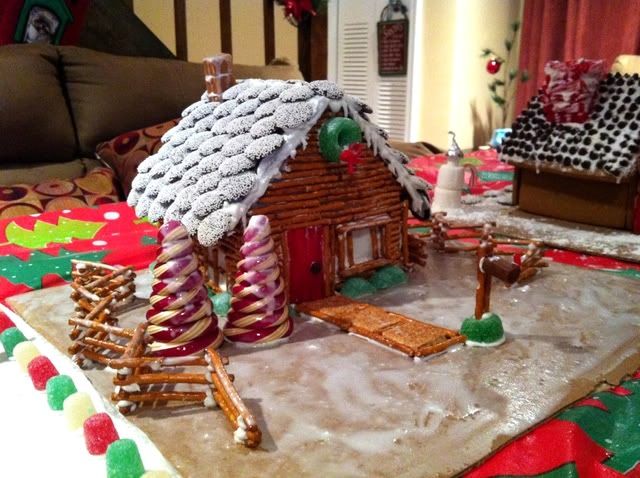 I put together two gift baskets of booze for 1st and 2nd place houses.
Cuckie JJ paid for them;) Actually when I look at just these 3 pics I posted, I can remember who paid for what...even though it was a while ago, Lion bought the silver wear, wine glasses, and table cloths. Then my furniture and stockings from My Pet Jay, the Christmas decorations around the room - $lave Del



~*~
Wish List presents...