My NiteFlirt line:
A lot of my boys love ruffles...especially Sissy Michell and Panty Slut Dena...
My Good Girl Dena was back this week, sending $1,245 in Tributes and really focusing on her training.
Look at her all dressed up in pretty white satin. Dena I know you ran off again, but I'm sure you'll be back to check in with your Princess before your trip this week. You need my training to keep you focused while you're away;)
-
I had a lot of fun with Sissy Michell last night...she knows she can't say no to me:) While sending $585 in Tributes and all dressed up in a wig, pink lingerie, and red thigh high hooker boots, I had her walk outside of her house.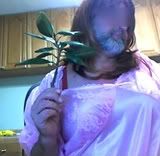 She brought in this branch to prove she was outside. To make sure it wasn't right outside her door I had to take the iPad with her so I could watch on cam and tell her where to go... out to the street, down the sidewalk, around the yard, etc. Then I decided it was time to come in and get rid of that beard. Sure he had it for the past 10 years, but it was time for a change. He's finally getting rid of his soon to be ex-Sarah and a nice smooth face is better if you want to turn into a real girl;)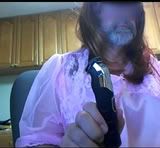 --
Popping Reject followed my instructions and sent $350 during a Forced Intox Session. I think he's due for another one very soon.
-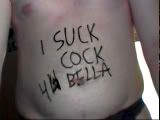 He came back the next day for some humiliation and sent $605 total.
-
The always loyal 1HB is off to a great start in the new year, sending an extra $300 in Tributes along with his nightly $50:)
I've been extra busy this week, which meant a lot of time waiting in line for your turn to serve me. Denial Piggy had to wait 2 days...but finally got his chance to had over $125 while I collected new pics of him.
Loser Mark was so eager to call, I decided to raise the rate to $30/min because I knew he couldn't resist.
Raise the Rate "S" is still calling (even with NiteFlirt's phone issues - he still keeps calling till it connects) spending $210 on some raise the rate fun:)
Sissy Tim was another who had problems trying to call...he tried again and again - almost a half hour till NF connected us, but it was worth it when he got to tell me his pervy stories from the holidays and hear me laugh at how pathetic he is;)
DVC called and tributed $150 while begging to have his pics posted on here. Of course he changed his mind later, lol.. but I know he'll be back for a session soon. He loves to get all dressed up.
My Weak Puppy sent $100 just because I told him to. Then I had Sune send the last $50 of his blackmail buyout. I know it wont be long before he comes around again.
I had a fun CBT training session with Sissy Damian..mixing cbt, cock sucking training, and humiliation. -make sure you find me this week Damian, we need to up your skills ;)
A new piggy, Paulo found me online and sent $200 in Amazon GC's while I reminded him he's only good for his wallet.
New boy Jimmy was doing good -calling every other day and following my instructions. Let's see if he can keep it up.
Tara Sissy was making excuses as to why she wasn't around much this week. That's fine, I still spent $400 on myself with her Master Card anyway;) But I was nice and spent an extra $80 (of her money) on a big black dildo and new dress that should be arriving at her PO Box tomorrow. -Get back to work Tara, there are boys waiting for your slutty ass;)
A blast from the past UK Foot $lave D stopped by to say hi with a tribute, but I wanted more and ended up having him send $160;)
---
A few wish list presents... the MacBook case and Legos are for my cousin, I love not having to spend my own money on gifts;) That's your job!