I went to look at another potential rental property today. It was about 15 mins from my house so I decided to take one of my Shih tzus for a walk and check it out. Normally I wouldn't take a dog, but I felt weird going in alone (ah yes my 12 lb dog will protect me, lol-stupid)...anyway..I open the lock box and go in from the basement and hear people upstairs. It was a realtor and a buyer. This is the 4th time I've ran into this guy (the buyer) over the past 2 years. Somehow the house I put a bid on a couple weeks ago came up and the guy kept saying.. oh that was my baby, I really wanted it. I said what do you mean wanted it? I didn't hear it sold. He said it's closed and they're not taking any more offers.. then he says YOU probably got it! He sounded like a little kid that didn't get his way..and called the house his baby 2 more times. I said no, I haven't heard back, must be someone else. Then he said something lame about me being like someone on the Price Is Right who bids a dollar higher and wins. OK dude, I beat you out of a house once, two years ago, it was much more than an dollar, get over it, weirdo. So as we're all walking outside, he starts saying how this house isn't worth it, he's not interested, etc..but it is a good deal, he probably does, who knows, but the guy's a tool.
In Sissy news... Michell is locked up tight in a BirdLocked cage. She's been wearing it for 3 days. I'll probably let her out tomorrow because I prefer you guys hard, aching, and then I get to deny you:) With some T.V. fun, I helped myself to some cash and presents...taking $730 the past few days.
Here she is on Tequila Thursday, drinking some Margaritas. Michell doesn't have to be tipsy, I always get what I want anyway:)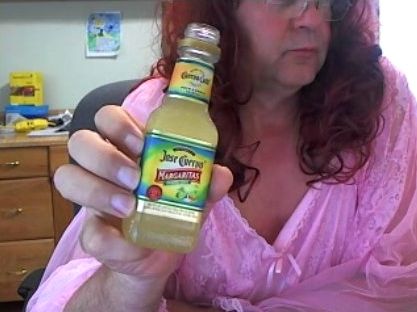 A lil message for he soon to be ex wife...
-----------
Raise the Rate S is still going strong.. calling more and more..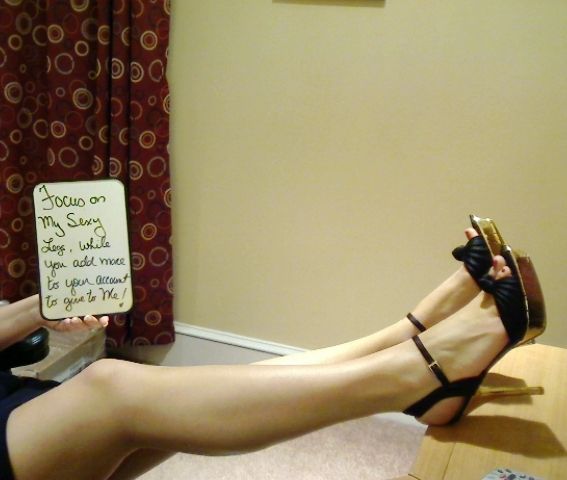 As usual, I'm raising the rate all the time on Loser Mark..wether he's calling from his car, or I'm making him hump his toilet...I love hanging up, knowing he can't resist and will call right back:)
Someone else who can't resist.. My Weak Puppy...at $75 a picture, I'd say he's Whipped;) I ended up taking an easy $150 from him, as he sat at my feet, begging for attention.
----
Tara Sissy asked me to slow down on all the shopping I've been doing with her Master Card. I figured that would happen any day now, I've been using it extra hard the past couple weeks. I think she's also scared because I've been pushing her to be a girl almost 24-7 and she's afraid it'll take over her life. I mentioned last post that I accidentally sent Tara's leopard dress and black dildo to my house instead of her PO Box.. now Tara asked me to Not mail it to her, she's afraid her family will check the box.. ok.. the dress is too big for me and I have no interest in the BBC....so.....hmmm, wonder who I'll send it to;)
-------------------------
Foot $lave Bob came around.. but only coming around every once in a while isn't good enough.. so this is what he got for $100...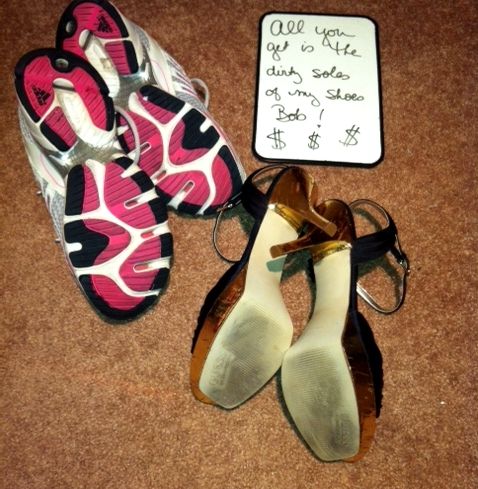 --------
Some boys who were also around this week...Loser Mike from Chicago with new stories of him being cucked. YouTube star Angry Andrew, Hollywood-MS, UK-M$, Rex,and blast from the past Chad.
Of course the always loyal 1HB with his nightly tributes and MPJ constantly shopping:)
Blackmail Bitch SuneA was free to go,but came back and got himself in another monthly contract. He sat on cam, wearing his wife's bra and panties..and her pantyhose over his head as I collected more pics.
New boy TDV filled out my Blackmail App, sent pics and tributes. Right now I'm starting him off slow with just $50 a week.
I spent a long time on the phone with Drew last night... he couldn't help but keep calling back, sending tributes, and giving me info. Tonight I set up a strap on session for him with a chic from Eros. I contacted her, explained he was my bitch, and was looking to have her and a friend use and humiliate him with me on the phone giving instructions for a little bit. She seemed cool with it, so hopefully they'll meet up on Wed night.
Piggyboy Tony can't resist and keeps getting himself deeper in debt with me. First he owed me $620 from the Giants/Packers game...then another $500 from the Giants/49ers. He's been tributing and calling... I could be nice and count the money he spends on calls towards his balance..but I wont.
With his team going to the Super Bowl, how could I not help him celebrate by paying me for every Touch Down and Field Goal?!! :)
I decided we'll double it for the big game..TD's will cost him $140 each, FG's will cost him $100 each.. and an extra $200 if the Giants win.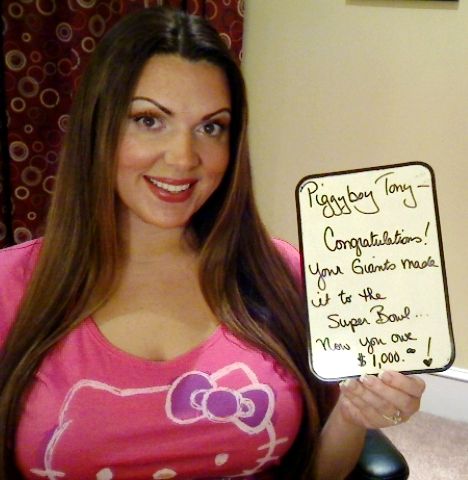 Wish List...