If you saw my video in the post below, then you know Piggyboy Tony owes me $1,060 from the Super Bowl. He is a broke Med student after all..so I'm letting him make payments. He called the other day...even though he spent $205, I'm only taking $100 of his balance - the rest was for a phone call. He should be calling in the next couple days to make another payment...but I'm expecting more than a hundred this time;)
Surprisingly, this video hasn't gotten any negative comments. There's usually one or two "stop giving your money to this bitch" type comments.
---
Look at this happy Sissy.
Michell was such a good girl, following all my orders... going outside, walking down the sidewalk in all those pink ruffles and wig. She also sent me $600 plus a $100 Victoria's Secret e-gift card. Good girl;)
---
Blackmail Bitch Ben got himself into another contract. He paid $250 today and owes $900 when he gets paid in 2 weeks. I'm sure he'll be asking to play more games and get himself into another contract after he pays off his balance;)
--
Lots of Raise-the-Rate calls as usual this week... "S" is still calling.. and seems to be staying on the phone longer each time. I also raised it with Denial Piggy, Geo, Cash piggy, and Loser Mark. Now that toilet humping, pastry fucker, Mark has an iPhone w/ cam he couldn't wait to show me that he really does all the humiliating tasks I give him.
1HB sent some extra tributes this week, along with his nightly $50. He loves to keep his Princess happy.
--
With some T.V. fun, I helped myself to $150 from BBC loving UK Rob and $200 from L800.
Piggy P snuck online to send a quick $200...I think it's time he sends more;)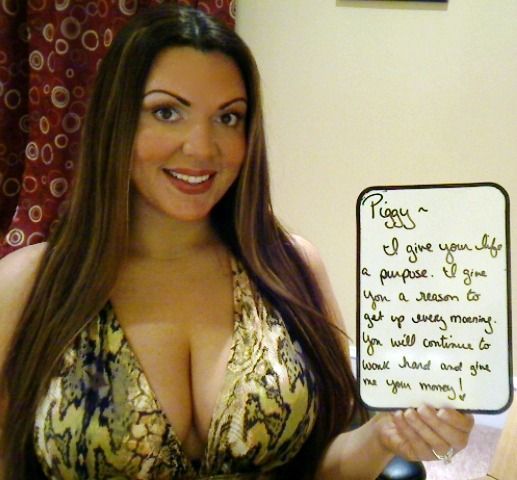 --
Sissy Damian was in need of some cbt /cock sucking training, so I told him to get dressed up like "Hooker Dorothy" ..this is what he came up with...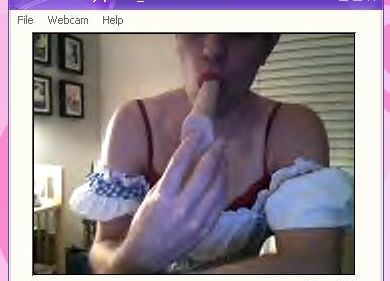 --
DZ bitch has been coming around again. I let him out of his contract early, he took a couple months off.. and is back to messing around with his pics on my blog. I made a cute little slide show of some of his best pics.. shame he paid $75 to have it removed so quickly;)
--
Popping Reject was out with coworkers.
I didn't try to get him to do a session because he said he was short on cash. I told him to have fun and went to bed. I left Yahoo on and woke up a few hours later to find PR at a motel, ready to do a Forced Intox session. That was a fun $250 surprise in the middle of the night. By the way Reject...you're due for another!
--
One of my original money slaves, Chad has been coming around again.
I'm taking it easy on him - he just has to check in a couple times a week and send a weekly $100 tribute. He's slowly filling out a blackmail and slave contract.
SuneA paid off the his balance, then came back tonight asking about a new contract, which means he'll probably give in and end up putting on his wife's lingerie and send me money in the next few days.
--
Tara Sissy was in rare form the other day...I think I mentioned last post that she asked me to stop using the CC she got for me and wanted a break from being a girl all the time. Well that all went out the window because I had her looking for men to serve online, picking out makeup, and playing the Bimbo game where she keeps asking to give me more and more money. I ended up taking $700 and have control of the Master Card once again.... as I should!
-
Good boy Gary made a surprise phone call...
He's been clicking and paying for years, but has never called. It was nice to hear him so eager to please as he sent tribute after tribute while on the call.
--
Some other boys who called this week:
-I'm still trying to find the right Mistress to do a strap on session with bitch Drew. Anyone in the Knoxville area want to use my bitch?
-Stroking, Smoking, Holding Marc is still calling on a regular basis.
-Whipped Puppy tried to resist sending me a tribute...that lasted less than an day;) He knows he belongs at my feet.
-I also heard from Pantyhose G, Arab Loser "L" (there's so many Arab Losers lately), Tiny Tyler, and Cummy Scott -who I hope to hear from more often. Don't be scared Cummy - you know you want to ache for me;)
Wish List Presents...
So glad I'm not the one who has to break down all the cardboard;)
make up for me and the bread maker is a b-day gift for a friend
flip flops and pedi slip ons to wear for spray tans...no orange soles ;)
and more Legos for my cousin...paid for by you bitches:)
-----
Loser Mike from Chicago has been sending me Victoria's Secret gift cards lately and made a video. He's talking about "Piggy", his wife who cuckolds him and how she wants to know why they keep getting VS catalogs sent to their house when she doesn't shop there.




---