Let's start off with $lave Del aka Panty Slut Dena..who now would like to be called Sissy David:) Sissy David followed my instructions and went out shopping for panties, thigh highs, a bra, and this white satin nighty and robe he's wearing in the pic.
He couldn't wait to get online and model it for me. David disappeared for a few weeks, but he knows how important it is to keep me happy, so he made sure to check in when I told him to and happily handed over $2,700 in Tributes for his Princess over the past few days. I know this means he'll take 2-3 weeks off, but will return as always.
---
Bitch Leroy has been behaving so far.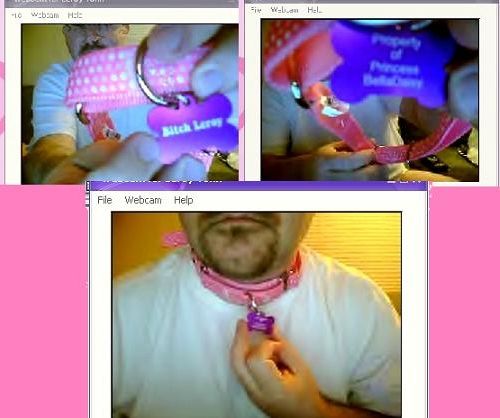 He's proudly showing off his pink dog collar and name tag. Aside from sending tributes, I've been taking money from him while playing Yahoo games. He almost never beats me in Literati or Word Racer so it's been costing him quite a bit:)
--
Blackmail Bitch Ben owes me a few hundred dollars next week for the last contract he got himself into. He's another one who lost a good bit of money while losing at Literati (Scrabble). I think the last game cost him $200, I don't have the patience to play a whole game, that would take too long..it's just the first to get 40 points...which is almost always me:)
-
-UK BBC loving Rob sent a $100 Tribute. Arab Loser R sent a hundred also. Then J-44 checked in with his weekly $50.
Norway Sissy will be sending $75/week for a very long time - he's young so I take it easy on him. His Bird Locked Chastity should be there any day now. Of course I kept the keys.
-
Longtime bitch RY popped up again. He locked himself in for $100 every Friday for the next 10 months. I told him I'd be happy to post his pic if he flakes out on me come Friday..(he's been coming and going for years). He suggested I just keep his credit card on file and take the money myself if he's not around. So I let him send me the first $100, then did a little shopping to make sure the card worked.
*I'm constantly getting asked to take over different accounts and credit cards...but I turn down a lot of guys, you really have to prove yourself to me before I take it to the next level with a sub.
Speaking of bitches I trust...Tara Sissy finally got the nerve to mail me my credit card. Even though I've been using it online for a while, I want to tease her with it in my hands. I took $400 from her this weekend as she worked hard to get more callers on TS and Yahoo.
Here she is in the leopard dress I picked out for her.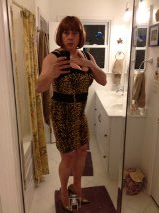 She took pics with the BBC, but begged me not to post them.
You can message her at "TaraPhoneSlut" on Yahoo. She had some callers of her own and I also sent her a couple boys who I didn't think deserved my time. Of course everything she makes will go right to me anyway.
--
CummyTummy Scott, my panty slut is also trying to work for me. He sent me a $100 Tribute and then called me on NiteFlirt to ask step by step instructions on how to make a NF listing. His NF name is CummyForBella - his listing is still pending, but should be up in the next day or two.
---
New boy Martin messaged me on Yahoo...I think he's messaged me before, but nothing ever came of it. I was about to hit ignore, but gave him 1 chance to tribute immediately. That worked out well... he ended up sending $50, then another $50.. then came back the next day with another $100..he said he was hoping to one day get a personalized pic from me...I knew he'd pay..so I sent him this in a $50 PTV mail.
--
-Loser Mark has been getting a lot of use out of his new iPhone..he loves sending his cam so I can watch and laugh at all the pathetic things I make him do.

-Loser Mike from Chicago keeps sending me Victoria's Secret gift cards... his wife, Ms Piggy wants to know why they keep getting the catalog in his name since she doesn't shop there. As soon as she goes to bed he sneaks to call me from the other room...of course he'd rather talk to me all night than be in bed with her;)
-I had a fun raise the rate call with TS Piggy P. Every time I hung up to raise the rate, I'd also send a pay mail that he had to open before I let him call back.
-Another Piggy - UK Piggy P sent an extra $200 during a call so I'd turn my cam on for a few minutes...I couldn't help but laugh at him when he finally realized I could see him too on a video call. You're safe Piggy - I only get into Blackmail games and fantasies with those who come begging for it.
-Sissy Michell sent $350 this week. I don't have any new frilly dress pics of her this week because she's traveling, but she still likes to keep me happy with Tributes.
-Good Boy Gary's still clicking, paying, and calling. I think he's due for new pay mails.
-Some other boys who stopped by this week... L800 filled out my blackmail app, Faggy Beau, Denial Piggy for some raise the rate, Sissy Candi, Cuck John, Sissy Jessie, Aussie Piggy, Snow Humper Andre, Sissy Tina, Hypno Brandon, Stroking-Smoking-Holding Marc who added a few shots of Vodka and stayed on longer than usual - he knows it feels so good give me your money. I set up a strap on session with some chic from Back Pages for Bitch Drew...but she ended up canceling shortly after. So he's still looking for a Domme in the Knoxville area.
Chicago Mikey keeps calling to see if any of my bitches are online and want to talk to him. He likes to say they're scared of him, but we all know how fast Mikey drops to his knees when ever they come around;)
---
Med School Piggyboy Tony was hiding after the Super Bowl, but he's back and started working on his balance.
I've said before I won't count the money he spends on calls, but after he sent the first hundred, I was nice and let him pay $100 per picture.
---
A few Wish List presents..