It's that time of year again...when Cuckie JJ pays for my Eagles Season Tickets. He happily handed over 2 Grand, just like he did last year and the year before:)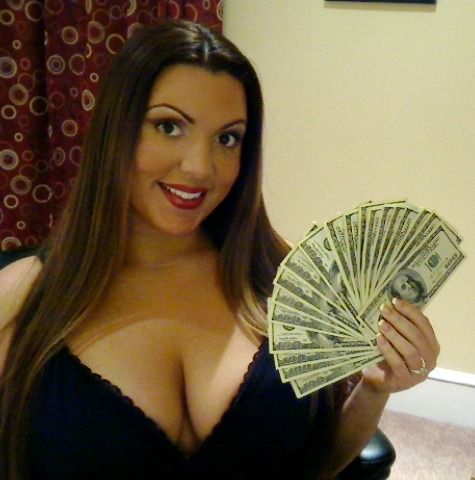 ------------------------
UK Martin has a weakness for my smile. That could be a problem for him because every time he Tributes, it makes me smile...and he ends up sending more. The past 2 nights he's been staying up late, his gf thinks he's working hard...little does she know he's working hard to serve me...and ended up sending $800 to keep me smiling:)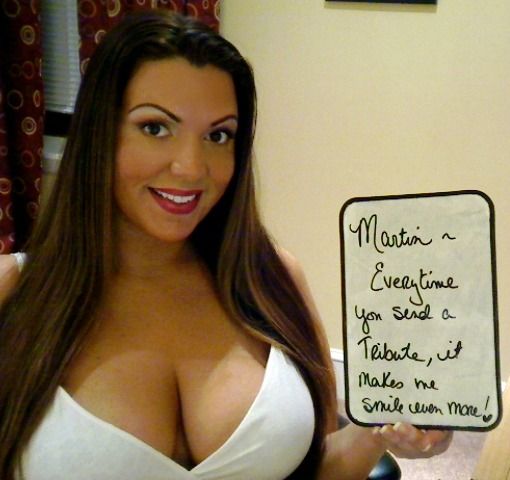 ---
Bitch Leroy's doing everything he can to entertain me by humiliating himself and keeping me happy with Tributes. He's also racking up a huge balance since he almost never beats me in Yahoo games. He said my picture on his Desktop is a big distraction...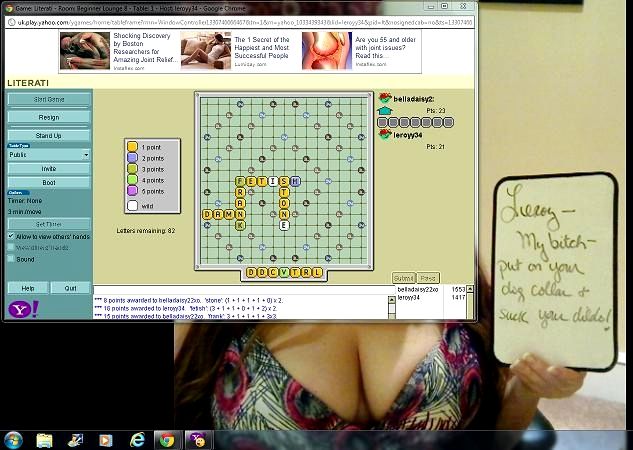 ----------
-Blackmail Bitch Ben stopped by...he wanted to chat about the 160 balance that he'll be paying at the end of the month. He sent a $50 tribute and by the end of our little chat he got himself into another contract. This one will cost him $550 a month for the next 12 months....or he can just pay the $800 Buyout. I'm pretty sure he'll pay the 800...then come back an hour later and ask to play more money games:)


-Norway Sissy sent $250 for being a fuck up. Then he begged me to use him harder. He usually gets up around the time I'm signing off for the night. I'll be sure to make him start his day by sending me a nice big tribute in a couple hours.


-Just like Norway, my bitch RY asked to be used harder... I enjoyed taking $470 from him..with an extra $50 Cum Tax. He made me laugh when he tried to get a bit of an attitude because I took so much.. you know the "after you squirt attitude"...I of course don't put up with that from any of you and had to put him in his place....he knows I have him by balls, he can't say no to me.


-Loser Mark (the pastry fucker) has been calling and tributing more than ever since he got his iPhone and can send video. He's been doing a lot of toilet and sink humping lately, but last night I had him make a buttered bread loser sandwich to enjoy.


-Stroking-Smoking-Holding-Marc was back for another long call. He knows stroking feels so much better when you're sending me money;)


-Med School Piggyboy Tony called while his gf was out...it was a pretty long call, but I'm only taking $100 off his tab from a Tribute he sent. Step it up Tony - it's already Season Ticket Time...and you're still paying off your balance from the Super Bowl!
----

--------


Lots of 200's...
-$lave Del/Panty Slut Dena/Sissy David stopped by for a super quick session. He sent $200 and went back into hiding. Stop trying to fight it David! You belong in panties. Now go to the store and by some pretty lingerie to wear for me while you repeat your purpose in life!


-Popping Reject also sent $200. We did it a lil different this time, instead of the usual motel, I had him call me from the bar. I wonder if anyone noticed how long he was spending in the bathroom in between drinks.


-1HB surprised me with an extra $200 Tribute on top of his nightly tributes...just because;)
-Lil Dick RP sent $200 because ..as he puts it: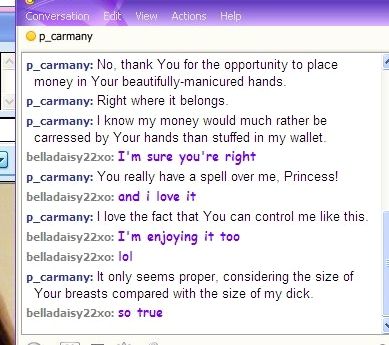 -Whipped Puppy sent $200 also. He used to try to fight it, but he's finally realized he can't resist the power of my cleavage.
------


-Thorsten sent a drive by Tribute for $50... we seem to keep missing each other cause of the time difference, but why don't you go double that Tribute, Thorsten;)


-JimG sent a quick $100 and signed off...he said it was better to get out of there before I sucked him in;)


-Mitch the Bitch sent a surprise $100 also.


-Sissy Michell is still traveling, but still sent me $150 even though we haven't been able to session like normal.


-Denial Piggy sent $115 while humiliating himself on cam...giving me more pics of him to add to my collection.
-
Arab Loser came around again in his wife's thong..he has to pay extra to get his pic on here... he's extra pathetic...and extra tiny.
-DVC called, then tributed $130. -You keep trying to fight it, but we both know you'd rather be wearing your pink baby doll lingerie and stripper heels;)


-After taking $50 from Jr, I decided to be nice and let him squirt in his mouth as he watched some BBC porn.


-Faggy Beau was trying to convince me he's Not gay, but he's not fooling anyone.. he can't stop thinking about Andrew's big cock.


-Loser Mike from Chicago has been busy with some hot Tranny action. He loves sneaking calls to tell me all about it.


-Raise the Rate "S" is calling more often. He started to get into some blackmail fantasy, then got scared and left...but was back 2 days later for more rate raising fun.


-Tara Sissy hasn't been around much this week.. I know a few of you were trying to do calls with her... but that didn't stop me from spending a few hundred with the credit card she gave me.


-Good Boy Gary knows the power of my cleavage very well.... Every time I send a pay-to-view mail, I know he will be a good boy and open it. He ended up clicking and paying $255 in PTV mail this week:)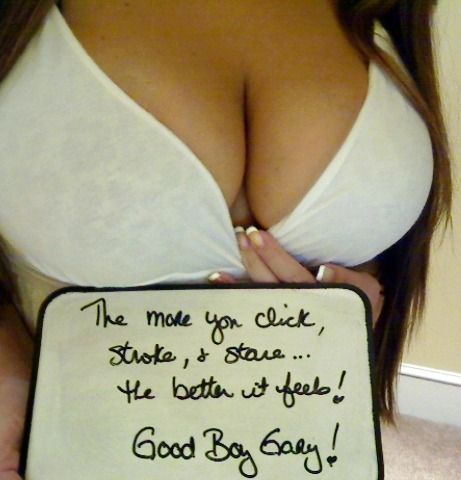 -----
Wish List Presents...