I'm leaving for Bermuda very early Saturday morning...so come find me online Thursday night or Friday afternoon. I decided to only board my Shih tzus at the Pet Hotel, I have over a $1,000 in gift cards from you boys, so I added even more treats and personal play times for them. A couple friends will be house sitting and taking care of my Chows all week. Some of you asked to be put in charge of paying for things while I'm on the cruise. Of course my suite has already been paid for, but there will be extras like the Spa, specialty restaurants, excursions on the island...and of course, lots of shopping.
You can message me on Yahoo IM: BellaDaisy22xo
or email me at BellaDaisy22xo@yahoo.com, if you normally use my other email, which I won't post here, I'll be checking that too.
Sissy Panty Slut David stopped by last night and Tributed $550. He knows his purpose in life is to keep me happy, and is looking forward to sending me money while I'm away.
Bitch Leroy can't help himself, he keeps asking to play more Yahoo games. Those of you who've played with me, know I almost always win. He's been sending tributes and we've been doing a lot of clothes shopping on Team Viewer with his credit cards. Last night he had to pay extra for 2 day shipping to make sure I get them before I leave for vacation. Like I said, I almost always win the games, but when he finally beat me, he was so excited to get a personalized picture from his Princess.
-The always loyal 1HB surprised me with a $350 Tribute, some extra spending money while I'm away;)
-Raise the Rate "S" called many times this week. I noticed he's been calling more and more and asking more about blackmail.
-Speaking of Blackmail "Fantasy"......my Bitch Ben just keeps getting himself in deeper. I decided to be nice and gave him a 10% discount for paying early. But after he paid, he ended up begging for more games and now owes me $1,300 at the end of the month.
-Foot Slave Bob is a sucker for stockings and these purple open toe sandals...not something I would normally wear together, but he couldn't resist opening $150 in PTV pics and locked himself in for $100/week ;)
Another one of my blast from the past Foot Boys, UK D stopped by for a quick hello and sent a $110 Tribute.
Sissy Michell is still aching to get back into her ruffles, even though we haven't been able to do a session, she was still a good girl and sent a $150 Tribute.
Med School Piggyboy Tony spent $300 to talk to me, but I'm only taking $120 off his balance this week.
Cuck John is calling more often also. Actually he hasn't mentioned being cucked lately.. it's all about worshipping my cleavage rather than having sex with his wife.
Good Boy Gary spent $200 on my cleavage this week...
Denial Piggy's a sucker for cleavage, it was just too easy to take a quick $80 from him. He keeps asking when I'm going to post his pics. I have a pretty big collection of him doing humiliating things, most can't be posted here... but I don't know who he thought he was fooling with this mask...
Lots of boys have been asking to be flipped off in pics lately, here's one from a new sissy bitch...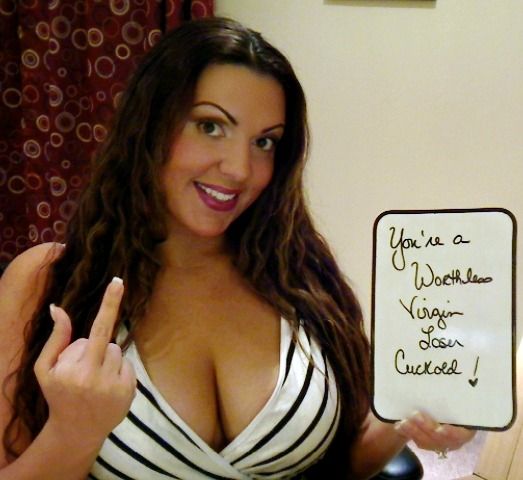 Loser mark can't get enough of me flipping him off either.. especially while he's humping a pastry or most recently, this hot dog bun...
Mitch the Bitch is still saying his prayers daily. He sent a $115 Tribute and is kneeling with my pic on his desktop...
this is the prayer he wrote:
-Goddess Donna, please accept this lost soul as a gift for You to use
and abuse as You wish. i surrender all that i am to You my One true
God. my mind, body, and soul belong to You now. i am binding myself
under Your complete control legally, emotionally, spiritually, mentally,
and financially. You are now owner of all that is me. You decide my
fate. You are my God.
Another newer bitch... Sissy Mic sent a $180 Tribute and I made him get dressed up slutty while his wife was asleep in the other room.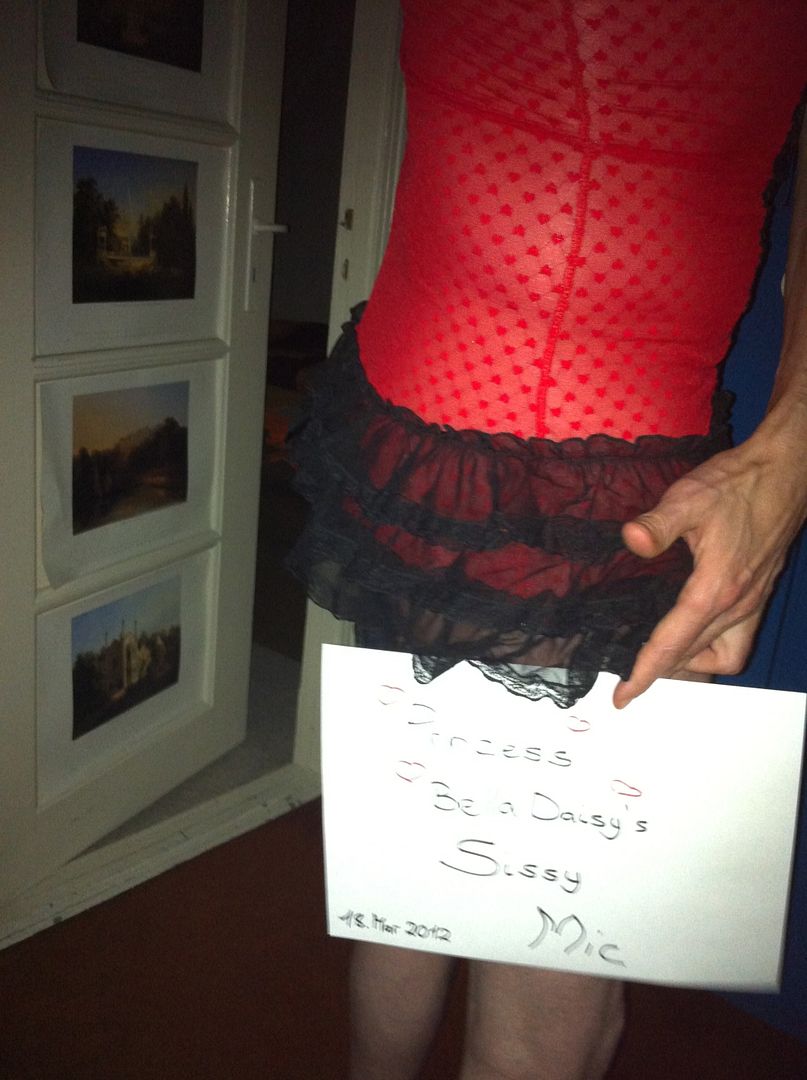 Some other boys who were around this week..
-JimG, who is still trying to fight the urge to be under my control, but gave in and sent tributes anyway;)
-FaggyBeau who tries to convince me he's straight, but the call always ends up with him on his knees dreaming of cock.
-Aussie Oinker came around for some nipple torture on his man boobs.
-Some new tool Zach paid $50 as I watched him humiliate himself on cam. He messaged me a day later and I didn't recognize the screen name. He actually thought that was funny, got cocky, and called me a sucker. So I looked up the chat achieve and realized he was the fool I made throw his legs over his head and give himself a big load to the face. I showed him I knew exactly who he was by sending him one of the 5 screen shots I took during that quick session. Wow, did his attitude change, no matter how many times he begged, I refused his tributes. I don't want your money Z, I'm enjoying you knowing I have those pics instead;) Sucker!
-Norway Sissy is still sending his weekly tribute.
-Tara Sissy asked for a break from being Fem for a while. Well that only lasted a few days. She strapped on her big boobs, glued on her red nails and strutted around in her heels as I took back control of her/ My credit card:)
-I took an easy $195 from Lil dick RP...with only 4 inches in his pants, I'm only interested in his wallet;)
-UK Martin continues to get weaker for my Smile... he couldn't resist sending $400 in Tributes as he sat right across from his girlfriend, staring at my pictures on his lap top. Like many of you, Martin wants to be a good boy, and knows my wants come first!