David, who went from my $lave Del to Panty Slut/Sissy Dena will now be called Kimberly.
With my training, she has turned into such a good girl.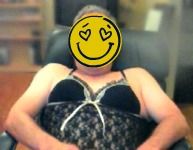 Kimberly wore her panties every day this week. She made sure to take her scheduled stroke breaks and think about how good it feels to serve me. Kimberly also made me a very happy Princess by sending $3,510 in Tributes. Here she is wearing the pretty lingerie I picked out for her from Bloomingdales. I also picked out some dresses, panties, bras, and other lingerie that she was so excited to model for me. She has a pretty blonde wig coming in a few days too.
-----
Loser Mark, the pastry fucker, wanted to humiliate himself on cam again for me, so he sent an extra $100 Tribute, grabbed a pack of Peeps and snuck into the bathroom. He tried to use just a few, but I made him wrap rows of those lil guys around his loser dick and hump away as I laughed at him for being such a pathetic loser.
*I wonder if anyone asked who ate all the Peeps?
-------
A blast from the past, Puppet Jeff called. I'm not sure how long it's been since we last spoke, but he used to serve me years ago - I had him on a strict schedule, telling him what time to wake up, he had to email me every morning to show he was up on time. I also told him what to wear, what to eat, etc. He would spend hours on his knees while talking to me and never complain oh the pain. When he called the other day, we got right back into it - going through his bank accounts, email, work schedule, did some Amazon shopping and once again he spent hours on his knees and was happy to be aching for me. (While he was aching on his knees, a lot of you were trying to get my attention, but had to watch my lines say "Busy, on a call" for hours. He ended up spending $1,450 :)
----------
----
----------
Aussie D called me for the first time this weekend. He's messaged me on Yahoo about every few months over the past year, but nothing ever came of it. I guess he was making up for lost time because he stayed on the phone for a few hours over the weekend. Friday night was a 90 minute forced intox call. He had to stop in the middle of the call to walk to the store for beer. Like a good bitch, he set the phone down on the table and let the NF minutes tick away. Saturday afternoon I signed on to check mail and there he was, waiting for me. We played more drinking games - "Power Hour" turned into 2 hours of drinking and paying. We only stopped the call because I had plans with friends, but he made sure to set his alarm to be ready for when I returned. I ended up getting home an hour later than I thought, but he didn't mind, he was just so happy to talk to me again. Once again he had to put the phone down and walk to the store for more beer, this time he ran because it was freezing outside. (I forgot it was winter in Australia) The pic above was from when I told him to grab a marker so he could start drawing on himself. He took off his shirt and I couldn't help but laugh. He knew what I was laughing at and said "oh, I'm a little hairy, but the marker will go through"...No marker was getting through that chest hair, so I made him take his laptop into the bathroom and shave down half of his chest. Then I told D we had to step it up for round 3. I've said many times on here that I leave my lines at $1.99/min because it reaches the most callers and is advertised when you call NiteFlirt's 800 # to hear who's on. I make it known, that lil $1.99 is to suck you in, get you addicted, and then you're mine. So it was time for some major rate raising and Tribute games. D ended up spending $1,465. He messaged me an hour after the last call ended and admitted he was "perving over my YouTube videos" and couldn't believe he spent so much. I simply replied, "I'm worth it"...and D couldn't agree more. I gave him some lines to repeat while focusing on my pictures. He's so weak for my cleavage already... this will just pull him in deeper.
I must stroke and stare for Goddess Bella's cleavage.
I must work hard to give Goddess Bella everything she wants and desires.
I am helpless to resist Goddess Bella and must give all my money to her cleavage.
He's also going to hand write them 100 times when he gets home from work like a good bitch.
------
Sissy Misc (not to be confused with my other sissies Mic and Mich) has been buying my pictures for a while, but has never contacted me until tonight. He IMed me and asked if he could introduce himself. I told him to send me a tribute and went back to doing whatever I was doing. Right away he surprised me by sending $250. It's amazing how many guys IM me daily, saying they're into FinDom, want to be money slaves, pay pigs, etc, but when I tell them to prove themselves (or that they even have a working credit card) with a $30 or $50 Tribute they disappear.
Anyway...he'll be away for the weekend, so I told him to buy panties on Monday and contact me when he gets them.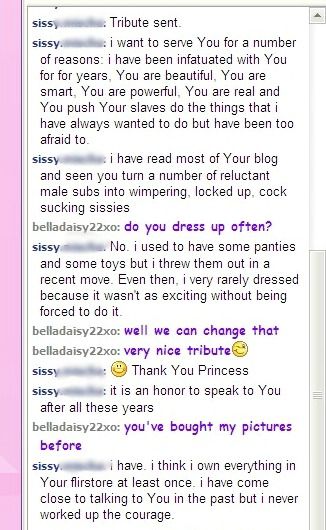 ----------
Sissy Michell got dressed up pretty and sent me $260 in Tributes. I put out a Tweet on Wednesday saying I was picking up my Mom from the airport and going for a mani-pedi. Almost instantly, a $50 Tribute showed up in my account.
--
I only took $100 from TaraSissy with our Master Card. It's her standard weekly tribute amount, since I agreed to take it easy on her for a little while.
Then I took an easy $150 from TMack also.
For many of you, it seems the more I ignore you, the easier it is to control you. I told Whipped Puppy to send a Tribute, he asked if I was on cam. It shouldn't matter if I'm on cam or not, I wasn't offering to let him buy some cam time, I just told him to be a good bitch and send a Tribute. So...I ignored him...he gave in, knowing he's too weak for me, and sent a Tribute...and then another....an easy $175 from my Puppy who's on his way to being a panty wearing pup.
My Bitch Lion is another one who I enjoy ignoring. It's fun to make him stroke and edge, and beg for my attention. I easily milked $460 from him as he begs to cum. According to him, he has about 100 loads backed up, well now it's 101 because he's still not allowed to release:)
---
I took a quick $150 from Raise The Rate S, he's growing weaker for my legs every day.
JimG's been surprising me with Tributes while he's at work. I love that when he thinks about me, he feels the urge to Tribute:)
ScottD got a lil bit closer to getting his CB6000 on, but I think he's just scared. ;)
1HB surprised me with an extra $120 Tribute.
Some other boys I spoke to this week... Red Dog who finally bought panties, but now says they're too small. -I don't care, squeeze your sissy ass in them anyway!
Lil dick Jim who needed to be laughed at for not even having a full 4 inches in his panties.
Cuck John is even more addicted to my cleavage than the week before.
Slut Rex is working on a new song for me, I heard a little bit of it tonight.

Sweden-MS handed over $200 for some Forced Intox / CBT fun.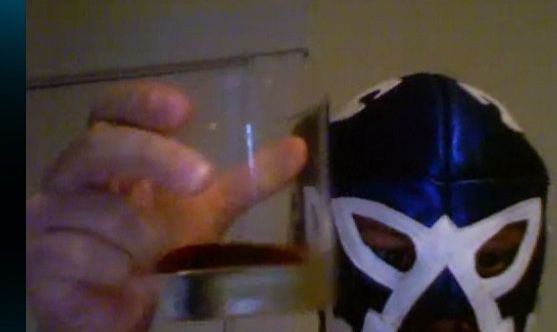 Then I took $250 from Popping Reject.
UK-Tim sent me $100 to watch him take/fail The Cinnamon Challenge. I really wanted to post the video with me laughing at the loser, but he begged me not to...so here's a few screen shots. Look how red his face got, then there's the big cloud of cinnamon in the bottom left pic..lol
---
Good Boy Gary is so addicted to my cleavage. He opened $260 in PTV mail this week.
--
My Pet Jay spent over $300 on Wish List. Shopping Puppet Knk, Kimberly, Cuckie JJ, and Koe did some wish list shopping also.
Here are some presents that came the past few days...with more to come as always:)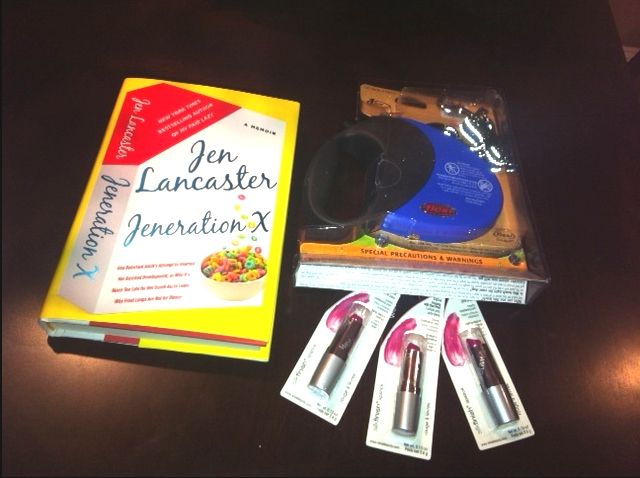 Buy my pics and assignments in My Flirt Store: