Gary continues to be a good boy by opening every pay mail I send him, calling me, and sending more tributes while on the phone. As many of you know, being addicted to my cleavage Feels So Good!
My Bitch Lion knows all about the power of my cleavage. I helped myself to $365 from the credit card I had him get for me and made him stroke and edge in his office. The next step will be to make him wear a butt plug to work.
Slave Del aka My Panty Slut Kimberly came by for some training. She was a very good girl, sending $1,450 in Tributes and picked up some stuff from my wish list. Kimberly, to be the best panty slut you can be, you need to check in with me daily and wear panties Every Single Day!
Sissy Michell was a very good girl and sent $535 in Tributes. I'm sure she'll continue to be a good girl by making sure her face and legs stay smooth...and of course meeting up with the hot Tranny I found for her.
Bitch Leroy aka Candi Bimbo shaved off the goatee he's had for the past 11 years, because I told him to. I also had him watching Chic Flicks and listening to lots of Pop music. He's craving cock more and more every day.
Here's My Bitch Tara (TaraPhoneSlut) showing off her new 50DDD boobs. She was very helpful, giving Candi Bimbo lots of pointers on how to be a better sissy cock sucker.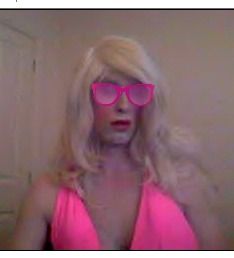 Bimbo Becky called and sent a Tribute, then I had her get dressed up and practice her sucking.
---
----
I've said before, nothing is safe in Loser Mark's house...first he sent $105, put on his wife's panties and humped her shoes, then he went outside in the hot tub for more humiliation.
Robot Puppet Jeff is doing better with his training. He's calling more often - staying on the phone for hours, emailing to check in, and doing some wish list shopping. I went online and picked out things I wanted him to buy and wear - a dress shirt, tie, Phillies boxers, and a necklace with the letter "B"(for Bella)... he is to wear it every day and send picture proof.
TDY knows that I know the best way to spend his money...he thanked me with an extra $120 Tribute.
RY Bitch is supposed to send me a weekly $100...but I easily turned that into $280.
Sheldon was back for more Raise The Rate fun. He can't resist my tan legs.
Scottish Andrew called while hiding from his wife. He needed to make himself useful, so I had him send an extra $190 in Tributes.
Cowboy is doing great with his training... he tried to run away for a couple days, but got right back into checking in with me a few times a day and calling to serve every single night.
Speaking of daily service...1HB is still going strong with his nightly $50 Tributes.
Norway Sissy begged for a blackmail contract, but only lasted a few days before paying his $200 buyout.
Blackmail Bitch Ben came around for more blackmail games. He ended up losing $175 to me in a couple games of Literati and got himself into a new contract starting next month.
BJ opened $150 in PTV mail... he kept coming back for "just one more"...
-
Some other boys who were around this week:
Lil Dick Tim, UK-BBC loving Rob, Jim G,
Weak Puppy (who wants so badly to be forced to be a sissy, but wont admit it), Tiny Tyler, TMack, Red (who had some fun with Q-tips, a rubber band, and a hair brush), new boy Bob, Cleavage Cuck Ray, and IHH who sent a drive by $70 Tribute with a message saying he found me on YouTube.
------
A few wish list presents...