Sissy Michell is such a good girl... she sent me $500 and is closer to being locked up in her new Exobelt chastity... The heart shaped lock and keys she bought are very cute, but I have other locks that I know she can't get open.
-------


Long Hair Fetish Slut A stopped by for a chat and sent $530 because he can't help but give in and be weak for my long hair.


Slave Del/ My Panty Slut Kimberly stopped by for a quick chat and sent $200. Kimberly, it's time to get back to Full Time Training!


Blackmail Bitch Ben is still broke...so I let him off the hook again with just a $150 Tribute, but he'll be making up for it in a few weeks.


UK Tim will never beat me at Literati... it cost him $175 and a mouth full of his own cum.
-------------------------


Good Boy Gary continues to click and pay every day for My Cleavage...
MG tried to fight it... he did good (for a few days)... but couldn't resist and ended up handing over an easy $135 to my cleavage ;)


SLSean knows he must worship my cleavage...he sends tributes whenever he calls and happily handed over an extra $250. He also bought every pic in My Flirt Store and completed Loser Assignments 1 & 2.


Cuck John continues to call so I can raise the rate on him... like so many of you, forget about the wife... He Needs My Cleavage!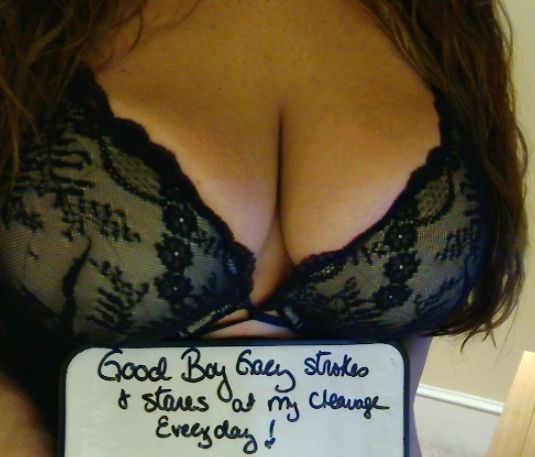 -----
TDY still needs my guidance, so I assisted him in handing over $220.


Ignored Loser Jason has been calling more often...the more he calls, the higher I raise the rate and make him tribute:)

Sissy Mic came back looking to serve... sissies belong in panties all the time! With the wife out of the way...she can dress up pretty every day!
-----


Piggyboy Tony will be paying me...forever...just keeps those tributes coming Doc;)
--


Wimpy Loser Chicago Mikey (in red) didn't stand a chance against this smaller
(yet stronger) guy in yellow...you know he's loving the winner's crotch in his face.
----


My Foot Slave Bob couldn't help but be turned into a Slave for My Cleavage...he was begging to buy more and more pics...
----


Some other boys who called or sent tributes this week...
Loser Mark...the pastry fucker

SDNate the diaper bitch

Whore Dorian


Cowboy A

Jim G

TorC

UK Slave D

Piggy Loser Chris

Popping Reject

Spoiling Sam

Foot Bitch Rob

Slut Jenny

My Bitch Lion

Loser Perv Timmy

JonM

Sissy Scott returned

M$

SubbieArt

DSlave

BBC loving Sailor

Doc Will

Faggy Beau

Addicted Gar
------
Wish List presents... the couch and chair and other presents from My Pet Jay, Skater boy E bought the book, but I have some other things coming from him, and M$ bought the calendar and sheets.
----