Sissy Michell told me the best news...she will be working out of town for a while, which means the annoying wife (who we call "Taco") wont be in the way!
Michell was a very good girl, always following my instructions and sent me $450. The Exobelt finally came in the mail yesterday, now I just have to mail her the locks:)
Here's Michell hurrying to the window to make sure Taco didn't come home early and ruin our fun once again.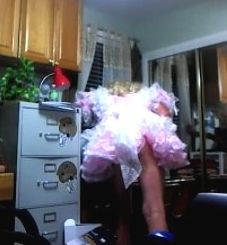 My panty slut $lave Del sent me $700. She tries to fight it some times, but she knows she belongs in panties. There's no denying how good she feels while wearing them and serving me.
NV Pet was in need of some humiliation and came back for 2 sessions costing him $350. With such a tiny dick, he could never please a woman, so I had him practicing his cock sucking, crawling around on his hands and knees, oinking like a pig and barking like a puppy. Good Loser, lol.
Speaking of pigs... Piggy P sent me $400 because he knows serving me and working to make money to give to me gives his life a purpose. He's lucky he found me;)
Sissy Mic sent an extra $200 and makes sure to check in daily. The longer his wife stays away, the happier we will be;)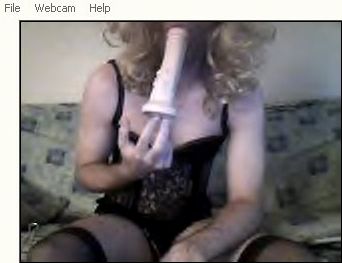 Sissy Damian put on his new black lingerie and whore make up for a cock sucking/ cbt session.
KShawn knows how good it feels to ache for me in his silky panties...so good he couldn't help but hand over $400 :)
My Pet Jay continues to shop for me all the time. Starting next week (the 22nd) I'm having my office redone. More recessed lights in the ceiling, new wood work, the walls painted, and new furniture. With shipping, MPJ spent $1,360 on a new computer desk and filing cabinet for me from Pottery Barn. The contractor said he'll have the room completed in a week, we'll see... it's always longer than they say.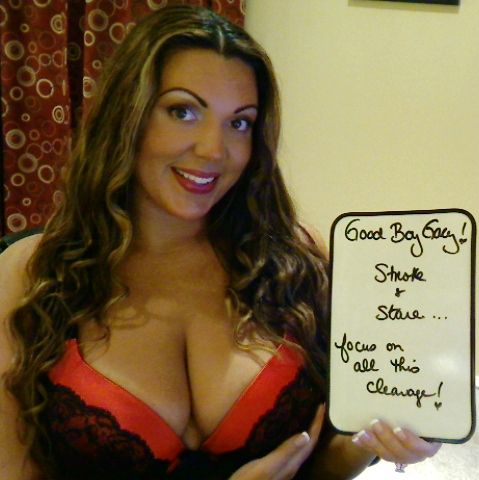 Good Boy Gary continues to open all the PTV mails I send him...
He likes to make me happy and it feels too good to stop!
MG thought he was "done forever"...yet I easily took a quick $60 from him, no matter how hard he tries to fight it, he'll keep coming back to focus on my cleavage;)
SLSean knows all about the power of my cleavage... he happily sent me $530 while stroking and staring. I didn't even have to ask.. he just keeps on tributing because it feels so good to worship my cleavage!
--
My Foot Slave turned Cleavage Slave Bob was back to give more money to my cleavage!
TDY knows I'm the boss and make all the financial decisions for him. I let him send me $100, but I know he'll be sending much more this week.
Blue sent an extra 100 and bought my Blackmail App.
Stroke & Pay Zombie SFA sent an extra $250.


I took $240 from my bitch Lion... just because I can;)
Blackmail Bitch Ben paid me $240 also... he will be paying at least that much for the next 3 months.
Some other boys who have called and/or tributed this week:
Loser Mark took a break from Pastry Fucking and put on his wife's panties and lubed up a stiletto.
Popping Reject called from a party.
BMR-D needed help emptying his wallet.
Slut Jenny put on her bright pink panties and matching lipstick and danced around to entertain me.
Red belongs in panties - he can try to fight it all he wants, but we both know it's true;)
New boy Loser Max couldn't help but tribute while on the phone with me.
J-Bitch knows the only way he gets to cum is with a beer bottle up his ass.
M$ sent $150...he would make such a great cuck. He's been serving me for many years and keeps coming back for more.
Element is coming around more often with Amazon gc's.
Married Bitch Gar can't stop stroking to my cleavage.
Robot Jeff needs my control.
Aussie D controlled by cleavage.
Bitch Brendan the cuckie ass slave.
Cowboy A - my good boy makes sure to check in with me every day.
Aussie Oinker the 33 year old Virgin.
Sissy Steve put on his wife's clothes and took some pics for me.
Chicago Mikey called a few times to tell me about his latest adventures in gay
"submission" wrestling. It's not gay - you just some how always end up with a cock in your mouth, right Mikey;) lol


Wish List Presents:
The Pottery Barn desk and filing cabinets from MPJ
Presents from MPJ, Element, and M$
-----
Buy my pics and assignments in My Flirt Store: