So many good boys, bitches, and sissies....where to begin...
MG (yes the same MG who every week tells me he's done FOREVER and going to block me) couldn't help but click & pay for my cleavage. He ended up spending $1,555 on my pay-to-view mail. He was saved one night when he went over a Grand and NF cut him off...but he was back the next day. He did block me - for about 10 minutes...and came back for more. Stop trying to fight it, Michael...you need my cleavage! ;)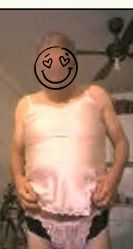 $lave Del aka My Panty Slut Kimberly was back for more training. She knows her purpose in life is to serve me, wear panties every day, and make me happy by sending money. My good panty slut sent me $1,900 and also spent $435 on my Amazon wish list. I told her she needs more lingerie in her closet so she went shopping - here she is modeling it. She also craves cock so I had her doing lots of practicing on a dildo.
Sissy Michell continues to dress up in ruffles every chance she gets. The Exobelt chastity was a piece of junk - so we'll have to go back to one of the old cages. Always a good girl, Michell sent me $560 and did some wish list shopping - including some pretty yarn I picked out so she can knit me a scarf next week:)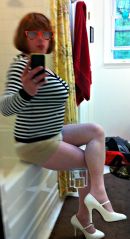 My Bitch, Tara Sissy is now going by the name BimboBetty42DD on Yahoo messenger - so if any guys out there want to be serviced by my slut - feel free to message her on there. Tara's a bit of an air head, so she needed my help in applying for a new credit card. We decided it's best if I make the decisions...I didn't want to wait a couple weeks for the new card to come in, so I used her old one to spend $570 on Amazon this week.
Foot Slave was dying to talk to her and finally got the chance the other day. BTW FSF - the lipstick arrived;)
Master Joe also called Tara - I couldn't help but laugh as Tara got down on her knees to show Joe what a good cock sucker she is.
Sissy Mic sent me a $100 tribute and showed off her new gold heels.
New boy Slave Jimmy seems to be hooked already. He bought every pic and assignment in my Flirt Store, called my recordings, then called me....again and again. Then he came back 2 days later and did it all over again :)
Good Boy Gary of course continues to open all my pay mails, then calls to tribute some more.
SLH also knows the power of my cleavage....he sent an extra $160 in tributes when he called to serve me.
Whipped Puppy knows he's too weak for my cleavage, I ordered him to send me $100 and he couldn't say no.
BMR-D knows how easily my cleavage can empty his wallet.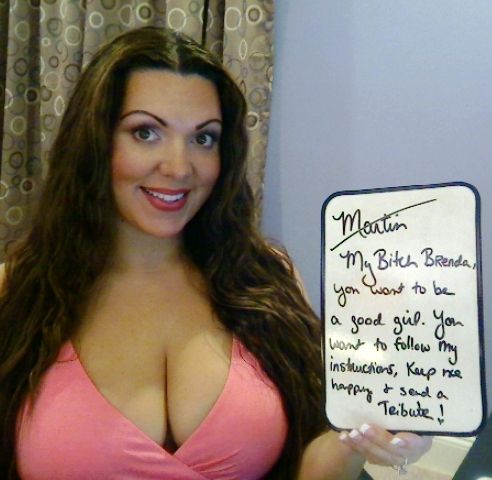 UK Martin who usually spends hundreds at a time on my Smile, decided to try out some humiliation and let me know about some other weaknesses he has when it comes to me. I took an easy $200 from him this week, but he will be sure to make the $5,000 goal I set for him by next month. He's almost there.
I had fun humiliating SD-Nate. The panty wearing, cock sucking, barking bitch.
Some other boys who called and or tributed this week:
Loser David called to be humiliated - he stayed on the phone for an hour and a half. He thought he was done for the night, but ended up coming back for more a little bit later.
Loser Mark sneaks off to the bathroom to humiliate himself for me whenever he can. He messaged me the other night with his wife sitting next to him in the car on their way home from dinner...I thought that was the perfect time to show me what an addicted loser he is and send me an extra $40, just because;)
Cowboy A continues to call and serve when he can get some alone time...he knows how good it feels to ache for me.
Piggyboy Tony called to make some payment arrangements...like I said before - he'll be paying me forever.
New boy- Foot Sucker James sent me $70 and humiliated himself on cam for me.
JimG tries to stay away, but he can't deny how good it feels to give me My money.
Scottish Andrew snuck a call from his wife and sent me a nice tribute.
My Bitch Lion is all maxed out, but he will putting more money in "our" bank account this week.
Slave Mickey stopped by to worship.
KY kept coming back for more humiliation.
Andre knew there was a good chance he could get caught, but had to sneak calls to me anyway.
Loser Peter called begging to lick the soles of my shoes.
Sissy Steven needs to get to the lingerie store instead of wearing his wife's clothes.
Angry Andrew was back - he always makes me laugh;)
Most of my Christmas shopping is done already thanks to my pets...here are a few wish list items that came in this week from MPJ, Slave Del, Element, SFS, and M$: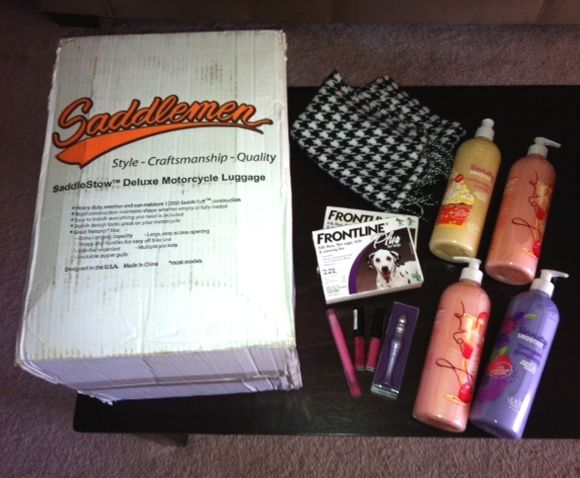 ----