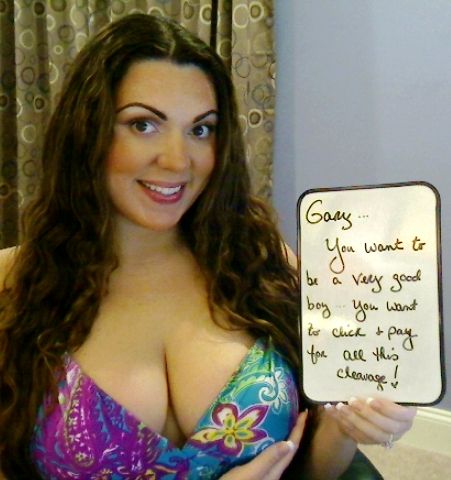 ----
Just like I said he would...toilet licker, Blackmail Bitch Ben paid the buyout for $1,700...then couldn't resist getting right back into another contract. He now owes me $750 in Feb and $750 in March,
but he does have until the 20th to pay another buyout.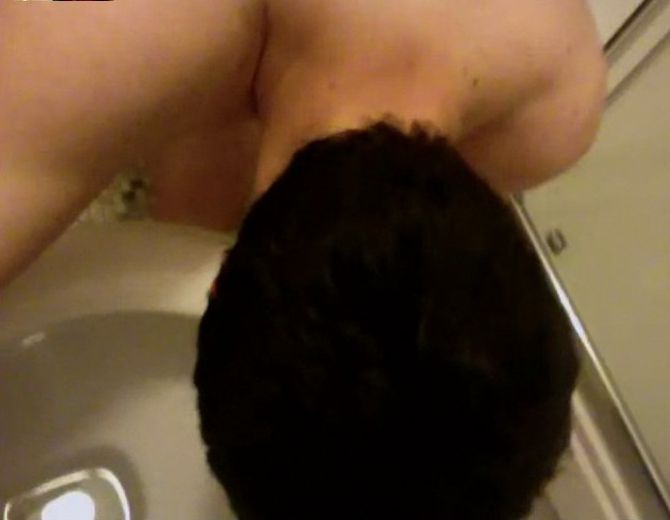 ------
---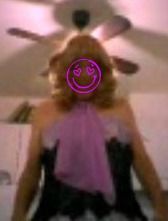 My Pantyslut, Slave Del couldn't wait to show off her pretty new dress, wig, and scarf...and send me $400. We need to do a make up lesson very soon with all the new eyeshadows she bought to match her new girly wardrobe.
-----
-----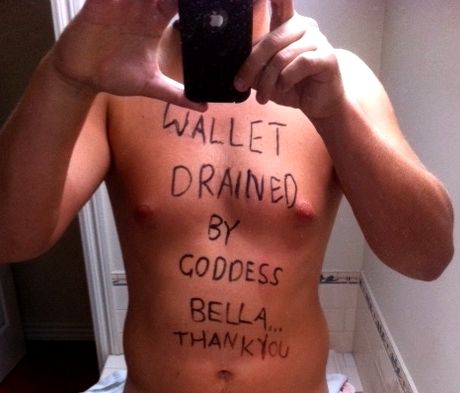 Marky is so weak for my feet and cleavage, he couldn't help but send more and more tributes. He handed over $650 this week and is about to start a new job, which means more tributes for me.
-----
Sissy Bobby spent 6 days in Chastity. I had him keep a daily diary of his experience... here are a few posts:
Days 1 & 2: So yesterday my chastity came in the mail with a letter from Princess Bella "sissy slut bobby- cant wait to have you locked up tight!
Bella"
And so it happened. We talked, she giggled and laughed, teased. I struggled with the fact. She told me it was good for me. Then it happened. Lock was shut and she was so happy she teased me and sent me on my way.
That night was painful, woke up raging, so tight I had to settle myself down just to use the bathroom. The first almost 24 hours have been ups and downs but definitely a struggle, hope it gets easier.
Day 3:
My mind is going crazy, I can't stop thinking kinky. I never knew I could drip this much.

I ache for you, Princess.
Day 6: So happy when I checked the mail to find a package from Princess Bella! So I sent her a message to let her know I had received the key in the mail, Her response " Keep it On " until we talk. I did not get a chance to call that nite sadly so had to wait another painful nite of sleep. Next day got the privilege of talking to Bella and she said that I did a good job and could come out of chastity. Now it was such a relief to be out, but it somewhat hurt to be out as I had been in my cage so long."
I talk to him just about every day. Since he wasn't allowed to stroke, that gave him plenty of time to practice sucking his big black dildo. Two days of freedom and Sissy Bobby is already locked back up in chastity and the keys are on their way back to me.
Of course I made sure he was using my
specially marked lock and keys.
------------------------
-------------
Aussie D was a good boy this weekend, earning 8 Gold Stars because he's so addicted to my cleavage and handed over $800. Normally when he calls it turns into a forced intox/drinking game session, but tonight I wanted him completely sober and he still couldn't resist the power of my cleavage!
---
Some other boys who can't get enough of my cleavage...
MBV sent $150 in Tributes. He's going away for a few weeks, but couldn't leave without worshiping my cleavage one last time before his trip.
SH sent $310 because he knows how good it feels to focus on my cleavage.
SGuy sent an extra $40 in tributes just for my cleavage.
Good Boy Gary spent almost $300 on PTV mail... he needs to be a good boy for my cleavage.
As usual, as soon as his wife goes to bed, Cuck John is calling me... stroking and paying for my cleavage. I love raising the rate on him because he will never say no. He needs my cleavage...stroking for my cleavage is so much better than sex with his wife.
-------
Piggy P sent me $400 while his wife was out with another man. He knows his only real purpose in life is to work hard to send me money.
Tom sent me $375 because I told him to. I'm looking forward to seeing what else I can make him do this week. Panties, cock sucking, cum eating... who knows :)
--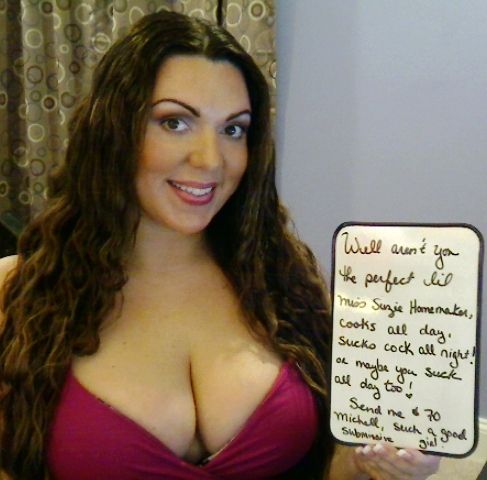 Sissy Michell was all dressed up pretty in her pink night gown and red wig. She's such a good, submissive girl, sending me $210 just because I said so:) Michell...when you're done reading this...go set up an apt with Lola's Tranny Cock!
-----
--------
Med School Piggyboy Tony will be paying off his debt forever. He called the other day and I made him send an extra $100. He tried to call again last night, but I was busy on another call.
TDY knows I'm in charge when it comes to financial decisions...this week I decided he needed to send me $330.
----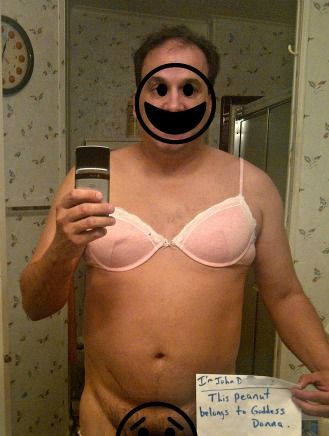 John J. is a panty wearing loser who loves the thrill of being exposed... he also loves my cleavage, so I made him hand over $200, just because;)
----
--------------
"New Boy" Jimmy has been going strong with the tributes and serving me on a regular basis. He surprised me by wearing a purple slinky dress on cam to entertain me.
It's hard to tell from the pic, but this is the baked potato Loser Mark fucked in a Wendy's parking lot. Loser stepped it up this week - sending me $245 and finally eating his loser cum.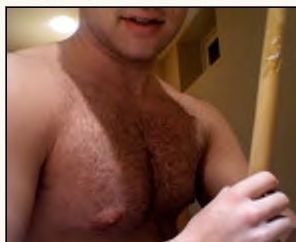 FSF had some fun with a plunger...did some small wish list shopping...and helped Bitch Leroy confirm that he's gay.
Bitch Leroy continues serve me, doing whatever humiliating task I give him, and getting closer to having a boyfriend every day.
Noway Sissy is aching to be in another contract. I let him send me a $50 tribute, but he needs to step it up.
I took $70 from my bitch Lion, he was supposed to buy this
on Friday, but got scared and said he "lost his credit card"...of course I knew he was lying. That just means I'm going to have to milk him harder and deny him longer:)
New boy TimC said he wanted to try out Financial Domination. I think I let him off easy with $60 in tributes during our first call.
KDog loves 2 things...taking humiliating pics of himself and worshiping my cleavage. I let him send me $100 while completing my picture assignments, then I let him cum all over his loser face.
Fleshlight Loser Al was back again for more humiliation. Pumping away in the rubber is the only sex his lil dick will ever get.
Cowboy A wouldn't let a lost card stop him from serving... he went right out and got a prepaid card to call and tribute.
JimG is back after a week break...sending me money like a good boy should!
Faggy Beau called for more teasing. There's something about an uncut cock that faggy boy just can't get enough of. It seems him girlfriend can't get enough of them either!
NV Bitch scooped up $90 worth of wish list presents as I laughed at him for being such a pathetic, panty wearing, virgin loser.
Speaking of pathetic losers... Swedish Loser M sent me $130 as I reminded him just how worthless he really is.
Sissy Greg sent $100, put on his panties, and practiced his cock sucking with a beer bottle.
Angry Andrew called wanting and also not wanting to know how much I made this year. His love/hate for me always makes me laugh.
Loser Timmy called just to hear me laugh at what a pervy loser he is.
New boy Thomas called so I could laugh at the fact that he has such an itty bitty dicklet...of course he had to make himself useful by sending an extra tribute.
Wish List Presents...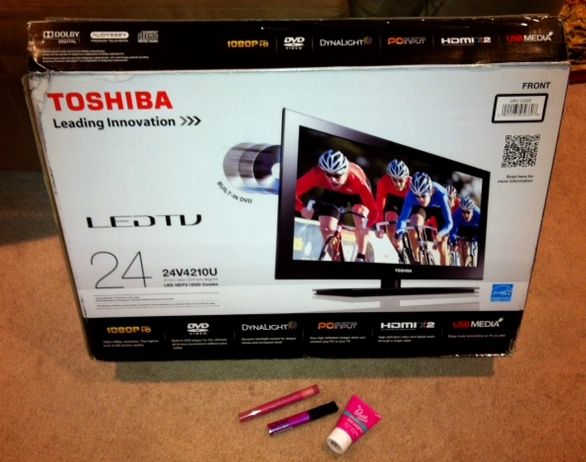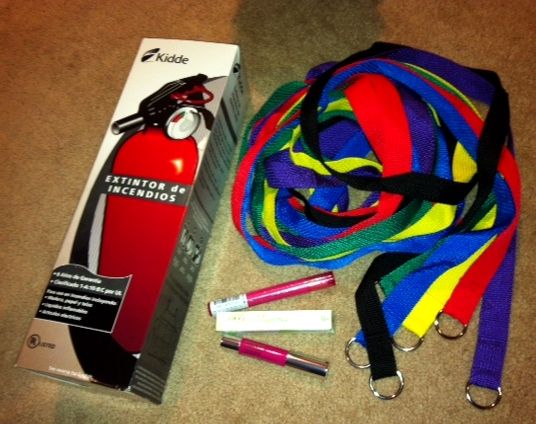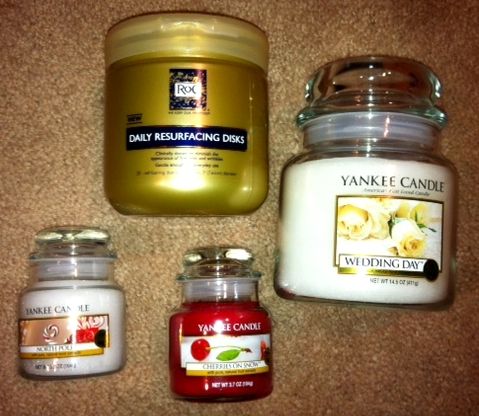 ---