Hi boys... I know this update is over due... and I have been
gone for 2-3 days at a time the past couple weeks. Some of you have been
teasing, saying I've been slacking, but really I was just taking a lil break -
you boys have been so spoiled knowing I'm always here just about every night of
the week. Well, break's over and things are getting back to normal starting
today:)
--
Blackmail Bitch Ben paid $640 to buy out of his contract. He is
completely free, but I don't expect that to last very long;)
Tom paid his last $150 and his contract is up also.
Blast from the past... Lil dick Chadi has returned once again - he
sent $200, some humiliating pics, and is slowly (but surely) filling out my
Blackmail Application. I'm going to enjoy taking complete control
again.
Red - I think it's time you stopped fighting and get into a
contract too! But I will give you credit for following my instructions and
making an effort to call 4 nights a week - even thought I was tied up in other
sessions during some of your attempts.
---
Giggle Slave/Stroke Zombie A handed over $400 before his wife woke
up and ruined our fun ;)
---
Bitch Leroy stepped it up this week - spending $510 on tributes and
Amazon. Besides the money - after lots of practice with his rubber dildo, he
went to an adult theater and sucked 2 different guys.
Slave Follower's broke ass was begging for permission to cum ( I
let him buy a lil something off my wishlist, then made Leroy send a tribute for him ), then I made him send his cam to Leroy and had them jerk off to gay porn together. Leroy doesn't get to release, but Slave Follower was only allowed to if he promised to eat it on webcam...and eat it he did;) FSF - I hope you cleaned and put away that plunger, I'd hate for someone to trip over it...again! hahaha
--
I've been making financial decisions for TDY for at least 5 or 6
years now. Checking up to make sure his credit cards are paid on time and of course deciding how much he should send me. This week I decided $330 would do;)
------
----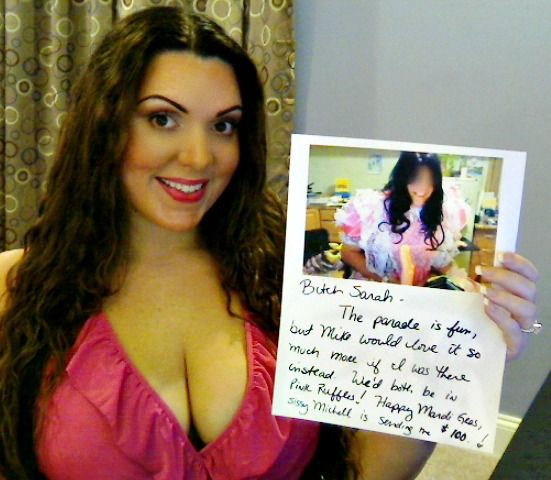 Sissy Michell had fun at all the Mardi Gras parades... and I had
fun sending payment requests that I knew my submissive girl would pay. She happily handed over $270. She loves when I write notes for the annoying wifey.
Of course as soon as Taco Sarah is out of the house, Michell gets dressed up pretty.
------------------------------------
---------------
Sissy Damian
has to wear panties to work every day and only gets to release once a week ...if I feel like letting the little cock whore.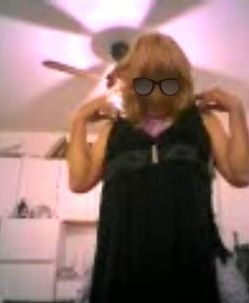 My Panty Slut, Slave Del stopped by for a quick training session and to give me $250.
It's really time to get back into your pretty panties...be a good
girl for your Princess;)
----
---------------------
-----------
Always a good boy, Gary continues to buy every pic and lil video
clip I send him. He knows how good it feels to be addicted to my
cleavage.
MG kept his New Year's Resolution for the entire month of January,
but as soon as February came, he was no longer strong enough to resist my
cleavage. $120 tributes to my cleavage...welcome back, Michael ;)
---
Raise the Rate Fun:
Sheldon knows how good it feels to be controlled by my legs... he
needed to pay more.
Cuck John called as soon as his wife went to bed... aching for my
cleavage, I just had to raise it higher.
Frankie was hanging on for a while at $15/min. Then called back a
little later to pay $20/min while staring at pics of my cleavage.
-------------------
------
--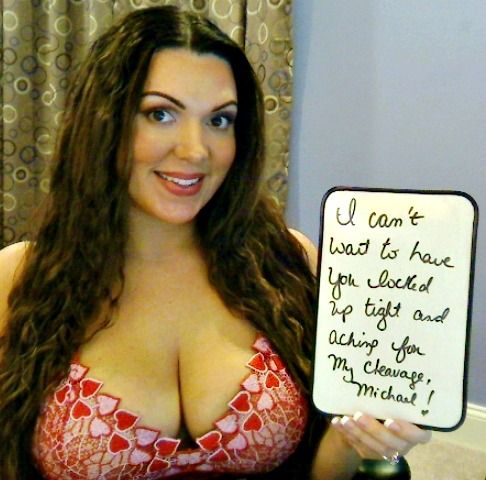 MBV is so weak for me and my cleavage, not even being sent overseas
could stop him from sneaking in some tributes and stroking. He sent $230 and
now that he's back home, I plan on making him stroke & edge every day. He
better do it while he can, because he'll be in chastity very
soon!
-----------------
--------
Cuck Slave Bren will do whatever I say... desperate for my
attention, I easily took $240 and made him humiliate himself for my
amusement.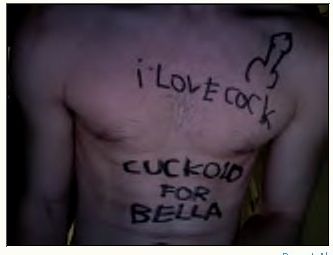 ------------
---------
-------
Here ya go Ralphy...make yourself useful-again!
------------
----------
Med School PiggyBoy Tony called and sent an extra $200. He cried
that he couldn't afford it and that his wife didn't want to work after he's
finished his residency...
Well piggy, that's just too bad... you've been rubbing your lil
piggy tail to me since you were like 18.. and I plan on using you forever...
so...either she'll just have to keep on working, or you'll have to work even
harder for both of us!
--------
----
-
Bitch Calin is so weak for my cleavage, he doesn't resist opening
all my pay-to-view-mail. Then came back the next day for some wish list
shopping and more tributes.
---------------------------------------
----
Loser Mark sent $150, put on his wife's panties, cut a hole in a
football, fucked the football, then his couch. LOL Such a
loser!
---
Aussie D ended up sending $150 and had to stroke and edge for a
couple days at the office.
--
My Bitch Lion saved up his lunch money in order to send me $100
without being caught. I want more, so I decided it's time to get ME a new
credit card and he now has to stroke and edge 100 times every day until I say he
can stop.
----
Some other boys who were calling and tributing...
Whipped Puppy handed over $200 because I said
so.
Slut Jenny put on her pretty panties and sent $100.
Marky started his new job, so he sent me $100 also.
Swedish Loser M is so pathetic, the only thing he will ever be good
for is his money - I enjoyed taking an easy $200 from him while telling him how much I hate him.
Coffee James
Lil dick Jose

Blast from the past - LD

London Jaime

Sissy Ron

Lil dick Ben

Faggy Beau

Norway Sissy

Element did a lil wish list shopping and now has a new daily schedule to follow. He'll be checking in with weekly updates...and more shopping.

JimG realized how foolish it was to waste money at a strip club,
when it feels so good to give it to ME.

Cowboy A - I'm looking forward to my surprise;)

Chicago Mikey called to tell me about his latest BBC Bull
Master.

Fleshlight Al - can only get it up when being
humiliated.

Cuck David - the cum licking, clean up bitch needed to be laughed
at.

M$ told me he was giving up Financial Domination (again)... I
reminded him that he's been serving me for over 8 years, sent a pic of my
cleavage that he's addicted to, and told him to send me $50. Knock it off
boys...this is where you belong!
Whenever Fay calls me, he usually mentions the Andrew clip. He
also mentions how it's so unfair that I make so much money, so easily. I had fun teasing him and then sending PTV mail that I knew he just had to
open....giving me even more money:)