Marky paid his $4,300 Buyout this week. He's been in a $100 a week Blackmail Contract for a few months now. He decided to take the buyout.. it started out at $400 ( I usually make the buyout around 1 months total tributes).. but he wanted more.. so it went up to $800...sometime over the past few weeks the buyout became $3,000...with him always asking me to raise it. I finally stopped it at $4,300 - with him still wanting to pay more. Marky loves getting his weekly humiliation assignments...there's pretty much nothing he wont do to entertain me.
Edit: He paid - I asked if he wanted a humiliation task - he said no, now that's he paid in full, he's taking a break... sure enough a couple hours later and he's back for more:)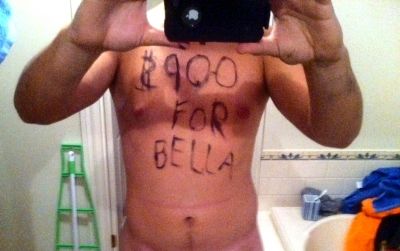 ---------------

----------------------------------
My Panty Slut David -Slave Del, has returned once again. He managed to stay away for a whole month, but is back where be belongs... checking in with me many times throughout the day. He knows his purpose in life is to serve me, work for me, and be the best panty slut he can be. He sent $2,650. in tributes. I picked out lots of panties, dresses, and heels for him to buy. It will be fun watching him model everything on cam next week. He knows how easy it is to become addicted once he starts serving me, so he tries to stay away - but he always comes back for more. It feels too good to stay away.
--------
---------------------------------------------


-----------
Blackmail Bitch Ben paid me $1,260. He's not in a contract...he just can't beat me in Yahoo games -ever! ...but still keeps coming back for more:) I also had fun teasing him for having such a pathetic excuse for a dick.
------------------------------------------------
--------------------
Sissy Michell sent me a $250 Victoria's Secret e-gift card and also $100 in Tributes. I love having control over her computer... and being able to print anything I want...at any time. Even when the wife's home in the next room. Michell will be traveling a lot for work soon - which means tons of sissy girl freedom.
---------------------------------
------------------------


Good Boy Gary continues to click and pay to make me happy... opening $540 in PTV mail.
Thorsten can't help but "Spoil Me Rotten" once he starts staring at my cleavage. He opened $300 in ptv mail.
------------------------------
----------
Pantyhose Bitch continues to humiliate himself more every day as he tries to convince me that he's a Stud. He will never be a stud - he belongs in chastity. I've had him sleep in it over night, to see if he can handle it. It's much bigger and heavier than the plastic CB-6000, but soon he will be locked up in this metal cage. He may never be a stud, but he makes a great bitch - checking in with me twice a day and sending his daily tributes and also wish list shopping.
---
------------------------
----------------------
I took $130 from my bitch Lion - till his card was maxed out. It is pay day...maybe I'll hep myself to some more;)
----
As always, I control TDY's money. So I told him he needed to send me $280.
I took $220 from my bitch, BimboBetty42DD. I've been making her train Bitch Leroy on how to act more like a girl and he the best cock sucker he can be.
I told Loser Mark ( the pastry fucker) it was time to work on some fruit...so he cut a hole through this poor orange. I've also made him wank away while in his office at work...and keep the door unlocked:) He did a 3 way call with Bimbo Betty...with both of us humiliating him as he humped his toilet.
Speaking of fucking oranges...that's all Virgin Loser Trey will ever get! He's too pathetic for a real woman!
--



Cuck John has been sneaking calls for years... he can never get enough of my cleavage. I love raising the rate on him cause I know he'd rather stroke for me than have sex with his wife any time!
Mikey bought all my cleavage vids. When he called I had him oinking and tributing an extra $180.
Martin bought all of my cleavage vids, is working on my pic sets now...and sent me $150 in tributes, just because I told him to;)
Franky called for some Raise The Rate fun. He tried to stay away, but my videos sucked him back in. He needs my cleavage.
B.H. loves to click and pay for my cleavage too.
MG cracked...he can't help being hooked on my cleavage.. he ended up buying my vids and the PTV mail I sent him.
Red tries to deny it, but he will do anything for big boobs.
-------------------
Congratulations to Piggyboy Tony. He just graduated from Med School and can officially be called Dr. Piggyboy Tony. To celebrate his graduation, I decided we needed to raise his rate to $10 a min.
-----------
Sissy Damian sent $140 for a humiliating cbt session. I have the cock sucker watching 15 minutes of Forced Bi porn every day while sucking his dildo.
Piggy Robert continues to open every pay mail I send him. Just a quick note in each, but he can't resist paying... he needs to be wallet drained by me!
Jim G calls when he sees me online and can't help, but send tributes - one after the other - cause it feels so good!
Sissy Steven loves being a cock sucking panty wearing slut.
Sissy Stacy loves shopping for my feet. He asked me to add stuff to my wish list and assign it to him. So I had him buy a pair of heels and Butter polish.
Scottish Andrew snuck away from the wife so he could serve me.
Cowboy A continues to check in by email daily and calls whenever he can sneak away.
Jimmy hasn't had my permission to release in forever...it's much more fun to keep him aching;)
Chicago Mikey called with stories from his latest Ball Busting sessions.
Old man, Loser Evan called so I could laugh at him.
Lil Dick Ron called to make some humiliating confessions. I decided he needed to pay $19.99 per min for being such a lil dick loser!
-------------


Wish List Presents from:
MPJ, Pantyslut David, Pantyhose Bitch, Slave Follower, & Marky...
----
--------------