This update is a lil shorter than normal, I'm trying to get back to updating once or twice a week.

*I'll be leaving on Sunday for the beach house Cuckie JJ paid to rent out as usual. I'll be there for 6 days, but you can still email me and message me on Yahoo. My NiteFlirt lines might be on occasionally late night, so keep an eye out ;)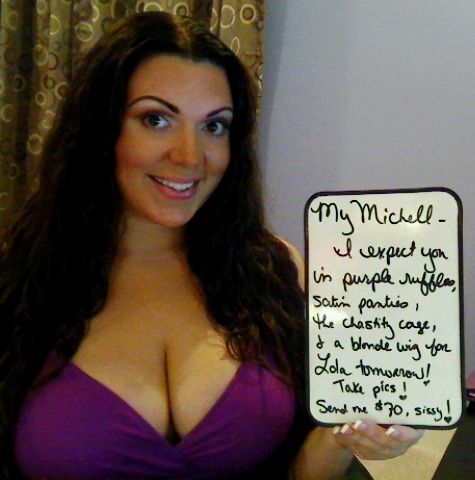 Sissy Michell has a whole week without the annoying wife in the way. That means lots of time in pretty ruffles. Good girl sent me $280 and put a dildo in her mouth like she belongs. She also followed my instructions and booked an appointment with a hot tranny. I like my sissies with smooth faces...so I made her shave on cam.



--------------






My pantyslut Slave Del came back for more training. He was so happy to model his new clothes and lingerie for me. My good girl sent me $610 and will be back for more training tomorrow. She knows how good it feels to be under my control.



--------------------


YouTube John continues to surprise me with presents. He bought the camera off my wish list and sent me another $100 Victoria's Secret gift card.



--------------



Slut Jenny got the package I sent her. Look at my pet all dressed up pretty in pink and purple. She sent me $250 while sucking on that big purple dildo.


---

Panty boy Jacq needs my cleavage. He bought panties at Target and then called from his car in the parking lot to serve me in his pretty new panties.




Loser Ben called for some raise the rate fun.



German Loser John, the 26 year old virgin was so nervous to call me, but once he did - I was happy to use and humiliate him.




Swedish Loser M was back for more humiliation and abuse.




Worker Bitch Peter called to kneel while worshiping my Princess feet.



JimG still tries to fight it, but can't resist my cam. I took $160 from my good boy in minutes.



Loser Mark sent me $80 and finally got to do another call with 1HB. So much fun to humiliate them together.




Sub Alan called for more tease & denial. I like making him ache on the edge entire time.





Cadet has been in chastity for a couple weeks now. He was traveling over the weekend, but I still made him keep on the CB6000 - even through airport security. He was a good boy and sent $100 before he left. He makes sure to say his Prayer to Goddess Bella every night.



J-27 called to have his wallet raped.



Fleshlight James continues to call so I can laugh at him. He's such a dorky loser, that rubber Fleshlight pussy is the only girlfriend he will ever have.



Cock Sucker James knows his purpose is to serve me and be whored out to please the boys.




Bitch Brendan came around flirting with the idea of Blackmail. He quickly learned not to test me ;)



Cowboy A continues to be my good boy - calling whenever he can.



Fruit Fucker Virgin Trey really tried to fight the urge to call me. But after his roommate walked in and saw my listings open and realized what he was doing, he couldn't take it anymore and had to serve me. He needed even more humiliation.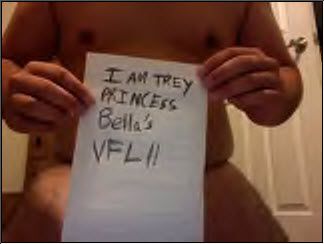 Trey will be a VFL - Virgin For Life. I changed his name to Texas Tonya and made him fuck his brush. That's the only sex he gets. Loser.



DVB can't help but spend his Mom's money on me. Guess that makes them both my bitch, working for me!




Scott D. from Wisconsin has such an itty bitty dick, he needs to be a cock sucker. He could never satisfy a woman.




Scared Joe keeps calling - begging me to get him arrested.




Hypno Alan needs to be weak for my cleavage also.



TMack sent me $50, opened TV, but got scared and ran away.



Cupcake Jarrett called to be ignored.



I took $90 from my bitch Lion and continue to make him check in and do at least 65 edges every single day.



Cuck Kurt called for some forced bi fun.



TN-Michael just wants to please me. He was so happy to get to talk to me, he bought all my pics, some vids, and tributes too. $160 spent on day 1, with more to come tomorrow.



CBT Jimmy disappeared for a few days, but is right back where he belongs- edging, aching, and opening lots of PTV mail from me every night.



Blackmail Bitch Ben called to check in. He will be sure to send me at least $400 on pay day in a couple weeks. He's on a pay schedule that will keep him in debt and my bitch till the end of the year. Of course he was trying to play more Yahoo games to owe me even more, but I'm not letting him till he clears his September balance.

--------------

Slut Rex wrote a new song for me... vid below...



---------------
Great news for all my International boys... after almost 4 years, NiteFlirt is taking International calls again!</font>
http://www.niteflirt.com/listings/show/5427415-Let-s-Have-a-3-some-you-Me-and-your-Wallet-</strong></font></strong>





Can't get enough of my cleavage?...

Click the link below to buy my Videos on NiteFlirt..

</div></xml:namespace>