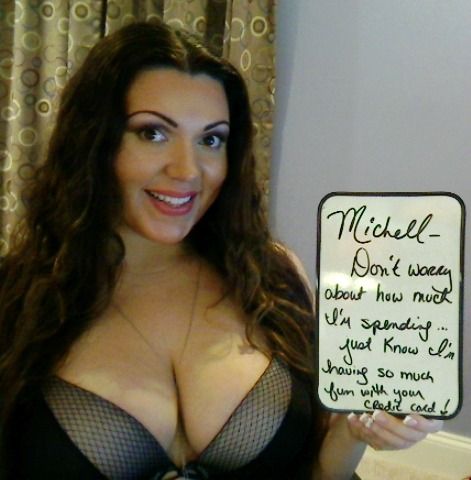 My good girl, Sissy Michell knows how to please her Princess. I've been enjoying having her credit card and also having her encourage me to spend more. Between Amazon, Victoria's Secret, and tributes - I took over a $1,000 from my sissy. Of course I also pick out things to surprise her with... she has a pretty, satin sissy surprise waiting at her P O Box - that she paid for of course;)
I had Michell all dressed up in pink ruffles, blonde wig, and a big puffy bow in her hair while practicing her cock sucking on a BBC.



-------------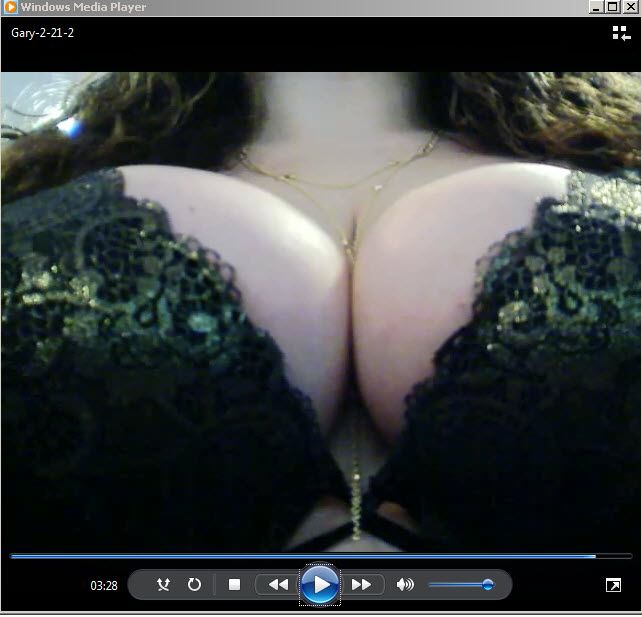 Good Boy Gary continues to grow weaker for my cleavage. Gary knows there's no use fighting it, he needs my cleavage. Always a good boy, Gary opened $520 in PTV vids.



-----------


TDY knows his Boss knows best! Now that he has that shiny new credit card I helped him get, of course the right thing to do is use it to give me what I want. This week I wanted $450 :)

---


Fist Fucker Fay asked for a break because I drain him so easily with my PTV vids humiliating him. I gave him a couple weeks off, but then came back and laughed as he couldn't resist opening another $240. I think I'll take it easy on him for another week or so.

----


CBT Jimmy opened $140 in PTV cbt /denial vids. I've only allowed him one ruined orgasm in the past 6 months and he's still coming back, begging for more abuse. He knows how good it feels to ache for me.

------


Blackmail Bitch Ben paid me $520. He was making a nice dent in his balance, but of course begged for more games.
Now his balance is back up to 1,020 pounds = about $1,700
-------



Piggy P knows his greatest pleasure in life is serving me. He loves my greed and was happy to hand over $400 to his Princess.




----


Aussie D has been trying to get a hold of me for a while. He called, I suggested some Forced Intox fun and off he went to buy a case of beer. About 5 beers in I had him grab a Sharpie... write Eat, Sleep, Pay, Repeat on his face. Of course he needed a couple cocks on his head too and drew a mustache and goatee on his face, then completely cover his nose in black marker. He only made it to 10 beers before needing a break, I've seen him do a lot more. Between the call and tributes, I took $400 from him. I had him call me from work a couple days later. I enjoy making you boys call me when you really can't talk... the whispering and short answers make me giggle.

------------


I was just about to sign off for the night when a new boy, Tracy called me. He told me what a porn addict he was and needed to be used by my cleavage. What better way to be used than a fun game of Raise The Rate. $5./min $8./min and then my favorite... NF's max of $50./minute. While he focused on my pics , I laughed at him and drained a quick $350. Nice way to end my night:)
-----------

Loser Mark, the pastry fucker has been paying $30./min and managed to eat a cum cracker while I laughed at him.

---------

Pay Slut H has been calling more often. He called me from work and really couldn't speak, but that didn't stop me from making him weak and raising the rate to $9.50/min. He can't resist my cleavage.
----



$lave P was in the mood for some TV games. I ended up taking a very easy $350 from him. He came back a couple days later, handing over $185 more.
So much fun :)
-----


JRL hasn't been around for a bit. He came back for some TV fun... I did a bit of exploring and took $90.
----

My foot bitch Marky sent me $215 towards his balance owed to me. He was so desperate for a 1 minute video message from me that he offered to pay hundreds for it. That brings his balance back up to $900.
------



Bitch Leroy is serving me once again. I had to cut him off a few months ago because he couldn't handle how busy I always am with other boys serving me. After some tributes and a phone call, I decided to give him another chance. He threw out all of the panties, dildos, and girly things I made him buy to decorate his apartment. Well, everything except for a poster of a shirtless Channing Tatum ;) His first new purchase was of course, a big dildo. He wanted him to get right back in the routine of practicing his cock sucking every day.
-------------


Whipped Puppy is also very weak for my cleavage. Sometimes he tries to put up a fight, but he never wins, and I always get what I want.
--

Sissy Damian loves taking a load to the face;)


---

Jim G also knows there's no fighting it... it feels so good to send me money;)
-

TomM stops buy to say hi and I end up taking an easy $200.
-

Red is weaker than ever for my cleavage, so desperate to serve me on cam.
-

Texas Tonya - the cock sucking loser stopped by to be used again.
-

Swedish Loser M was in need of my humiliation also.
-

Cock Sucker Ian called to be degraded.
-

Cupcake Jarett was all dressed up in pink VS lingerie for our ignore call.
-

Robot Jeff made an appearance. I turned that into a 2 hour forced intox session.
-

Sissy Mic has returned. He tried so hard to fight the urge to serve me... but he's back under my control. He'll do whatever it takes to please me...even when it means hiding from his wife because I told him it's time to call me.
-

Skyler knows his place... and he knows how good it feels to surprise me with a tribute before calling. He also knows there's no release without paying a cum fee ;)
-

Cowboy A is back on track... checking in with me every day and calling to serve more often.
-

Sissy Virgin Jake sent a tribute, because really... what else is he good for ;)
-

Slave Chris dreams of the day my Princess feet will crush him like a bug.
-

I took an easy $100 from UK Loser Timmy. I have some fun plans for our next humiliation session.
-

Easter Bunny Mike stopped by to say hi.
-

Fleshlight James called with his rubber girlfriend in hand.
-

1HB is of course still around, thinking up new ways to please his Princess. He's still sending his nightly tributes, but sometimes one just isn't enough and he has to come back for another one;)


----------
Another new boy, I'll call him Hypno Robert... The first night he called me, he was a bit buzzed. We talked for over 2 and a half hours, mostly about how much he doesn't want to be turned on by being a sissy and wanting to suck hot tranny cock. He was annoyed that I encouraged him to be a sissy. He was also annoyed by my profile pic holding a lot of money. He kept trying to tell me he's not submissive like that other guys... yet, he called me anyway... and didn't seem to want to get off the phone... Submissive Men, Money, and Sissies?? These are some of my favorites things:) I enjoyed teasing him for how turned on he got by the thought of being a cock sucker. He called back a couple days later, I almost didn't except the call. I wasn't in the mood to go back and forth with this guy about why it's OK to be a sissy, why it's OK for him to want to suck cock, and why it is more than ok for me to do what I do with my subs and love it. Lucky for him, he was completely sober. I kept him on the phone for over an hour. I enjoyed embarrassing him a little by repeating some of the things he said to me. He was very apologetic, very respectful, and also admitted.. yea he guesses he does have a bit of a submissive side (( but I already knew that ;)
------------


Wish List... sandals from Sissy Michell and TDY bought me "Babette" to complete my Lenox Beauty and the Beast collection.




-----------



Amazon Presents...
http://amzn.com/w/Z5DX5HTDGOP0
My
YouTube: http://www.youtube.com/user/BellaDaisy22xo
Follow
me on Twitter:

http://twitter.com/#!/BellaDaisy22


$20 Small Penis Tax



Call me on NiteFlirt: