I know it's been a while since my last update, but you boys and sissies keep me too busy to post! Not a bad problem to have ;)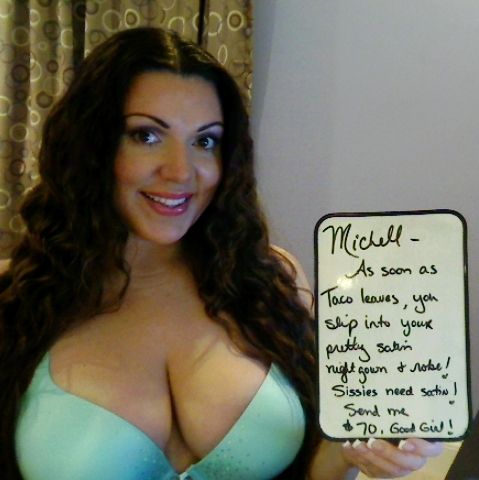 Sissy Michell's annoying wife Taco has been getting in the way of her serving me as much as she's used to for years now, but that doesn't stop Michell from sneaking in some girl time whenever she can ;) After all, Michell was born to be a girl!


---------



I have been having a lot of fun controlling TDY's finances. Of course I always take what I want.. but I was feeling extra greedy the past couple weeks and ended up taking $2,035. When he asks if it's ok that I take so much?, I say, of course it is... your Boss knows best! ;)

-------------


Bimbo Betty, my little cum slut, keeps trying to fight her strong urges to be feminine. Of course I always push her into becoming more of a girl...and a whore for the boys. I've been having fun with the credit card Betty gave me also... we did some Victoria's Secret shopping, she picked up some wish list presents, and sent me tributes... spending over $760 :) Good bimbo.

------



DaveR messaged me wanting to tribute...he said he knows he must obey my cleavage. He couldn't resist giving me what I wanted... $620. So easy:)


--

Good Boy Gary continues to please his Princess... opening $340 in pay-to-view video emails from me.
-

Aussie D tributed $130, just because ;)
-

Red aches for my cleavage... he's a whore who I think belongs in panties every day!
-

L2-Phillip - sent a random $50 tribute to Tits... lol... ok I'll take it ;)
-

Cuck John continues to hide from his wife so he can call and stroke for my cleavage... he still knows it's better than having sex with her any day!
-


--------------
-------------------------



Slave Del... my panty slut, has returned. He did a pretty good job of fighting it the past few months. I'd send him an email once a month and he didn't reply - except to tell me he threw out his panties and he was done with this stuff forever. But a few days ago he messaged me just to say he checked my journal out of curiosity and sees I'm still doing very well.
I knew it wouldn't be long till he was back under my control where he belongs.
Sure enough, a couple day later, I received a surprise tribute.... and another... I ended up taking an easy $400 from the slut as I made him wear his panties, bra, skirt, and blouse and of course eat his precum. Precum - because there is No release without My permission! Ever!
------



Swedish Loser M was drained of $410 in pay-to-view , Forced Intox/ Humiliation videos.

-----------

Blackmail Bitch Robin Hood has also returned. He called me from a new account and after about 5 minutes of what felt like forever of me asking questions trying to figure out what this guy was into - he finally says.. you know me as Robin Hood. After I called him an idiot for not starting with that... I had him get on cam for some humiliation fun and $250.
------------



Blackmail Bitch Ben is still working off his debt. He sent me $160 and begged for more games, but I'm not giving him the thrill of going deeper in debt to me until he pays down more of his balance.
-----



Chicago Mikey was in the mood for a lil blackmail fun... I ended up taking $250 from the wimp.
Speaking of Mikey.... that reminds me.. his girlfriend, Pantyhose Bitch made a drive by appearance with a lil tribute and asked if I thought he was a stud yet. Nope, never gonna happen ;) haha
-----



Blackmail Bill called for some raise the rate fun.
-


Cuck Allan tried to stay away, but he can't stay off this journal either.. and it made him want to call and give his money to my cleavage. Of course I had to raise the rate for him.
-


Cuck Loser Brad is so desperate to give my man money in person...but I decided to raise the rate on him instead:)
--------



Piggy P knows when he receives a pic email from me, it's time to log on and send me $200. I love how well I have my lil dick piggy trained.
-----



$lave P was looking for a TV game... so I took a quick $150.
--



My bitch Martin aka Britney sent me a tribute. Then I had my good girl send me more. $250 because I'm American... and she's a lil bitch.
---




Cupcake Sissy is in a Slave Contract. Each week he sends me $50, buys a couple items off my wish list, and makes sure he calls at least twice a week to check in. Even when I'm not online, Cupcake makes sure to send his tributes.
-------




My slave boy 1HB continues to sit at my feet, thinking up new ways to please me. Like many of you, he knows how good it feels to stay loyal to me for years.
---------




UK Loser Ian called so I could humiliate him again. He was really over due for my abuse;)
-


Bob called to chat and ask about being in chastity for me.
-


Pantyboy Jacq called from his work parking lot. He needed his Bella fix.
-


Cowboy A sneaks calls to serve whenever he can. Such a good boy.
-


JimG - continues to be a good boy... giving me what I want... $$$... he knows he is never allowed to say No to me...ever.
-



Jerky J knows there's no release without paying a $30 cum tax.
-


Piggy Robert escaped for a few months, but made a new account and is back to being drained - one pay mail after another. I've got him begging to be used harder.
-



Slave Follower called for some humiliation...or maybe he called just to chat... either way, it ended with him doing awful things to a plunger and cum smeared all over his face.
---



Sissy Frode is out of chastity for now, but called asking for a $100 ignore session. I didn't ignore him the whole time though... he needed a lil humiliation and to worship my feet.
-



I took a quick $100 from TomM. Next time I prefer to do it while he's wearing panties and sucking a dildo ;)
-



I have no plans on taking it easy on Loser Mark, the pastry fucker will continue to pay at least $30 a minute for my attention:)
-


Sissy Will called for a Forced Intox session.. of course the lil dick had to tribute extra while drinking his rum.
-



Poppers Ryan called for a forced intox session also.
-


Poor pathetic Larry called so I could laugh at him for having an itty bitty
1 1/2 inch coke dick.
-


Lil dick Steve called wearing his panties. The lil dick virgin was in need of some cbt.
-



UK Footboy Chris called to serve my feet. He dreams of me stepping on him, crushing him like a bug!
-



My chastity bitch, Brandon continues to be locked up for 2 weeks at a time. I let him out, only to make him do 15 edges every day. No release for him!
----


DavidRks- knows I own his cock, Not his wife! Like a good panty boy, he made sure to buy all my videos and send a tribute!
--
-



Angry Andrew called so I could take his money.




My foot slave Marky sent $270... but he still owes me $800. He will go without to give to me!
------



-----
Wish List Presents...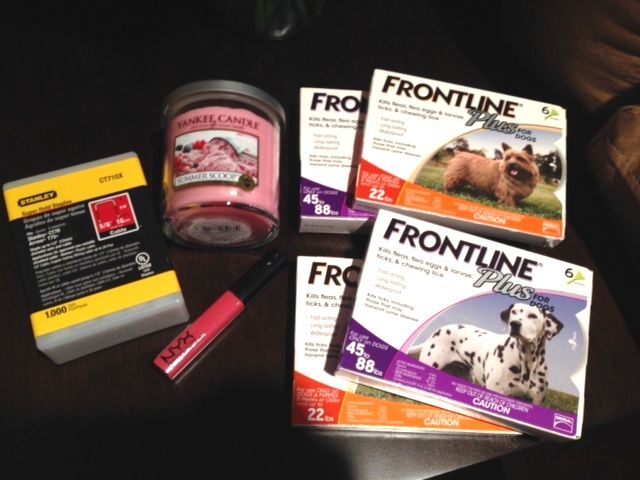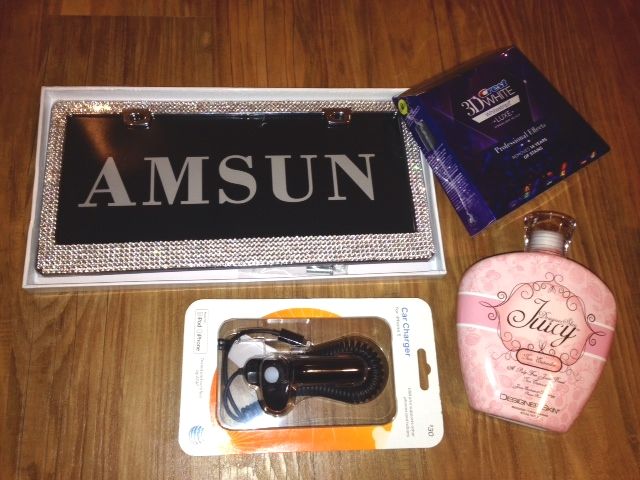 -----



Amazon Presents...
http://amzn.com/w/Z5DX5HTDGOP0
My
YouTube: http://www.youtube.com/user/BellaDaisy22xo
Follow
me on Twitter:

http://twitter.com/#!/BellaDaisy22


$20 Small Penis Tax



Call me on NiteFlirt: