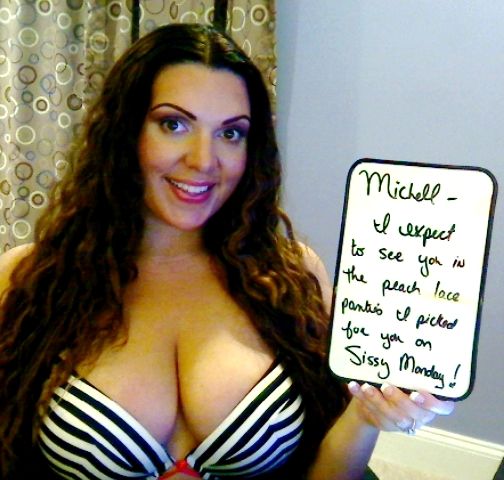 Sissy Michell set up a hidden camera that I can control from my phone whenever I want to check up on her. Even if Taco is home, Michell knows to always be in panties. Sissy sent $835 in tributes...more $ for me, nothing for Taco ;) Here she is below, wearing her ruffle panties and one of Taco's new dresses.



-----------
------------------------



I took $3,660 from my Sissy David/Slave Del. She always tries to run away, but then she realizes how much she needs me, needs my training, my control...and comes back to serve and give me even more. Sissy David's purpose is to make money to give to me.
Here's my good girl modeling some of her new clothes, heels, and wig.


------------------
------------------------------



Good Boy Gary opened $200 in PTV's for my cleavage. He can't resist...he needs to focus, stroke, and stare.
--


MG has returned... I knew he couldn't stay away for too long. He's too weak for my cleavage;) He clicked $110 in PTV's...and there's more to come ;)
----


Fist Fucker Fay was humiliated out of an easy $510 because he can't get enough of my abuse, my greed, or my cleavage. He's a stupid, dick driven idiot, and it's so much fun to use him.
-----------


I took a quick $100 from Addicted Loser B...he doesn't stand a chance once he starts staring at my cleavage.
------------------------

JimG followed my orders and sent an extra $250 in tributes during our calls. He knows (even if he wants to) there is no saying No to me. Besides, it feels so good to make me happy and give me what I want;)
--------


I took $230 from Swedish Loser M. He's begging for more exposure.
--------


I took $380 from TDY. He doesn't ask questions, he knows whatever I say, goes.
-----


I milked my bitch, Lion out of $380 also. As a reward, I let him eat his cum (because I know how much he hates it :)
-------------------



Then I took $580 from TomM... Tom also knows, whatever I want, I get. Even when that means having him in pretty pink, lace trimmed panties and sucking on a dildo while sending me money.
-----------------


Whipped Puppy handed over $300 because he Must Obey. Too weak to resist and it feels so good being whipped anyway.
--------


Piggy Robert was drained of $185 because he can't stop clicking. He needs to be drained.
--------------


Bob called to worship my cleavage. He knows he works to make money to give to my cleavage.
---


M$ called to give a $50 tribute to me and my cleavage, but what I think he really wants, is a nice big cock in his mouth;)
------


Loser Chris called, and got right on his knees like a good bitch should.
---------






When UK Iain calls, I always enjoy hanging up on him and raising the rate. Even when I know he's standing outside, sneaking a call from his girlfriend... I make him wait and pay more.
---------

Stupid Jew called, so of course I had to raise the rate on him, too.
--------


When Vegas David calls, I have him make a mess in panties and wear the wet panties under his suit while he goes out on the town for business. He surprised me with a nice tribute a couple days ago, just because.
----------------


Flip Flop Slave gave another $40 to my sandals. After all... stroking and paying my flip flops... that is his sex life.
-----------


Foot Bitch Marky sent $100, but he still owes me $1,400.
( I didn't forget, bitch )
-------------------------


Cupcake Sissy has been calling more often. Always dressed up in his pretty lingerie and collar and ready to suck and ride a dildo.
-----------

Cowboy A continues to serve me whenever he can sneak away. He knows he belongs with me.
----

Jerkoff Junkie completed my loser assignments and bought a bunch of videos while edging and getting a ruined orgasm.
--------------

Puppet Dennis kneels, drinks, and aches so good for me.
-----------

Sucker Scott called to tell me how much he loves...and hates me.
-----

... and then there's Loser Mark... the pastry fucker...
He spent a few sessions wearing his wife's bra, panties, and slip. If I wasn't making him throw his legs over his head and cum on his face, I had him stick his loser dick through her peep toe shoe and hump it.
I thought it was time he got back to his old ways of being "the pastry fucker"... so I made him go into a store and pick out this apple pie. The loser hurried to his car and fucked the pie right there in the parking lot. LOL...LOSER!!!!!!!!



---------------------------------




3 pics for my foot slaves



Amazon Presents...
http://amzn.com/w/Z5DX5HTDGOP0
My
YouTube: http://www.youtube.com/user/BellaDaisy22xo
Follow
me on Twitter:

http://twitter.com/#!/BellaDaisy22


$20 Small Penis Tax



Call me on NiteFlirt: