I've got my Sissy Slave Del exactly where I want her... so weak and addicted, she can not run away. Of course she tries, but after only a day or two, she's right back where she belongs... serving me. My panty slut knows she was born to serve me. She's so lucky she found me. I let her be the sissy girl who I knew was inside just aching to come out. Sissy Del is so eager to please me, she knows how good it feels to give me what I want... and of course, I always want to take more. She happily handed over $11,475 in tributes and then spent an extra $665 on Amazon during our sessions the past few weeks. Over 12 Grand and she just wants to keep working hard to be the best sissy she can be.
Sissy knows how good it feels to dress up pretty for me. Here she is modeling all the clothes I picked out for her: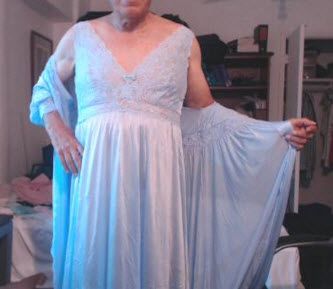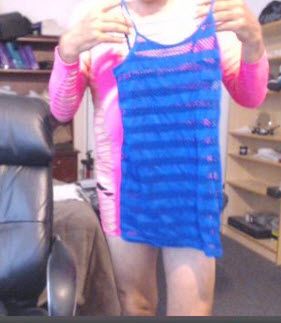 ----------------------
----------------------------------------


Sissy Michell finally got rid of her beard and shaved it down to a goatee... Taco likes a big full beard, but I prefer my sissy to have a Smooth face. Taco's already pissed about the goatee, can't wait to hear how she reacts when I make Mike shave it off completely this week. Michell gets so weak for my gold bra, I'll definitely be using it to encourage her Outing... really, it's time;)
Of course my good girl also sent me $520... more $ for me, none for Taco ;)



--------------------




Whipped Puppy couldn't resist sending me $700 in tributes. So incredibly weak for my cleavage, he must Obey. Occasionally he'll try to fight it, he'll try to hold out from sending another tribute...but as soon as I start to ignore him, he can't send the next tribute fast enough to get my attention. Even when we're on the phone... give me what I want, or it quickly turns into an ignore call.
---



TDY knows when it comes to his money, I make the rules. $610 for me, because that's what I decided he should send. He would never question it, he knows his Boss knows best;)
-------------




JimG knows how good it feels to give me money. $490 in tributes, because he wants to please me, to be a good boy, to keep me happy, and of course....he's not allowed to say No to me :)
I like how Jim had to make a "Bella" category to keep track of his monthly spending/expenses :)



---------------------------



Swedish Loser M was humiliated as I took an easy $315. This drunk, pathetic, loser deserves to be drained even harder.
-----------



I took a quick $175 from my bitch Lion, then left him aching and denied.
15 edges a day...no release for you, bitch!
----------



1HB has returned with a $170 tribute. He's ready to get back into his nightly routine of sitting at my feet, waiting to serve like a good pet.
------

Slut Jenny has also returned.... with $150 and a mouth full of dildos, Jenny was ready to show me what a sissy slut she really is.
----------

I'm not sure why Chicago Mikey is flexing in this pic. We all know Mikey always ends up tapping out and submitting to real men. I guess this the only way he'll ever get to do a flex pose.
----------------



Loser Mark, the pastry fucker... will pretty much hump anything he can get his hands on... bread, toilets, the bathroom rug, his wife's shoes and panties, etc. He had the house to himself so he was able to give himself a real treat...Fluff!


LOL...what a loser!
------------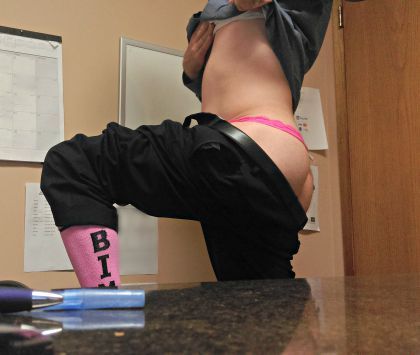 Sissy Damian followed my instructions and wore his Bimbo socks and a panties to work. He's been practicing his cock sucking because he knows his next stop is the glory hole!
-----------




Sissy Greg was in pretty panties when he called to serve me. Greg worships the BBC and knows he belongs on his knees. He was a good sissy and sent a tribute after our call.
---


Cupcake Sissy makes sure he's wearing his pink collar and has his matching dildo ready to go.
-


Pantybitch Mike sent $60 in tributes after buying my videos.
---


DavidD did some wish list shopping and surprised me with tributes.
--


Cowboy A has been sending more tributes that ever lately. He wants to show me what a good boy he is. He needs my control.
---------


Lil Dick Neil bought all my NF videos and has been surprising me with tributes and wish list shopping. He knows there is no release without my permission.
-----------


Jimmy the Jew has been barking like a dog, needing my attention, needing to be used.
----------


JNT continues to come back needing more blackmail games.
--------


New boy -FaggyBitch found me on Youtube and needed to surprise me with a $100 tribute.
----

Blackmail Bitch Bill finally got the courage to send me his glory hole cock sucking pics... of course I had to raise the rate on him.
--

Lil dicklet, Virgin Franky was back for more Raise the Rate fun... after all, he's only good for his money.
---

Foot Slave James is so addicted, he's been calling more often - even if that means sneaking calls with his wife in the next room.
-----



Addicted Josh... well he's not completely addicted yet, but he's certainly headed that way. Checking to see if I'm online - checking NF, twitter, looking for journal updates every day... thinking about me when he should be working...watching my Youtube videos over and over again... thinking about how good it would feel to be called "my good boy"... yes, now that I'm back from vacation, you'll all have the opportunity to show me just how good you can be for me.



------------

Wish List Presents: