So many good boys and not enough time to post about it. It seems like your need to serve me is stronger than ever lately. So many of you ask me constantly-when is the next journal update coming. The problem is...once I know you're horny and thinking about me, I'm not going to stop to write a post, I'm going for your wallet instead.



I have Cleavage Bob on a different level. I remember when he would just do short calls and we'd talk about how much money I make from so many guys and how he and so many of you work for my cleavage. Hearing about other wallet drainings wasn't enough, Bob needed to feel it too. Now I've got him asking for videos all the time. $20 phone calls turned into me taking hundreds...more money for my cleavage. The cleavage you can't resist.
--

JimG always ends up giving me what I want. As much as he wishes he didn't enjoy it, he can't deny how good it feels to give me money. He can try to fight it, but he knows it feels so much better to please his Princess.
----

Cowboy-A doesn't let anything or anyone get in the way of him serving me. My good boy always finds a way to surprise me with tributes and calls to serve.
----


Sissy Michell is back to properly serving me. Sissy had to lay low for a while because of the always annoying wife, Taco... but... Michell couldn't take it anymore and needs my control. I've been having fun giving her daily sissy shopping assignments and making her call me from work.
-------

Slave Del/Sissy David knows she is responsible for paying my nail salon bills. As soon as I leave the salon, I take a picture to send her. It's usually around $50, but my good girl always sends $100. Then I send a quick video message letting her know it's time to stop what she's doing and stroke and serve. Sissy David needs me to use her, it feels so good...that's why it starts with $100 and then I take more and more. Sissy has handed over Thousands recently...whether it's sending big tributes or buying my NiteFlirt goodies over and over again, sissy knows to always give me what I want...after all, I give her purpose.


----

There are a few other Davids serving me, so I give them all nicknames.
KPDavid knows it's much more fun to stroke to my cleavage, than do anything with his wife. I had him stroking, serving, and tributing while making her wait until I was finished with him.


---

UKDavid hasn't been allowed to release in months. The time difference makes it difficult to serve me, but I'm not really worried about David's sleep schedule. Serving me, giving me money, and obeying my orders...that will always come first!


-------------

When Whipped Puppy messages me trying to tell me he can resist, that usually means I'm going to enjoy showing him just how weak he is for my cleavage while taking hundreds from him every time.
--

You know who else is doing a really poor job of resisting.... My bitch Lion! Lion went from insisting he was quitting this to having me broadcast his webcam as I'm milking him. If that's what you call quitting, Lion - I'm ok with that. I've taken Thousands from Lion while he's been "quitting" lately. LOL Good job, bitch... and as always - no release for you!
-----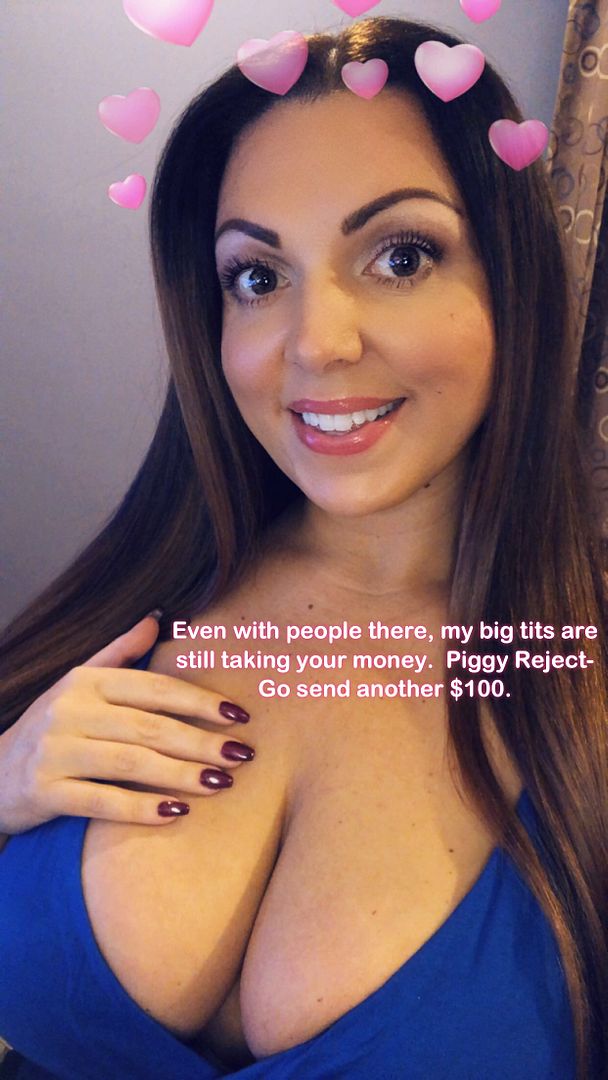 I've taken a few thousand from Popping Reject recently, but unlike all the boys trying to resist... it seems the harder I use my piggy reject, the more he wants to do it. Shot, Pop, Pay, Repeat!
Piggy is usually home partying when I'm draining him, but last time I messaged him, he was on vacation with a house full of people. I wasn't going to let that stop me from using him, so I had him hiding under blankets and also in the bathroom. The weekend is here... so there should be another wallet draining party very soon.
-----------

I took an easy $700 from TomM... even though it's been hard for him to serve me the way he's used to because of a new job, I still end up getting what I want.
--

Sissy Slut Jonathon can't wait for his wife to get out of the house so that he can get into her panties.

UKLuke with his 4 inch loser dick, of course he has no problem fitting into panties. That is one sissy who is sure to be a virgin for life.

Elliot is always good for some raise the rate fun. I enjoyed taking him as high as NF would allow...$50/ minute.

Piggy P stops by whenever he can sneak away from his wife. Piggy knows I expect $200 every time. Lil dick loser piggies have to make themselves useful...piggy knows his money is the only thing that will ever satisfy me.
---
Chicago Mikey returned with some big news. Mikey - can you imagine if people found out just how much you crave big mushroom heads and super gay submission wrestling?
-

UKSam craves my instructions. Stroke and stare and click and pay!

Sissy Ben's wife wont have sex with him...so he says there's nothing he can do but jerk off with her satin panties. She doesn't even know he's a sissy. She has no idea he wants to be a cuckold and watch her with another guy while he wears her silky panties.
----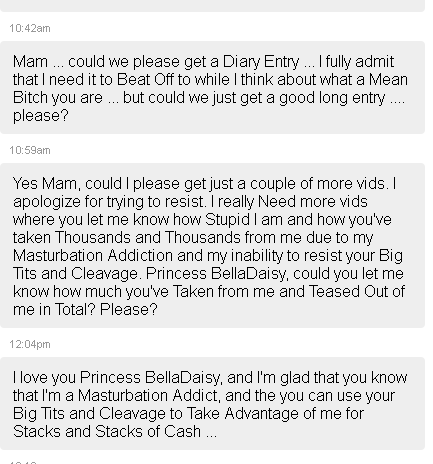 Fist Fucker Fay is just dollars away from joining the 20K club. Congratulations Loser... almost 20 Thousand Dollars! I know... it's just So Unfair how I exploit you - use your weakness for my greediness and big tits against you for my financial gain. What are you going to do, quit? Ha.. you'll be drinking and begging for more vids this weekend!
----

M$ has been coming around more often, always with a $50 or $100 tribute. Stroking and serving me instead of being with his girlfriend... just how I like it.

--
MDW has been doing a good job of opening all of my pay-to-view mail. He can't help it, he loves a rinsing.

Cupcake Sissy was all dolled up in pretty pink lingerie and a lil bunny outfit. So cute, he even surprised me with a wish list present.
-

1HB loves to sit at my feet and cheer me on as I take wallet after wallet. He loves my power and my greed...it makes him want to work harder for me.

-----------

Video for sale on NiteFlirt:
Thank Me for Draining You!
$10



-

Video for sale on NiteFlirt:
No Escaping Bella
$10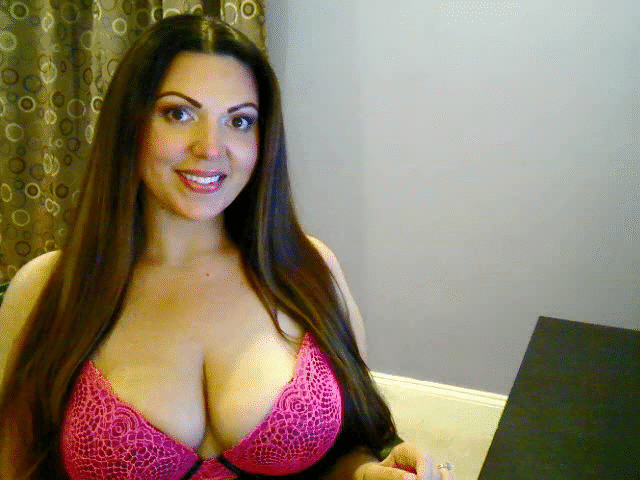 --




Video: The Power of My Cleavage
$10


--



Video:Suck Cock For Bella
$10


--