Hi Fay... I figured I'd start with you, since you beg for a journal update just about every other day ;)

Last time I updated, Fay was celebrating making it into the 20K Club... well Congrats, fist fucker... you're just $125 away from 22 Thousand! That's almost 22 thousand dollars jerked away because you are so weak and addicted to my big greedy tits and mean bitchy attitude! I know, Fay... it's so unfair... you love me...you hate me...and you just can't stay away!
------------------
Sissy Michell has a new job and a new attitude! My good girl now has more money to spend on me and realizes we don't care what the annoying wife, Taco thinks anymore. I've been having a lot of fun shopping with Michell's card and sending lots of sissy surprises to the Amazon Locker for her to pick up on her way home from work. Michell is back to wearing pretty panties every day and spending more time being dressed up while searching for cock online. Of course I'm also enjoying the $2,550 sissy sent to me.
----------
- Cock Junky John sent $230 in tributes.
- Rinsed Steve sent $100 in tributes because he'd rather jerk off to my cleavage than have sex with his wife.
- Pantyboy Walter sent $690 in tributes while we talked about what a good sissy he is meant to be.
- MDW sent an extra $175 in tributes during our calls. He can't deny it feels good to click and be drained.
-----------------------------------------------

Slave Del/Sissy David sent $1,870. David knows it's his job to pay for all my trips to the nail salon and of course send me lots of tributes. David is Mistress Donna's Financial Domination Slave...born to serve me.
------------
I took $1,700 from TDY because ya know... I'm the Boss... I make the rules ;)--

UK David continues to sneak calls so he can ache and edge under my control. All this time.. and there is still no release for my bitch! Just be thankful you're not in a cage, David ;)
--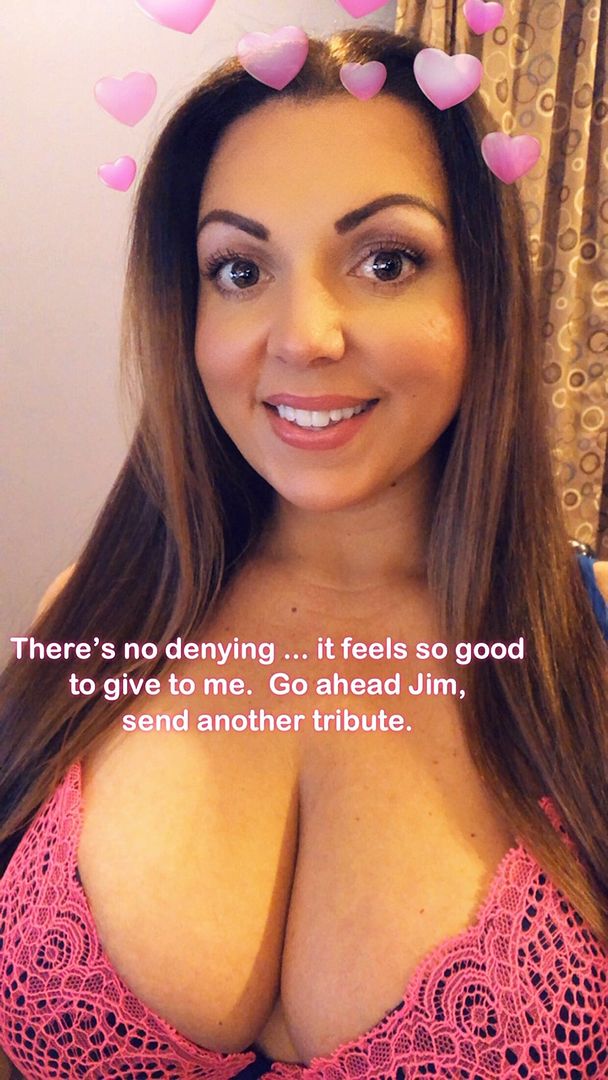 JimG -my good boy always calls and sends tributes a few times a week. He called me a few days ago and I was going to take it easy on him since it was his birthday, but Jim had a much better idea. After sending a couple smaller tributes, Jim said.. I feel like I should send you $100, Princess. That is how a good boy should celebrate his birthday...with gifts for Me!
-----------
New boy Chris found me on YouTube. He said he never thought he'd end up like the guys in my vids, but here he is... calling me, knowing I'm going to take his money.... and that's exactly what I did ;)
BTW - so many of you ask to be put on YouTube... I don't post on there anymore. My original channel with over 30 vids was deleted because too many people reported it as "adult content" -which is kind of BS because I think I'm a lot tamer than a lot of stuff currently on there. So now I only have a few vids left on the other channel.
-----
- Tequila piggy Mark sent a $100 Tribute while doing poppers and buying my NF vids.

- Lil dick Alex is so happy his wife finally left him... now he can move on to bigger and better...Dick.

- Dustin called my ignore line... which was convenient since I was busy draining other losers at the time.
- Sax also called to be ignored. Usually when losers call, they like to listen to whatever I'm doing.. even if it's just typing to other slaves. Sax likes to sit there in silence and be drained while I mute my phone.

- VA virgin Greg sent some tributes...because he's only good for money.
------------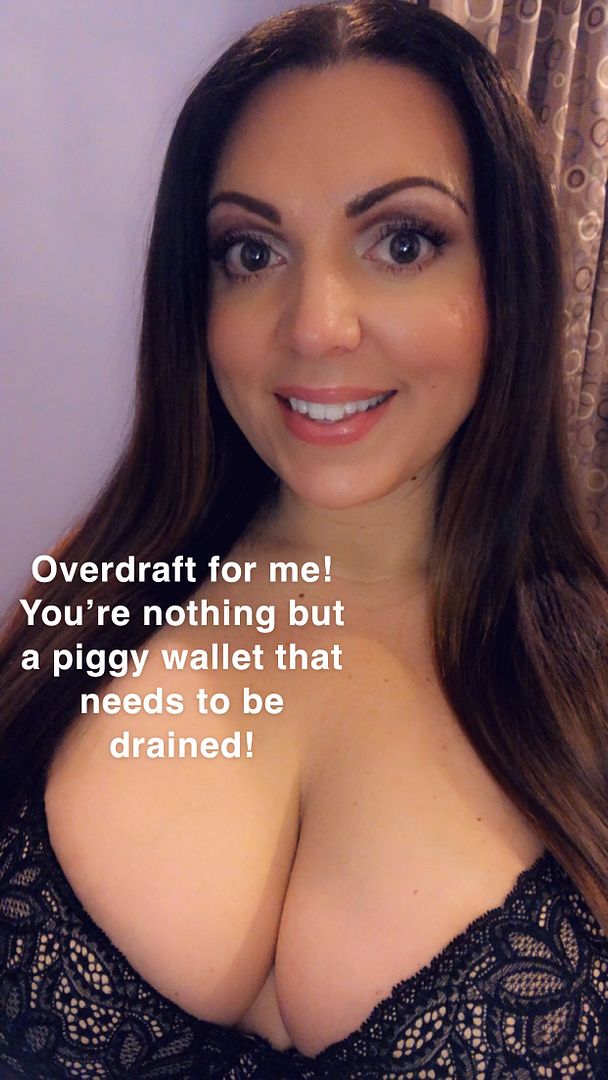 Popping Reject planned on having a quiet evening at home....but I had other plans for him and his wallet. He can't resist Party Time with poppers and vodka and it didn't take long for me to start draining him. He knows how good it feels to Overdraft for Bella. I drained the piggy reject for $3,925... we only stopped because I was getting tired, lol. Damn time difference. ;)
-------

- RobertR knows once he starts watching my cleavage vids, he can't help but get on his knees and tribute.

- 1HB surprised me with an extra $150 tribute before I left for vacation. Such a good boy for Princess.

- Phillap tried to stay away. He said he needed to control his spending...and he did, for a few months... but, he just couldn't take it anymore...he felt love sick and needed to serve me.

- SCT sent some Amazon gifts cards, then tried to resist... but ended up coming back a few minutes later. My good boy sent me $600.
------------------------------------


I took an easy $1,100. from TomM.
-----
Justin NF texted me while sitting next to his girlfriend. It only takes a couple messages from me and he can't help but Tribute. He ended up sending $370 while focused on my cleavage pics.
--


Whipped Puppy handed over $1,250 while aching for me.
There's no resisting...he must give in.



-----
UK Loser Timmy loves to hear stories of how weak I make other boys..and I love to take his money...an easy $500.

----------

PiggyP returned, so I made the lil dick send $200 while I laughed at him.

----
SubbieMatt was trying to watch hockey... but I thought he should be focusing while sending tributes instead.
I won because the more you give, the better it feels.

.


-------------------------------
Aussie Matt used to call while wearing his girlfriend's panties. Now he has his own collection of lingerie and dildos. He's turned into a big sissy whore.

----
Cupcake Sissy always calls while wearing the cutest pink Victoria's Secret lingerie. Such a girly girl.
---

Cock Sucker Bo... a blast from the past... he hasn't called in a few years, but we picked up right where we left off... even though he's married now, I didn't forget about how addicted he was (and apparently still is) to big, thick cock in his mouth.
---

After all these years, M$ is still so weak for my cleavage. He handed over $150 while stroking under my control.

--------
Dr Piggyboy Tony called again. I took a quick $400 from him because he is currently paying $34.99 per minute while in his 6th year of residency. I'll be raising the rate on him again in July.
--
Congratulations to Cleavage Bob who got a new credit card to use for me and went over his goal of reaching the 3K Club. Bob knows how much he needs me, needs my cleavage, needs my attention, and needs me to keep taking. I'm sure he'll be at $4,000 very soon

----------------

-----------------
Call Me on NiteFlirt:

Click below to buy my vids and pic sets:

https://www.niteflirt.com/BellaDaisy22#goodies
https://www.niteflirt.com/BellaDaisy22#goodies
https://www.niteflirt.com/BellaDaisy22#goodies