I'm always entertained when Fist Fucker Fay and Cleavage Bob start discussing their addiction to me.



It's so much fun to tease the money out of you boys. Loser Fay has made it into the 28K Club. I don't even want to think about how much booze and Vaseline that loser went through to reach 28K. Cleavage Bob is always working for me...constantly updating his Twitter page dedicated to me. Bob is so close to the 5K Club.


Twitter: @BobCleavage

a couple quick vids I made to open his wallet...

https://twitter.com/BobCleavage/status/1178519846343954432?s=20

https://twitter.com/BobCleavage/status/1171687776275714049?s=20


----



UK Loser Timmy decided to try poppers. It turned him into a drooling gooning mess as I took a quick $200. He's been eager to be used again, but we keep missing each other online.
-
I took over $700 from Popping Reject. He knows he's just a wallet.


---


Sissy Michell was enjoying having the wife Taco out of town for a while. I took $900 from my sissy and locked her up in the Vice chastity cage. She made sure to wear panties to work every day because you never know when I'm going to do a random panty check. But...Taco returned and it was back to boring Vanilla life for a little bit. Until this weekend...Michell is right back where she belongs.
--------


Whipped Puppy continues to fail every time he tries to resist me. My weak bitch handed over $1,200 and still stays denied with blue balls.


------


TDY gets nervous when it's time to spend money, but lucky for him, he has me to tell him where his money belongs. My good boy sent $960 to his Boss.
--


After saying he was quitting and closing his account, CV returned with a couple bottles of wine, flushed his head in the toilet and spent a quick $690 on me. Welcome back, lol ;)
-----------


Dr Piggyboy Tony got a quick $400 rinsing while paying his new rate of $50/minute. That's what he gets... he's the one that suggested doctors should pay more;) No going back now. He'll never pay a regular rate again.
--------


M$ sent $450 on his knees. He got to see how fun it is when I take a lil extra control;)
---


Sissy Slave Del sent $650 while hiding in the bathroom from his girlfriend. He hates to admit it, but he knows he will Always end up coming back to me. My sissy knows he's just a panty wearing slut and is only good for his money. Stop trying to quit...it's never going to last.
---



TomM sent $500 while drinking beer in his panties. Next up...chastity.



---


Vol Piggy Paul's heart was racing as he sent more tributes. He knew he should stay away but he just can't help it.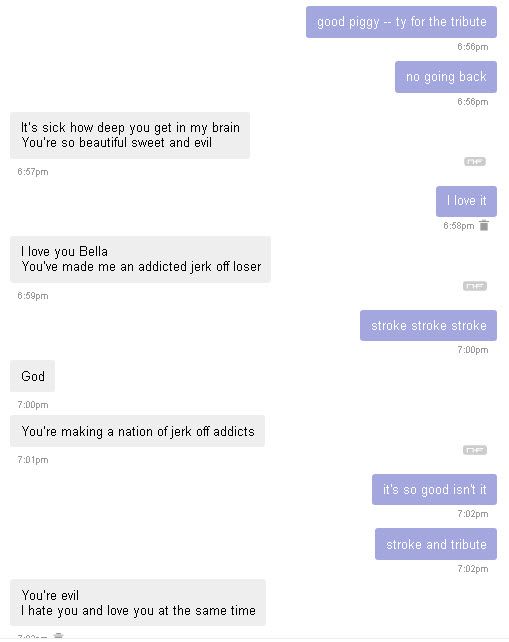 -----




Piggy Zach sent a few tributes and also paid for my mani & pedi. Piggy knows what he's good for.


-------

Reza, the chronic masturbator, knows he could never have a girl like me...so all he can do it jerk to my pics and pay and pay and pay some more.
---

UK Andrew knows he has to spoil his Princess by making sure to buy my vids and send lots of tributes.
--


Virgin Frank sent some tributes, he knows he's nothing but a wallet who has to give to my cleavage.

---

JohnJ begged me to post his bra and panty pics.. then of course paid $100 to have them deleted. *John I see you messaged me on here last week.... ready for round 2?
---

Sissy Jenna returned after finally realizing he will never be a real man. Just a little bitch who belongs in lipstick and panties.
--

JohnM sent lots of tributes as I made him crawl around on the floor squealing like a pig and edging.
---

Sissy Walter sent tributes while reciting his words to live by. He knows his sissy clitty belongs in chastity.
---

Cupcake Sissy has his own words to live by also. It's been 11 years since he first called me and he's still barking like a puppy and serving.
---

JimG started calling more often even though he said he wasn't going to. He just can't help but want to give to me. He said he couldn't believe he spent $600 on Findom... I said I can believe it... sounds good to me. I think $700 sounds even better. Don't try to fight it, Jim... you know how good it feels when I take your (My) money.
---------


Slut Jon likes to steal his wife's panties and stockings. He also likes prancing around in her thongs while she sleeps. He just can't help being a cock craving sissy.
----


It's time for Greg to come out of the closet. He loves when I make him stroke and repeat "I'm Gay, Im Gay, I crave the BBC".
---

UK David continues to sneak calls while everyone sleeps. He can't stay away, even if that means maxing out credit cards, he keeps coming back for more of my control. Aching, edging, being used again and again.
----

My good boy 1HB is always thinking up new ways to make money for his Princess. My good pet.
---

Johan seems to be coming around more often. Even though he swears he's quitting at the end of every session. He can't help it, he wants me to take over so badly.
---
Swedish Loser Markus loves to hear about how I use Johan, so I have him buy the vids I made for Johan and make money off of both of those drunken fools.
--------


Chicago Mikey has been calling with more wrestling stories. I noticed his wrestling partners seem to be getting smaller, yet they so easily over take him and turn him into a cock sucker.
------



Piggy Robert can't help himself lately. He used to open my pay-to-view mails, but now he seems to be sending tribute after tribute as I remind him how good it feels to click and pay.
--

Justin tried to resist, but ended up buying my vids anyway. He said he knows I make him edge just so I can take the power, make it so he can't think straight, and turn him into a Bella Bitch that can't stop. He's so right, lol. Lucky for him, he doesn't want to fight it any longer.
----------------
----------------------------


New vid for sale: $5,000 Cash Count
$10 Buy it on NiteFlirt:




More NiteFlirt Goodies - pics and vids: https://www.niteflirt.com/BellaDaisy22#goodies


Be a good Pet...Click below to Tribute your Princess:






Call Me on NiteFlirt - click for my listings -




---