Call Me on NiteFlirt - click for my listings -





Happy New Year!

I haven't updated in a while and now I have way too many good boys who have earned a spot on my journal. I decided instead of writing about all 54 of you today, I'm going to do smaller posts every few days. I'm randomly picking names from 4 pages of notes, so you horny boys will just have to keep checking back to see when I write about you.


JimG knows he has to Stroke & Pay - Serve & Obey. After reading my last journal entry, Jim wondered if he made it to the 5K Club like Bob. I had to laugh when I realized he had no idea how much I've taken over the years. My good boy is on his way to 19K. I made him beg me to let him give me more money. He was so grateful when I let him pay again and again.



------




UK Loser Timmy was back with his poppers for a quick draining.
-

TDY is ready to try poppers too. I wonder if he'll turn into a gooner like Timmy.
Speaking of gooning.... my bitch Lion has returned. I used to make Lion stroke, edge, and pay for days or weeks at a time without release. His break is over and now it's time to get back to aching for me.
----------

Sometimes I like to mess with Harry while he's in class, but this time I caught him when he just woke up. He's in Japan so the time difference works in my favor. I had fun getting him all worked up and open $360 in pay-to-view mail.


-


-



After that, Harry disappeared for a couple weeks. He came back, admitted that he's older and not in school. Oh, silly Harry.... I was kinda taking it easy on him when I thought he was around 22. I got him good that night.. and the next night. Over $2,900 ....I had him begging to be wallet drained harder. Charging him up to $25/min on the phone and making him pay anywhere from $50 to $100 for pay-to-view videos. All the vids were under a minute long....teasing him with my cleavage and reminding him that I'm just here to use him, drain him, and make him ache for more!
After that session, he deleted his accounts... but...like I always say... eventually you All come back to me. A few weeks later and Harry is back again. I think Cleavage Bob's Twitter sucked him back in for me. Twitter: @BobCleavage - Harry said he tried to quit for 2020, but you boys know that is a waste of time. I decided to suck him back in with a $1 pay-to-view pic, then a $10 PTV pic.... that's all it took and I had him back at $40 and $50 pay mails. I took a quick $241 because no matter how hard he tries, he can't stop thinking about my big tits!
Vid:


------------------------------


--------

Blast from the past - Fleshlight Al has returned, except he traded in his fleshlight for a cheerleader dress and buttplug. He may be a sissy now, but he'll always be "Fleshlight Al" to me because when he first started calling, I didn't even know what a fleshlight was!

-----------

Chicago Mikey turned into a cute sissy cheerleader also. Of course he'll never stop with the gay submission wrestling, but he's been spending more time in hair and makeup.
---------------------


Pay Pig Mark came around a couple times needing to be used. The more I demanded tributes, the faster he sent them. I took a quick $300 from the little piggy.
------

Popping Reject (you know, the one who used to wear the Mexican wrestling mask) asked if he could write something for my blog. He wants everyone to be a wallet drained piggy like him. This is what he sent me After I had just drained him of around 2 Grand ;)


---------------------

Another blast from the past called to reconnect - Sub David...way back...as in the Keen.com days when guys called and paid just to talk friendly to me , before NiteFlirt. You know, when I was innocent and didn't know what a fleshlight was, didn't know guys get off on being humiliated, and I didn't know financial domination was a thing. David was my first Raise the Rate caller and as he remembers it - I was reluctant at first to keep raising it on him. He said he's "very impressed with how I've embraced this stuff"

If you don't know - I started out on Keen - the category was called something like Just Friends and something about Flirty, I forgot. I had a nice size following, was making good money (what I thought was good at the time) and then BAM everything was sold to NiteFlirt and my "Just Friends" listing and ratings were forced into NF's phone sex category. I tried a few times for Keen to let me back over, but they said my feedback was too flirty, whatever that means. So there I was, forced to the adult side and had no idea what I was doing. I was not about to quit because like I said, I was making good money from my Keen callers who followed me over to NF, but now I was getting phone sex callers mixed in. I have no problem saying I the Worst with those kinds of calls. I was ready to close my account and then I started getting more guys calling me and asking to be financially dominated, humiliated, shop from my wish list, send me tributes etc. It didn't take long for me to get hooked on financially dominating men. Whatever rush you guys get from giving, I was getting it twice as much from taking!
--------------




New boy Charlie has been around for a couple weeks now. I've been getting him for lots of tribute in NiteFlirt chat. I've been having fun making him ache for me for days until I think he earned a humiliating release. I had fun teasing $890 in tributes out of him.



--------



----


Loser David called and said he knows he needs to do better. We agreed on a payment schedule for him. He's already working 2 jobs, but he's going to learn to go without in order to give more to me.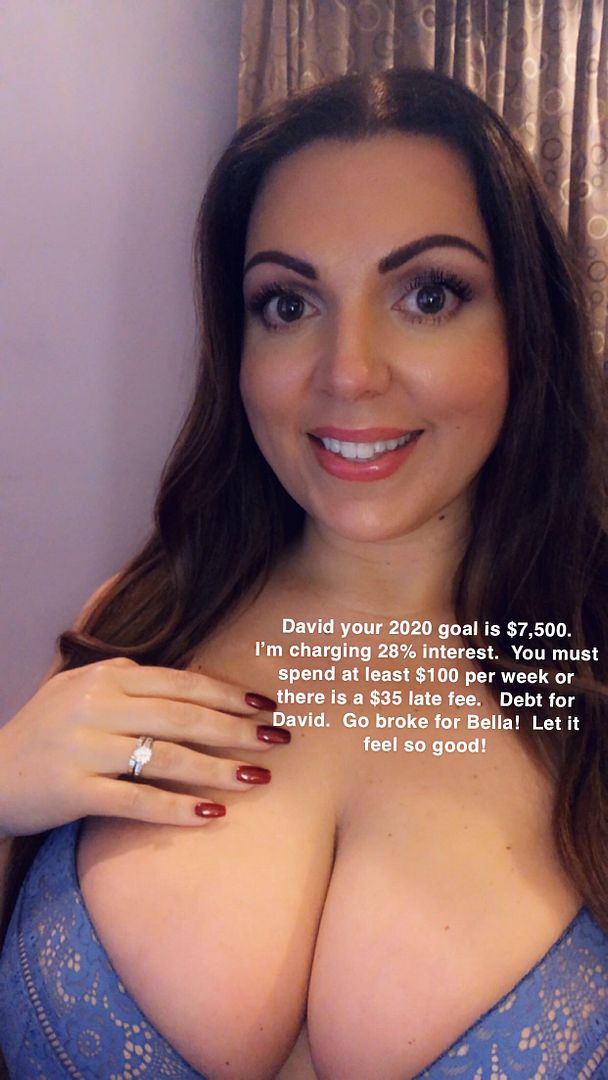 -------

$5,000 Cash Count
$10 Buy it on NiteFlirt:







More NiteFlirt Goodies - pics and vids: https://www.niteflirt.com/BellaDaisy22#goodies


Be a good Pet...Click below to Tribute your Princess:






Call Me on NiteFlirt - click for my listings -