Call Me on NiteFlirt - click for my listings -





I noticed Joe just opened a $60 pay mail I sent him a few months ago during a wallet draining. He left 1 unpaid, but said he could no longer resist... he had to see the "cleavage whiteboard" pic. I started sending more pay-to-view mails and he quickly opened them for $220.


----------

Cleavage Bob has been doing a great job of making it hard for you boys to escape Me.
He keeps pulling you back in with his Twitter page @BobCleavage



Virgin Piggy Jeff said he was inspired by Cleavage Bob and wanted to do a friendly competition with him. Of course in the end I would end up the winner since they were competing to see who could send the most tributes and open PTV mail. Bob wasn't available, but I had Jeff open $750 in PTV mail anyway. A couple days later, Bob was ready. It was fun draining them at the same time while they pushed each other to keep going. They both got up to $525 that day...Jeff with lots of humiliation and Bob with lots of encouragement for being my good pay piggy. Bob reached a new goal and is now on his way to the 7K club.


---

Fist Fucker Fay is still trying to quit, but of course fails every time.




Fay is quickly making his way up to the 32K Club...and hating how much he loves me!
----------

Piggy Paul knows all about the power of Twitter. Seeing the auto tweets NF sends every time one of you send me a tribute, he can't help but get excited. He always asks me how many piggies I'm working on at the moment.... and that always ends up with me adding him to the mix and making him tribute. Paul started posting on Twitter too because he wants more piggies to be addicted just like he is. I get Paul for lots of tributes during our NF text chats, but he asked me to never tell him the total because he fears it'll make him run away. That works for me.... you just keep paying, Paul and don't worry about how much you're spending. Your money is going exactly where it belongs.
***My Twitter @BellaDaisy22 is private. You have to request to follow me. I don't accept private accounts (it helps weed out the miserable trolls). So if your twitter is private, message me somewhere else and let me know you're trying to follow me.


---------------

MG was doing a pretty good job of resisting, but unfortunately for him, he said the tweets sucked him back in.
-

Piggy Robert tries to be strong, but he knows nothing feels better than when I reach into his wallet and start plucking out bills.
--

I love pushing Sissy Michell to wear her sissy clothes, partly because I know how much Taco hates it, and also because it makes her such a good submissive girl for me. I haven't been keeping track of how much I've taken from Michell lately, but my good girl gives me whatever I want.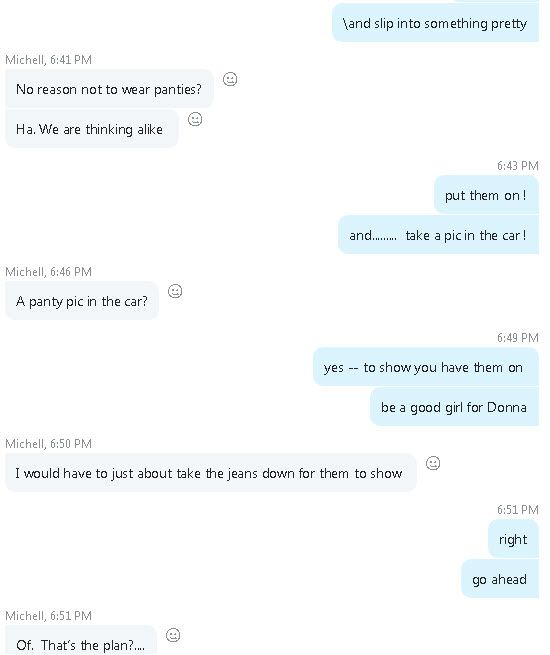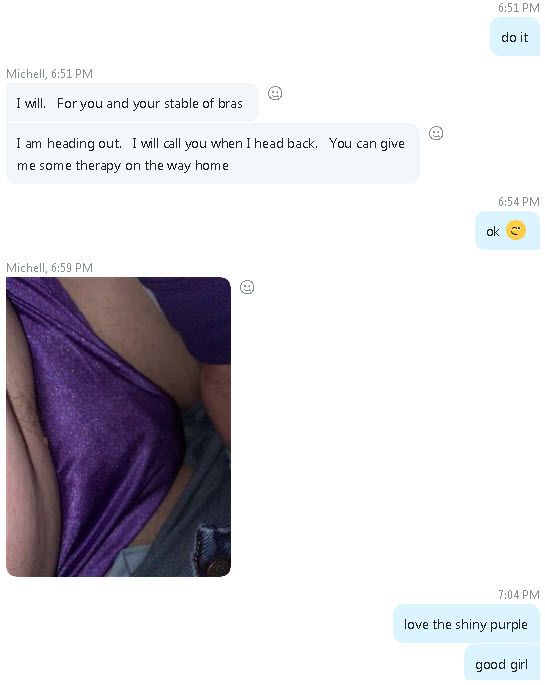 -----

Sissy Walter sent tributes while repeating his words to live by. He knows his sissy clitty belongs in chastity as I take his money.
-

Cupcake Sissy repeated his words to live by over and over again. It's been 11 years and I still have him on his knees, barking like a puppy, needing to please me.
--

Sissy Jenna returned after realizing he will never be a real man and this is where he belongs. He tried to fight it for a while, but he just had to call and hear my voice. After the call, I sent him out to buy panties and perfume.
---

Sissy David/Slave Del has been sneaking some quick stroke & pay sessions while hiding from his girlfriend. He knows he will always need my control and his purpose is to give me money.
----

Sissy Wes needed more sissy training and exposure. He really wishes he could tell his ex gf that he's a panty wearing sissy who craves cock.
-----

JohnJ begged for exposure, asking me to post his bra & panty pic...then of course ended up paying $100 for it to be deleted.
-------

My good boy 1HB continues to be a loyal puppy at my feet. He's here to work for the Princess.
---------------

New boy MusJames bought some of my goodies, then I had him send tributes during our call.
-

Another new boy JasonS needed to worship me. He ended up sending $520 in tributes during our call and of course thanked me at the end.
--------------

My good boy - Cowboy A continues to serve me as much as possible. Sometimes are harder than others, but he knows he needs his Mistress.
--


Jpiggy Jordan opened $145 in PTV mail. He needs my humiliating vids.
--

Benjamin knows he's just a lil dick pay pig. So he didn't resist when I had him send an extra $115 in tributes during our call.
------

JohnM sent tributes while edging and squealing like a pig.
--

Dr. Piggyboy Tony is still paying that $50/min doctor rate. It was his idea, so I'll never let him pay anything less. Congratulations, Dr...all your hard work is paying off.
----

Virgin Frank knows he's nothing but a wallet. He's always ready to send his tributes to my cleavage.
--

German Thomas needs to stroke for my cleavage. I love to make him weak and have to move money to give to my cleavage. Stroking, edging, and buying my vids... more money for my cleavage.
--------------

Piggy Zach got caught by his girlfriend, but he had to come back to me because serving me comes first. He must submit to me.
-----

Reza keeps chronically masturbating to the fact that he can't have me, but I'll continue to take his money. Loser.
--

Vima normally has to pay a $30 cum fee, but I've been having fun making him edge and tribute every day this week without release.
------

I took an easy $600 from TomM. I was feeling generous with his money and had him send $100 to bartender Meg. He couldn't believe it was my idea to contact her and I didn't mind sharing. I always say as long as I get what I want, I don't mind sharing boys and I have fun spending your money;)
-------------

Scrawny Scott - the weak cuck knows he has to pay more for my attention.
-------

Hawaiian Will can't help but tribute as I make him edge during our calls.
--

Easter Bunny Mike returned after a few years. I welcomed him back by showing him I still have that Easter pic from many years ago and let him send me $140 in tributes.
---

Harry keeps trying to run away... he closes his account, then has to reopen it when I feel like going for his wallet.




Then a couple days later.... (The huge time difference always works in my favor, Harry is just waking up (Hard) around 7 or 8pm for me)






---------------
-------------------

Whipped Puppy can't say no to me. He must Obey. Puppy sent over $3,400 in tributes as I keep him on his knees, begging for more humiliation.









-----------

More NiteFlirt Goodies - pics and vids: https://www.niteflirt.com/BellaDaisy22#goodies


Be a good Pet...Click below to Tribute your Princess:


Call Me on NiteFlirt - click for my listings -