It just amazes me how much time people who don't like me will spend reading my journal. I get an ignorant comment a few times a week and I usually reply to the "annonymous" person and then delete their comment. I guess being very successful on NiteFlirt means I'm going to have a lot of haters to go along with it. There's always going to be the jealous NF girls who make their "regulars" call me just to leave bad feedback or the random guy who hates me because 1) he could NEVER have me, 2) I make 2 or 3 times as much as he does just talking on the phone, 3) I won't do sexual cam shows no matter how much they beg or offer to pay me, or 4) they hate their miserable lives and need to take it out on someone.






Like I said a few days ago when I posted my new pics... I wonder how long it will take before someone tries to get me suspended from NF because there's a caricature (of me and Phillies Pat Burrell) on the wall behind me..and they'll say it's a child in the pic. Sure enough... assholes have to start problems and I had to take close up pics and send them to NiteFlirt Customer service this morning.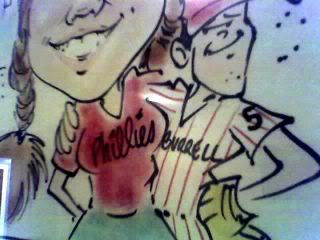 Then some idiot left a journal comment tonight saying... "well we all know you have a kid"

NO I do not have children and if I did I wouldn't be on here.
(Nothing against any of the mom's on Niteflirt, but for me personally - I wouldn't work on NiteFlirt)
Don't worry boys... I'm not planning on kids any time soon! ;) lol
--------------------------------------------------------------------------------------------------------------

Another busy night on the phone (as usual;) Tiny pp Matt was back... just got home from the gym and called.... He's a good looking guy with a really hot body, what a shame he has such a tiny dick;) I told him he reminds me of an ex-boyfriend... 6'2 , tons of muscles, and a gorgeous face (with barely 4 inches of dick:) what a waste;) lol

---------

1Hot Boy has been sick and hasn't been around for a few days... he made it up to me by calling for an hour and a half and sending a $200 tribute :)

----

Mike from Chicago was back again tonight while his wife was out with friends... we talked on my cam line and he bought my "Goddess" perfume from my wishlist as a thank you for the privilege of seeing my cam;) He's such a good loser.

----------

Limp Dick Larry called tonight....needing to be humiliated for never being able to satisfy a woman (even when his dick did work) Well Larry as long as your credit card works, that's all that matters sweetie;)

------

I had a few new callers on Keen today too... it's going to take a bit of getting used to being on Keen again. I'm so used to Dominating my callers, that when these guys call just to chat, I'm trying to figure out what freaky fetish their into. lol
---------------------------------------------------



Wish list presents arrive just about EVERY day, my Mailman and UPS guy think I'm a shopaholic.... nah just a



Here's some that came this week...