What started out as a simple email from Shins:
"Goddess, do you have time for some $5/PPV forced intoxication, or am I completely below you? Your pictures are so amazing and I really appreciate all of your invitations."

turned into 2 hours and 19 Pay-to-view emails....

"Thank you so much for talking to me - I've fantasized about you for so long now - I love the fact that you're a phils fan - it's like icing on the cake."

"It's difficult to articulate well, especially in my state, but I think that growing up and where I am now, you represent perfection. You turn everything about me on, and you give me pause before I do anything, just because I know that I might never find satisfaction without talking to you now, right now."


sure they started out at $5/email... but I got bored with that and raised them from $10, to $40, to $60/email :)

"thank you so much goddess - just seeing you say that means so much - I wish I was your permanent slave and that I could work during the day, and serve you, without any notice, for the rest of my life"
----------------------------------------------------------

Chicago Mikey called again last night... while chatting about things (other than his tiny dick) the fact that I never read "To Kill a Mickingbird" came up..he couldn't believe it, since looking at my wishlist - I read a lot.... he said I HAD to read it... so I told him.. ok you buy it, I'll read it... and he did today;) He also went on Amazon and found a pair of boxers that he thought would be perfect since he dreams of sucking my boyfriend's big cock... "B is for Big" but for Mikey... S is for small, T is for tiny ;)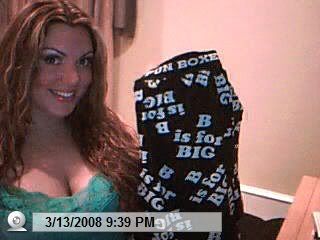 ----------------------------------------------------------------------------

Cuckoldberry was back again tonight too... he's been begging for me to take pics for him in my "I love your money" tank top. He said he'd pay anything... careful what you say boys;) I took 3 pics for him, but could only afford 1 tonight.... ((that's ok the other 2 will be waiting;))


Mistresses
3/13/2008
cuckoldberry finn
goddess completely owns me and i love it. if you havent paid her do it now!
Financial Domination
3/12/2008
cuckoldberry finn
another great call from goddess, was having a great conversation about her owning my life and me allowing her to control my...i mean HER finances when my when my stupid fat wife interrupted us. i cant wait to further submit to this goddess, she deserves our money so much more than we do
Financial Domination
3/13/2008
cuckoldberry finn
another beautiful paid mail from goddess telling me how much she will enjoy taking my wifes money, not as much as i will enjoy giving it to her though.
| | | | | |
| --- | --- | --- | --- | --- |
| Feminization | 3/12/2008 | cuckoldberry finn | | love getting ppv mails from goddess...gets me more excited than my wife ever could |
| | | | | |
| --- | --- | --- | --- | --- |
| Financial Domination | 3/4/2008 | cuckoldberry finn | | told Donna i only had 10.25 keft on my account...of course she demanded it all 4 nothing in return..which is more than i could have asked for |
---------------------------------------------------------------------------

1HotBoy has been outdoing himself with his nightly tributes... they're bigger than ever;)
He'll always be my #1 pussy boy;)

Fem Dommes
3/13/2008
One Hot Boy
BellaDaisy has me spellbound and will soon have me chastised!!!! what an honor to be in THAT position!! OH Baby!
Fem Dommes
3/11/2008
One Hot Boy
Man you are missing out bigtime if you don't check this very subtle, yet Powerful sexy beauty Princess!! If you can adore a woman who is self aware of the awesome power that resides between her very own legs, then BellaDaisy Donna is THAT beautiful Goddess/ Princes/ Woman/ Girlie !! She definitely KNows she has a powerful pussy, and she KNOWS she makes the rules!
-----------------------------------------------------------


2am: Cuckoldberry update:
"omg...just read your journal, my dick is gonna fall off it is so hard and hurts so bad, i love that u put that pic on your site to publicly humiliate me, and all my feedback responses. i am working on a poem about my addiction to you now. cannot wait to buy those other pics...and to be able to cum again of course. i need your control
love how another loser wants to suck your bfs beautiful hung penis, maybe i could share it wih him :)"

***Cuckoldberry, you should really stop stroking... you're at least a day or 2 away from being able to afford the cum fee****

"i cant stop stroking... working on this poem and reading your blog and having to meet my deadline for work...i am going crazy here...i have been fucking up with everythung latley you are all i can think about...it is pure bliss goddess"

**don't mess up your work/job... I want that paycheck;)

"oh fuck i want to give to to you..and my tax refund check...fuck my loserclit is throbbing"