My UK pervy foot fetish wanker was back the other night... he sent a tribute with an email that said:

david here, filthy ped perv, dude with an obsession for rail journeys last time we spoke.. whatdyamean, 'You've never heard of me?!?!?!?'... guess i could never amount to much in Princess Donna's World, in comparision to the neeedy obsession that You generally rock & rule my libido universe.. thing with.
ayway, the reason i am writing: am sleep deprived, horny as hell, and haven't resisted the bad, bad urge to gaze at Your 'tired & broke' photo,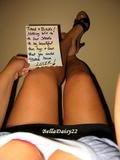 cast iron boner in my pants, without even touching. Like some young, forlorn dawg who's just had his knackers lopped off & generally has no idea what has happened, or why, or how.
V.sad, i am aware - but not necessarily without entertainment for You.
After the tiny tribute i am sending with this mail i have $70 measly $$s in my niteflirt account.* Maybe Princess Donna would like to see how much She could coax out of me, while i'm overtired, lacking concentration, vulnerable [that's enough to be starting with]. Clue: will pay $$ for my silly scribbles to be left out of Your blog.
Man, You're going to be reading this & thinking 'Just too Easy.' If Donna has better things to do, then no hard feelings... apart from the tentpole raging in my midriff.
david xx
* = don't know why i am confessing this. It's rubbish.

--- I was really busy on NF and didn't get a chance to reply -- so he called later in the night and we spoke for an hour. When his $70 ran out what could he do??.... add more of course;)

((he mentioned again he doesn't want to me mentioned in my journal - because it's exciting, but humiliating - so I told him I wouldn't)) When the call ended I started sending him pay-to-view emails ranging from $10 - $25 each.
-------
Maybe it'd amuse You, almost as much as it'd sexually thrill me, to let me know the $$$ amount You've taken l'il pervy me for [so far] tonight?

$20 pay-to-view: Oh I'm definitely amused... you spent $110 on the call - then $124 on emails... oops, make that $144 because you just paid $20 to read this! lol---
----
i am too pished to work it out :o(
Driven to mental incapacity [ott, sor-ree] by Donna

-----

ThankYou Dea Donna for telling me the exact dollar amount of my servile slavery to You,
david xx

i just saved a picture of the thrall-inducing shoes that Loser Mark brought for You [Jan 17th, Your blog]
, onto my hard drive. Without permission. Am properly drunk. In certain areas of Europe they ply dogs & mokeys with alcohol, and watch the hilarious consequences. This is cruel, and i do not like.. but with peter-pulling submissives, even i can see the hilariously bad.
i can't type. If i call, i'll be delerious & You'll think i'm a mentalist. i'm paying $20 for a couple of lines of Princess typing, hanging on Your every word like an idiot. i should be angry, but i am more drunk. Maybe deep in my subconscious, the dream of Donna butt-shot drives me on like a madman. + a vestige of idiot pride doesn't want me to 'wimpout.' Sap.
Confused,
drunk david xx
-------
$20 PPV: Oh feel free to call back... you're VERY amusing... the things you come up with! lol
---

So he called back for another hour... I can't really tell you what we talked about because most of the time I couldn't understand him - between his accent, and how certain words mean different things in America and the UK, oh and the fact that he was hammered...lol I do remember the call ended when he realized he was going on and on about Italian furniture and cars though. lol Oh course I just let him keep talking...it was very entertaining;)

When the call ended he wrote another email:


Dear Dea Donna,
lushdrunkdave here. Not that i'm paranoid about going over 30, but there was something very 'old man' and reducing about that phone experience that was over & above any amount of shouting & cursewording at a dude along the lines of 'tiny weener, faggot fuck, takeitbitch' type monotony. You know?
Am tempted to put in the feedback, "i got drunk and talked bullshit for so long it was unbelievable. Was reduced to drunken impotency, mindless cock slavery, and the tribute of dollar in a way that i still have no idea about what was which way, and how i am fucked for Donna." .. or something..
BUT
and here's the kicker
i feel like i need Donna's hot, lush heavenly bod, Her velvetine voice, and Dominant Goddess Attention so bad, it's... been so worth the slavery. If this is cock slavery trance madness, i never want to recover.
Phew.
Think i need to chill out, take a cold shower - it was intense. Have never played [on the phone] when so drunk before. Like i said, i need it. Obviously i am still drunk, but have just enough sense to wonder what is going on with my doofus-for-Donna self.
Suggestions/diktats for feedback content, gratefully, slavishly received,
i really do need a cold shower,
david xx
P.S:- my surname, big wow. While i'm nosey to know Yours, i'm more cock-needy [and unconcerned with all the blackmail info i've coughed up for Donna] for Princess content to my email. Like, yah, IN MY DREAMS!!! Can't blame a guy for trying, can You?
----
$20 PPV: I

read your email.. the feedback you were planning on leaving is very funny. (((he already left 3 that night - so couldn't leave more feedback))
What's also funny is the way you went on and on about couches and cars and I couldn't understand most of it... yet... I let you keep talking because it was sooo entertaining.
so what will it be... a cold shower or another beer?
---
Cold shower, I regret...
no, this was sarcastic mischief feedback only - incidentally, i'm not being obstinate, but the feedback bit on myaccount isn't working at the moment. Honest. i've tried twice. Will sleep & think of something domani.
drunk is just very embarrasing. Reduced to geriatric 'i can't get passed 3/4-mast.' Priceless. At least i didn't turn into an agressive drunk, railing on about the injustices committed against my football team, or some such,
drunken docile for Donna,
NightyNight xx
-----
He emailed me the next night:

Aw Thanks,
Thank goodness also You're offline, otherwise, i'd enter el danger zone.
Just wanted to send quick needy request: can't get my forlorn fetish freakon by reading Priness Donna blog. Now have the notion that i'd really like to see, just 1 liner, like, nonchalant kind of: "oh and by the way, i took dave for $<enter $$$ amount>$ aswell."..
---
$20 PPV: I'm going to write about you...
hmmm I wonder how any details I should include;)
----
((I haven't had a chance to update my journal lately --- so he sent another email today)))


Please Donna,
just 1 line. Though ultimately it's up to You, whatever's best on Your blog.
Reminder to self: never write Donna just before going to work. Was a late one, i get home to read that my personal drunken Donna freakon might be posted up everywhere. While i should have an anger thing going on about this, i don't - but however knackered i am, i don't feel like sleeping. Have to be up in about six hours to finish off some other work i was doing yesterday. Wow.
david xx

Up to You though,
david xx
------

Almost $500. later....

$20 PPV: I couldn't help it...
how could I write...Just 1 line?? ;)
---------