The presents Weak1Mike bought me arrived today... this super cute helmet (which just happens to be called "Bella Donna") and matching pink goggles to wear on my new 4 wheeler.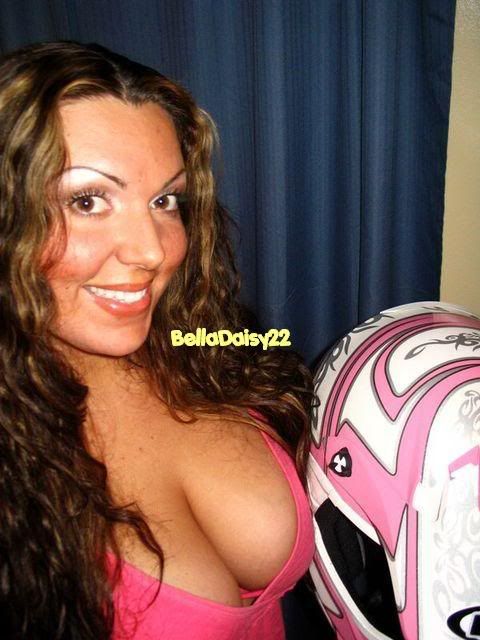 -----------------------------------------------


Loser Mark emailed me...we were talking about our holiday weekend, then I got a call.
LM: who did you just get done with humiliating on the phone??
-it was a new caller
LM: all the new ones keep cumming towards you...you deserve all you can get!!!!!!!!!!!!
-thanks loser;)
LM: Phillies are making a comeback.......
-thank god! 10 - 2 was so embarrassing... what's the score?
LM: 10-7 going into the ninth.. Mets Rule!
((we were chatting for a while...and I was holding off making them pay-to-view emails... but I just couldn't help it after that;))
$10 pay-to-view: mets?
nope... they sure don't! lol
1st Place Phills! lolll lllooosssserrr
LM: not for long.....
-mmm hmmm sure;)

LM: you really know how to make each one of your loyal losers feel special...just chatting with this one.
that is why you are the best and we keep cumming back...literally
-thanks Mark :)
LM: now I need to go take care of this fucking hard-on
-with me or alone?
LM:
what do you think?? may sneak a call from the bathroom...

$10 pay-to-view: sure loser;) sneak in a call lol

and he did... hiding from his wife in the bathroom whispering as I reminded him what a tranny loving cock sucker he is:)
-----------------------------------------

Tanline IMed me last night....
tanline: hi.. tanning a lot lately?
bella: no it's been raining a lot
bella: i'm going to the tanning salon tomorrow though
bella: and hopefully in the pool on friday
tanline: very cool..
tanline: do you pay for the tanning salon?
bella: yes
bella: $45/month
bella: oh i have a great idea
tanline: ??
bella: why don't i see you on my NF list?
tanline: i closed the account... other than spending on you its a waste
bella: well then how are you going to send me $44.99 for this month's hollywood tans????
bella: make a new account and send me the tribute!
tanline: ok, thanks
tanline: you could let me know monthly when it's due.. unless they have some sort of recuring thing?
bella: yes - monthly -- great
tanline: thanks, done
tanline: will you keep track letting me know monthly?
bella: got it
bella: ty
bella: yes - i will
tanline: thanks
((I love how he thanked me 3 times for LETTING him pay for the tanning salon..lol))
-------------------------------------------
------------------------------------------------

Sissyboy Damien called for cam2cam so I could laugh at him while he sucked on a dildo and slapped his ass and balls with a wooden spoon. Normally we do long humiliating sessions where I make him do a few outfit changes in his gf's sexy lingerie and a lot of cbt - but I took it easy on him since he just called for a quick 15 minute BellaDaisy "fix". He'll be back soon though... and hopefully with the ejaculating dildo I told him to buy;)
--------------
------------------------

My foot slave Loser N was back to worship his Princess on cam. He's been trying really hard to stay away,but gave in and IMed me...

Loser N: hello Goddess...may i please pay to see your feet on cam? I'm feeling pathetic and crave your humiliation and abuse.
-go pay my $30 Pedicure Tribute and I'll turn my cam line on for you.
Loser N: thank you Goddess. I have paid the tribute. thank you for taking advantage of me
Loser N: does it bother you that I kinda hate myself for being so weak for you?
Loser N: i keep trying to resist and break myself of your control...
bella: brb - 1 min
bella: and no
Loser N: I am waiting patiently for you Goddess
Loser N: damn...
Loser N: and weakness hits me in the nuts like your hardest kick
Loser N: a kick i'd pay for...knowing how pathetic i am for you
Loser N: what if we played a game some time, where every time I wanted to see your feet, you got to tell me a way to hurt my balls/dick...
Loser N: cbt based foot worship...
Loser N: would that amuse you in any way?
bella: very much
Loser N: damn...
Loser N: if you weren't so gorgeous, or maybe if I didn't like your personality so much...i'd probably be able to stop thinking about how badly I want you to take all my information, and blackmail/ruin me
bella: oh yes let's do that
Loser N: grrr...you wanna?
bella: yes
bella: I'm ready
Loser N: how would it go down?
bella: I ask questions
bella: and you answer them
Loser N: what if I start feeling more determined to resist...find my willpower so to speak?
Loser N: this arrangement...it wouldn't really be good for me you know..
bella: why?
Loser N: well...you could treat me like shit and do anything you wanted to me and my wallet...
bella: speaking of your wallet
bella: you should pay another $30 pedicure tribute for signing off on me the other night when I went and got dressed to go on cam for you
Loser N: you got dressed for me?!
bella: yes
Loser N: ugh..i apologize
Loser N: i'm a bastard
Loser N: would it be a pain for you to show me just a glimpse of your feet? please...i just need to feel like your foot slave bitch for a moment...please
bella: sure, when you call;)
bella: you are my foot bitch silly
Loser N: thank you Goddess...
Loser N: why is it that the more humiliated you make me...the more i adore you?
bella: I just answered that above
Loser N: yes Goddess..thank you
Loser N: fuck...so what kinds of questions?
bella: now - go tribute
Loser N: yes Goddess..thank you for ordering me around like your bitch and taking my money
bella: anytime
Loser N: I have paid...
bella: good - now call my cam line
Loser N: damn i'm an idiot
Loser N: i'm fully aware...yet I can't help myself

he ended up paying $180 - 6 "Pedicure" tributes as I teased him with my feet during our cam call.
--------------------------------------------------
I've been playing tribute games with my piggie "M" tonight...making him send Amazon gift cards. I promised to take it easy on him since we maxed out his card a couple weeks ago, but I plan on making him buy the Ugg boots on my wishlist anyway (unless someone else buys them first;).